Trumbo |

reviews, news & interviews
Trumbo
Trumbo
Glib account of the blacklisted screenwriter's resisting of Hollywood's Red-baiters
Saturday, 06 February 2016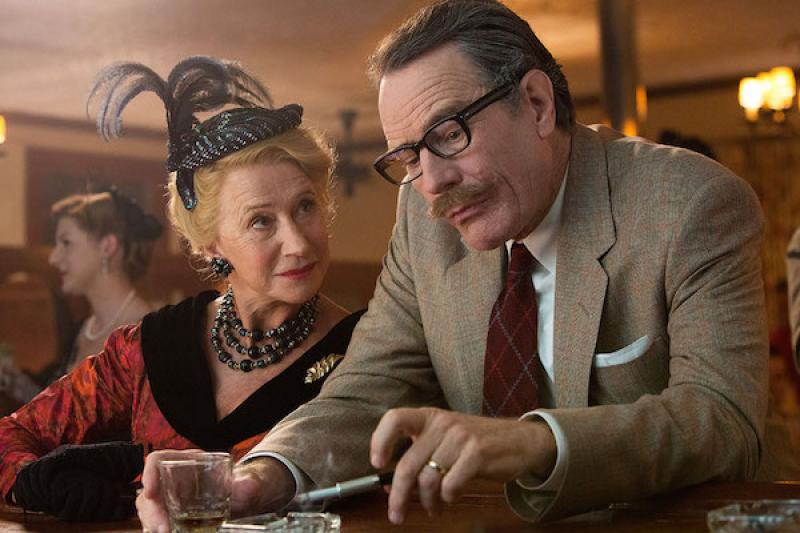 Harpy with a hat: columnist Hedda Hopper (Helen Mirren) dishes out the vitriol to Dalton Trumbo (Bryan Cranston)
Trumbo depicts the 13-year struggle by the screenwriter Dalton Trumbo (Bryan Cranston) to break the blacklist imposed on him and the other members of the Hollywood Ten in 1947.
By continuing to get his scripts produced throughout the Fifties, Trumbo made a heroic, if morally complex stand against rabid Red Scare-mongers like the gossip columnist Hedda Hopper (
Helen Mirren
) and John Wayne (David James Elliott). It's disappointing that his courage and brinkmanship should grace a movie with no attitude of its own – that has the narrow sensibility of a 1980s or 1990s telefilm.
Cranston nails the elegance of the silver-tongued, indefatigable refusenik, who affected a cigarette holder and typed his scripts in the bathtub or with a parrot on his shoulder. Taking its cue from him, Trumbo is buoyant and witty, though in hands other than those of director Jay Roach (who made the Austin Powers movies and a TV film about Sarah Palin's 2008 vice-presidential campaign), it could have been a slice of hell.
The paranoia and despair engendered by the naming of names during the McCarthy era is given short shrift in John McNamara's densely packed but over-simplified script. The House Committee on Un-American Activities interrogators are goons, the gangrenous Hopper a witch conducting a personal witchhunt. The burden of informer guilt is dumped on Edward G Robinson, affectingly played by Michael Stuhlbarg. The great Jewish star was a left-liberal Democratic activist harried by HUAC's anti-Semites into vilifying unspecified friends who hadn't told him they were Communists. Though Robinson never named names in reality, this film has him naming Trumbo and four others. (Pictured below: Cranston with Diane Lane as Cleo Trumbo.)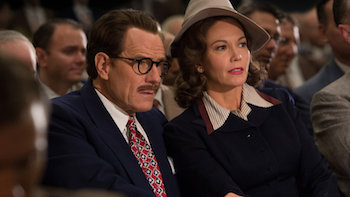 McNamara leaves few stones unturned in equably cataloguing the darkest night of Hollywood's soul. Subpoenaed by HUAC, Trumbo and his more radical friend Arlen Hird (Louis CK, out of his depth here as a composite of five of the Hollywood Ten) refuse to testify whether they were or had ever been members of the Communist Party. They're imprisoned for being in contempt of Congress, released after 11 months, then employed to write pseudonymously for cheapo producers the King brothers. Hird berates Trumbo for betraying their political principles to write mostly trash. Trumbo's sentimental and unoriginal script for The Brave One nonetheless wins him an Oscar. He can't collect it, any more than he could collect the Writer's Guild Award he won for Roman Holiday, though they are huge symbolic victories.
As Trumbo labours round the clock to knock out scripts for Frank King (John Goodman, belligerence personified), he enlists his steadfast wife Cleo and their three kids as secretaries and couriers for his clandestine operation. He thus has a mild case of the tyrannical behaviour screen heroes are obliged to indulge as they go into overdrive. Cleo (a serene Diane Lane) tells him off for being a bully; Nikola (Elle Fanning), their eldest, throws a hissy fit when Dad won't leave his bath and writing pad to watch her blow out her birthday cake candles. Nikola's Civil Rights activism indicates she's a chip off the old block but feels like one tangent too many.
The Red-baiters weaken when, defying Hopper, Kirk Douglas (expertly impersonated by Dean O'Gorman) hires Trumbo to tackle the Spartacus script and Otto Preminger (Christian Berkel) virtually moves into the Trumbos' house to oversee his adaptation of Leon Uris's Exodus. McNamara's writing is at its blithest dancing around Douglas's and Preminger's unspoken competition to be the first to give the blacklisted writer a screen credit. (Pictured below: Cranston and O'Gorman.)
A whole movie could be devoted to the issue of who did the most to rehabilitate Trumbo. Evidence suggests that Douglas originally overstated his role and that Preminger and Spartacus producer Edward Lewis were the pivotal figures. (Douglas, 99, who has seen and approved Trumbo, issued a statement last November that didn't press his claims further; there are no reports that Lewis, who is 95 or 96, has seen it.)
Since Roach's film errs in downplaying the anguish Trumbo must have suffered, in and out of prison, and the comparable or worse misery endured by his friends, students of the blacklist will be better served by watching another Trumbo, Peter Askin's 2007 documentary. The fictional one prompts also a fresh look at High Noon, in which Gary Cooper's sheriff, defending a town of cowards, makes a lone stand against a gang of killers; screenwriter Carl Foreman's allegory of the McCarthy witch-hunts was the last Hollywood film he finished before he was blacklisted in 1952.
Watching Elliott's John Wayne strut and bluster in Trumbo, you can see why Wayne, who paradoxically believed in collective action, loathed High Noon. Simmering with hate, he nearly hits Trumbo at one point. The President of the Motion Picture Alliance for the Preservation of American Ideals, he all but squares up to Hopper, too – not because the former actress is "awful pretty" when she gets mad, but because she's a monster.