The Toll review - once upon a time in west Wales |

reviews, news & interviews
The Toll review - once upon a time in west Wales
The Toll review - once upon a time in west Wales
Brassy indie flick provides a fun slice of pulp cinema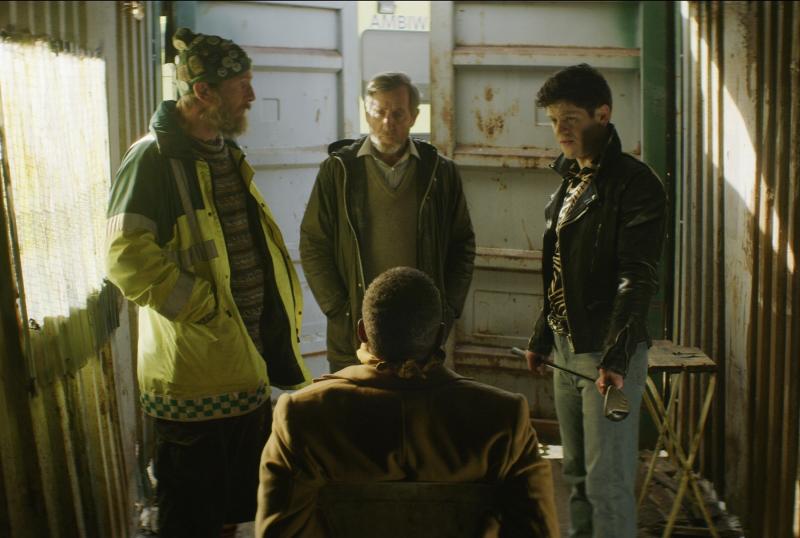 Michael Smiley, Iwan Rheon, Paul Kaye and a tied-up Gary Beadle
Budget constraints. In the hands of the right filmmakers, they can be a blessing in disguise, forcing creativity from simplicity. That's exactly what works for The Toll, a dark comedy set in the wild west of these isles: Pembrokeshire.
Michael Smiley plays a nameless toll booth operator in the middle of a large coastal wasteland. What the booth is for isn't clear – there's plenty of room to drive around it. But there's a heavy implication that doing so would put you on the wrong side of the mild-mannered operator, and the locals know better than that.
There's a taste of the spaghetti western to proceedings. Our lead with no name has an unspoken history, and a chance encounter with an old ally is bringing that past to Wales. With guns. It's time to round up a gang of eccentrics to fight off the invading outlaws.
Ryan Andrew Hooper's debut feature is perfect for film aficionados looking for a light bite of entertainment. Eighty-three minutes of swearing, gore and just enough twists to keep you on your toes. Quotable one-liners are ten-a-penny, and a few Easter eggs for those with a keen eye.
The film continues a long lineage of British deadpan. There's certainly a homage to Kevin Allen's Twin Town with the madcap Welsh crime, but the mood feels closer to Ben Wheatley's oeuvre; no surprise then to find a few of his regulars in the cast (Michael Smiley, Steve Oram).
What's most refreshing about The Toll is it never tries to be anything it's not. It's a low-budget crime caper with a small but game cast and a select few stunning Welsh locations. The pace never drops and the tone never turns too sentimental. It's pulp cinema, down to the Tarantino-esque shoot-out crescendo, all striking images and stylised violence.
For those looking for a little getaway this summer, play it safe. Avoid coming to Wales and stick to your local independent cinema instead.