Tale of Tales |

reviews, news & interviews
Tale of Tales
Tale of Tales
Ravishing feast for the senses in Italian fables starring Salma Hayek and Toby Jones
A big heart: Salma Hayek snacks in 'Tale of Tales'
The earliest known versions of Rapunzel and Cinderella appeared in an Italian compendium of fairytales known as the Pentamerone. They were collated by Neapolitan courtier Giambattista Basile and published in the 1630s after his death. The 50-strong anthology also includes versions of Puss in Boots, Sleeping Beauty and Hansel and Gretel. None of these familiar stories has made it into Tale of Tales, Matteo Garrone's cinematic sampler of Basile's collection.
Instead he has plumped for three lesser-known fables, each of them illustrating the moral folly of ruling potentates.
No doubt for commercial reasons Garrone has transplanted Basile into English. This gives rise to some unItalian acting from a United Nations cast. In "The Queen", Salma Hayek passes for a local as the queen of Longtrellis, but the king with whom she cannot conceive a child has the Irish features and American accent of John C Reilly. The child born to her after she eats the heart of a slaughtered sea beast is an albino princeling who goes in search of his socially disadvantaged identical twin, born of a servant who snacked on the same heart (Christian and Jonah Lees).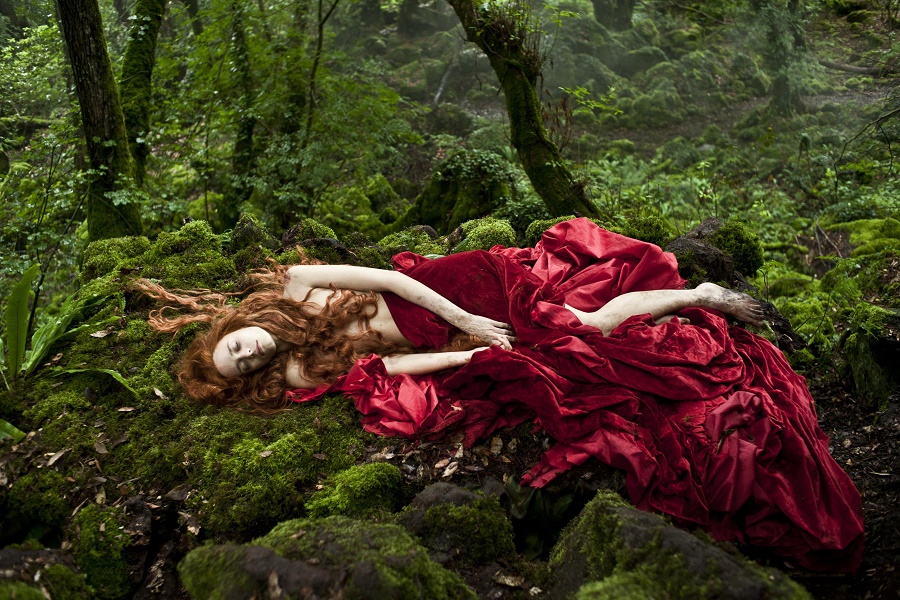 The king of another castle is Vincent Cassel. In "The Two Old Women" he plays the randy king of Strongcliff who, looking out of his high window, falls in love with a poor townswoman (Hayley Carmichael) without seeing her face. She and her sister (Shirley Henderson) trick him into bedding her before he realises that she's a haggard old crone, whereupon she is hurled out of his high castle window, only to turn into a willowy flame-haired beauty upon landing (Stacey Martin, pictured above).
In "The Flea" a third castle is ruled by Toby Jones, the king of Highhills who gives his daughter Violet (Bebe Cave, pictured below with Guillaume Delaunay) away to the first man who can identify the hide of a dead beast in his keeping. The winner is a terrifying ogre who takes her daughter off to live in a mountainous cave where she has to be resourceful in order to escape.
Of the three stories, "The Flea" feels the most rounded narrative, "The Queen" the least. Instead of running them consecutively, Garrone weaves them into a palimpsest and even puts the characters in the same place for occasions of ceremonial pageantry at the beginning and the end to suggest a seamless world of royal Italian make-believe. That world is given reality by the ravishingly beautiful locations, barely touched up at all by screen trickery. At times they're even a little too ravishing: Tale of Tales goes on a bit partly Garrone encourages his DoP Peter Suschitzky to linger over-lovingly on a craggy valley or a spectacular sunset.
But the pleasures are many. There's an abundance of ironic humour, engaging performances and, above all, a wonderful menagerie of animals, chief among them the white sea monster and the king of Highhills' pathetically overgrown flea. Tale of Tales is an enchanting celebration of the surreal and the logical in ancient fable, but don't for a moment suppose that a compendium of fairytales from the director of Gomorrah is suitable for children. An early circus entertainment offers a false promise of sweet enchantment. Hayek is soon snacking on a vast heart and we first meet Cassel as one third of a vigorous soft-porn threesome in a horse-drawn coach. There's also voyeurism, a brothel scene, a rape and a beheading while Henderson's old crone breastfeeds her sister.
Contributing to the lush feast of the senses are costume designer Massimo Cantini Parrini, set designer Dimitri Capuani and composer Alexandre Desplate. Although it doesn't quite know how to round off its triptych of narratives, the film leaves you almost entirely sated, and invigorated by fresh and fantastical vistas too rarely visited by cinema outside the mind of Tim Burton. And even he mostly shoots on a studio lot. Rural Italy is the biggest star of this miscellany. Do book for the journey.
We first meet Cassel as one third of a vigorous soft-porn threesome in a horse-drawn coach
rating
Explore topics
Share this article