St Vincent |

reviews, news & interviews
St Vincent
St Vincent
A priceless Bill Murray exerts his singular style yet again
Thursday, 04 December 2014
Finding their footing: Jaeden Lieberher and Bill Murray as neighbours who become friends in `St Vincent'
God love Bill Murray. Just when you think you can't take yet another film about the cross-generational divide that finds crotchety older person transformed by the company of youth (and vice-versa), along comes Murray's latest star vehicle, St Vincent, to inject new life into a more than time-honored conceit in a movie that feels quietly revelatory in all sorts of small ways, as well. (Example: Melissa McCarthy for once isn't reduced to a screaming banshee and visual sight gag.) In synopsis, writer-director Ted Melfi's narrative might seem like one where you can foretell every turn when the fact that you can't pays tribute to an actor who gets ever more engagingly wry and sly with age.
It's clear, for instance, from the start that Brookyn drunk Vincent (Murray) wouldn't have his life any other way, shambolic and financially precarious though his circumstances are. Sure, he's overdrawn at the bank and his idea of "sushi" is to crack open a tin of sardines, but he's got a Russian prostitute, Daka (an accent-perfect Naomi Watts), by way of company and a routine that he can call his own. "I'm doing the Jane Fonda workout," he remarks, barely cracking a smile as he knocks back the booze. And if Vincent takes more than the odd tumble, he seems also to right himself again, the odd bruise a testament to his resilience over life's hard knocks.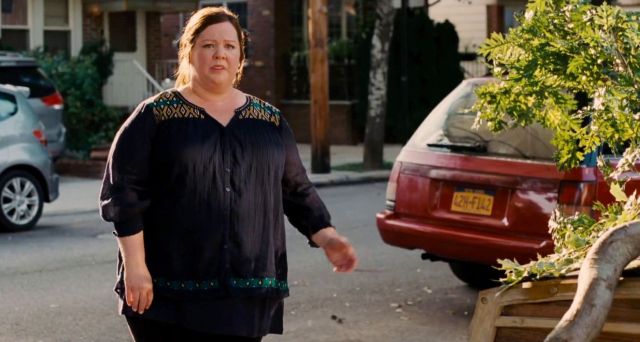 Such casually self-destructive behaviour exists in search of a wake-up call, and Melfi's script offers one in the form of Oliver (Jaeden Lieberher), the canny 12-year-old who has moved in next door with his mum, Maggie (a commendably nuanced turn from McCarthy, pictured above), a hospital technician who knows a thing or two herself about life's abrasions: for one thing, she can see them on the scans that she performs for patients daily. When this single mum's work routine goes into overdrive, Oliver lands by default in Vincent's child-minding care, these two apparent opposites well-matched on at least one important front. Neither looks as if he submits easily to smiling.
No prizes for intuiting that Oliver eventually will decide Vincent is "sorta cool in a grouchy sort of way", but Melfi allows the gradual mating dance between the seasoned veteran and the newcomer - Lieberher was ten at the time of filming - to register with surprising force. Murray makes you feel Vincent stepping up to the plate, and more, as he advises and even intervenes to help Oliver handle bullying at school, where he is stripped of both street clothes and phone early on. Comfortable slobbing out together while they watch Abbott and Costello amid the chaos that Vincent calls home, the pair are equally at ease in one of Vincent's watering holes or at the racetrack - the choice of a horse called Harvey Knows Best presumably a none-too-accidental nod towards the movie's co-producer, the legendary Harvey Weinstein.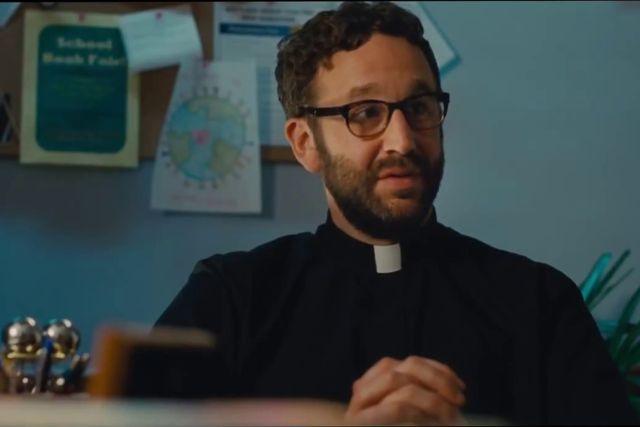 One senses the pressures inpacting upon all the characters' lives, from Watts's keenly felt "lady of the night", whose pregnancy has led to a loss of clients (Vincent, by way of contrast, quite likes her bulging tummy) through to Maggie, whose relationship with Oliver's lawyer-father is clearly approaching crisis point. Money matters to these people, who are brought together at first in a confrontation over reparations necessitated by some clumsy removals men, but so do quiet gestures of generosity, and there's a lovely scene near the end where Oliver and his school nemesis (Dario Barosso) achieve a rapprochement across adjacent toilet cubicles. From there, it's not long before even the schoolyard fearmonger is sitting down to dinner at Vincent's table.
The deification present in the title is treated comically at first in a film that finds Chris O'Dowd (pictured above) in gently witty form as the local schoolmaster, Brother Geraghty, so I'm not sure we need the same character asserting some while later that there are "saints all around us". Besides, one can't imagine Murray's battered, Shakespeare-quoting Vincent ever indulging such bald-faced sentiments himself. This is a character who thrums not to platitudes but to Bob Dylan, specifically "Shelter from the Storm", a song to which the peerless Murray turns out to be in every way to the manner and melody born.
Watch the trailer for St Vincent overleaf
The gradual mating dance between the seasoned veteran and the newcomer registers with surprising force
rating
Explore topics
Share this article