A Magnificent Haunting |

reviews, news & interviews
A Magnificent Haunting
A Magnificent Haunting
Roman ghosts beguile, though the comedy in this story from the Eternal City is slight
Wednesday, 23 October 2013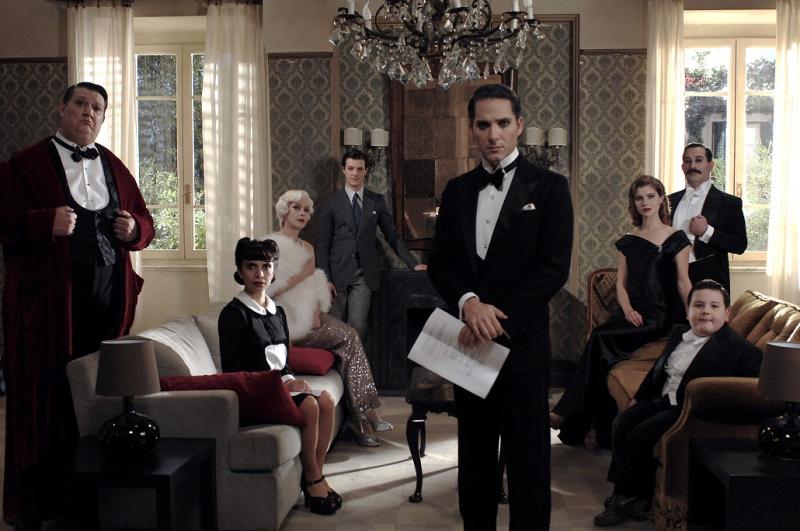 Thespian invasion: fleeing from 1943 Italian Fascism, a theatrical company haunt a present-day Roman apartment
With a hero who's an aspiring actor and an ensemble of theatrical types trapped outside time as supporting cast, the staginess of Ferzan Ozpetek's A Magnificent Haunting comes as little surprise. It makes for sometimes nicely camp overplaying, though the comedy that made the Turkish-born director's latest film a hit in his adopted Italy doesn't travel easily beyond borders.
Some elements, including gay traces, transvestite cameos and females at nervous breakdown levels, hint at eccentric sensibilities akin to those of Pedro Almodóvar. But
Haunting
doesn't aim to be edgy, settling instead for feel-good.
There's always filmic pleasure to be had when directors try to catch the character of Rome, and Ozpetek enjoys the city's contemporary whimsy to the full. Leading man Pietro (Elio Germano) is newly arrived from the South, eager to find his own place and escape the loving but overpowering attention of cousin Maria (Paola Minnaccioni). Coming on an attractive period apartment at a very cheap rent is a stroke of luck, but the downside, pace title, is that it's haunted - by a troupe of actors still living in 1943, when they were hiding out there from Fascist surveillance. Their costumes (main picture, above) and variety of extravagant shapes are the only threatening things about this benign thespian bunch, who are equally happy to play cards with Pietro or coach him for his own auditions. In turn, only he can solve the riddle of their long-ago hoped-for escape, and in some way close their story.
Germano plays Pietro as a benign naïf, the personable slate (pictured, right) on which the vagaries of Ozpetek's script can be inscribed for largely comic effect. Cousin Maria leads most of the rest of the contemporary cast down the path to caricature. The result isn't displeasing at all, although you feel Ozpetek could have drawn more from the tragi-comedy of his story had he set out to. He's dealt with the ghosts of Italy's Fascist past before, best of all in Facing Windows from a decade ago, a remarkable film that also showed he could draw great performances from stars (Haunting's script doesn't offer comparable opportunities, while gay strands familiar from the director's earlier work are squandered, too).
We feel it most in a long closing titles shot on Pietro's face, as he watches his theatrical friends back on the stage on which they had played out their final roles. Tears stream down, and the scene's poignancy is real (actor Germano proves he can deliver, too). If only the build-up to that finale had been more emotionally embracing, how much more magnificent this Haunting might have been.
A Magnificent Haunting is on limited release from Friday