It Always Rains on Sunday |

reviews, news & interviews
It Always Rains on Sunday
It Always Rains on Sunday
Robert Hamer's noirish post-war classic of Lambeth life anticipated the British new wave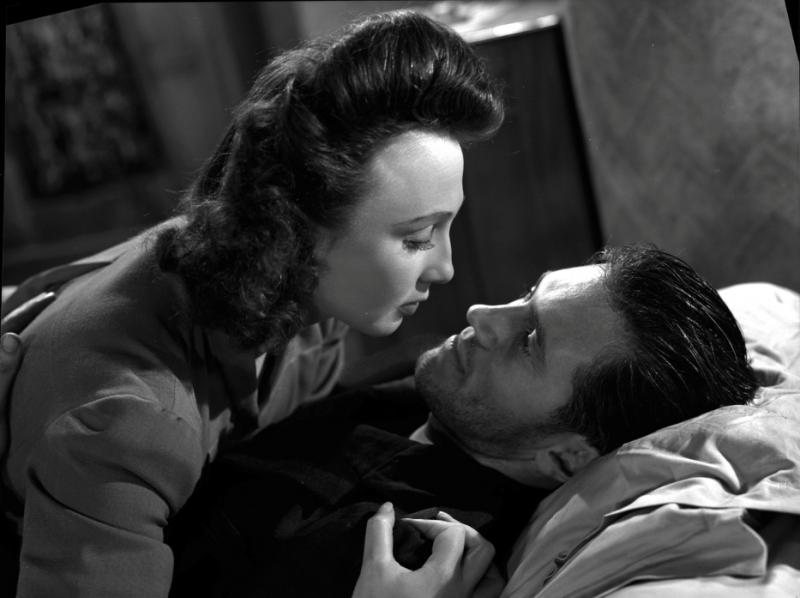 Housewife's choice: Googie Withers and runaway con John McCallum get reacquainted
As the title suggests, It Always Rains on Sunday wasn't one of Ealing Studios' famous comedies, but a film suffused with resignation and realism. That's not to say the 1947 classic is monotonous: how could it be when it's a bickering domestic drama, a panoramic portrait of Bethnal Green street culture, and a thriller that draws on French poetic realism and American film noir? And given its provenance, it does at least include a wryly comic story about petty criminals.
It's not hard to divine why the film's director, Robert Hamer (better known for the elegant aristocraticide of Kind Hearts and Coronets), drew on several genres and styles. He surely recognised that to get across the movie's message at a time when audiences craved escapism, he had to spice up the stew with melodrama and adulterous sex, and conclude the film with a thrilling climax. A manhunt shot amid shunting trains in a siding at a night and indebted to the likes of Le Quai des brumes and La Bête humaine, it turned out to be one of the most exciting endings ever filmed on a real location in Britain .
Fast and spiteful, Vi spent the night before getting drunk and fooling around with a sax player
The message was tough but necessary: at a time of deprivation, the British had to knuckle down to the struggle of returning to drab normality after the excitement of the war had worn off, finding small comforts where they could. The most important of the interwoven plot strands is a metaphor for this prescription. Rose Sandigate (Googie Withers) is a bored, irritable housewife married to the dull but decent George (Edward Chapman), whom she's never loved. They live with their young son, and George's two grownup daughters from his previous marriage, in a claustrophobic terraced house adjacent to a railway bridge constantly travelled by noisy goods trains.
When Rose's virile former lover Tommy (John McCallum), seen only by her, shows up in the family's Anderson shelter – he's on the run from Dartmoor – her feelings for him resurface. She secretly feeds and clothes him and, shockingly, they have sex when her husband's out. But Rose knows that Tommy wouldn't send for her should he escape to South Africa. She will have to endure (like those East Enders whose existence was decimated by the Blitz), though the threat of being exposed as an accomplice by a nosy reporter forces her to take drastic action.
McCallum had met Withers on their previous film, The Loves of Joanna Godden, and they would remain married from 1948 until his death in 2010. For Hamer, who was gay, Tommy's return may have symbolised the return of the repressed no less than it does for Rose. Her dilemma is mirrored by the predicaments of her stepdaughters. Fast and spiteful, Vi (Susan Shaw) spent the night before getting drunk and fooling around with a sax player, Morrie Hymans (Sydney Tafler). But Morrie has a long-suffering wife, Sadie (Betty Ann Davies), and a toddler, and when she tells him she's leaving him, he brushes Vi off like dandruff. Like Rose, she will have to learn to relinquish superficial excitement, though she seems destined to become a kept woman, a moll, or worse.
Steadier than Vi, her plainer sister Doris (Patricia Plunkett) has a caring boyfriend (Nigel Stock), with whom she goes on cycling trips to Southend. Even she, however, is tempted by the offer of a hostessing job up West by Morrie's well-to-do brother Lou (John Slater), whose concerns include an amusement arcade and fixing boxing matches. "Love's young dream," as Vi derides Doris's relationship, survives Lou's overtures, but it's clear the sisters could benefit from a partial exchange of values – Doris needing to acquire some of Vi's street savvy. (Pictured below: Edward Chapman, Patricia Plunkett, Googie Withers, Susan Shaw)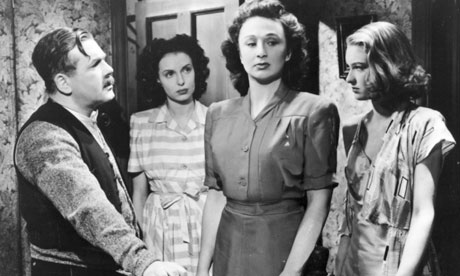 The depiction of the Jewish Hyams brothers is at best ambiguous, at worst anti-Semitic. Both cast lustful eyes at Shiksas, Morrie ogling Vi crudely when he gets her in his fancy car. He routinely cheats on Sadie, and when she buys some flowers to cheer herself up, he berates her for not buying them wholesale. He shoves the Sandigate boy when he lingers outside Morrie's music shop. Left at the end to whiningly coax Sadie to stay, he becomes a fool.
Lou fares a little better. Although he's a crook and probably a pimp, he is not ungenerous, donating 50 pounds to a youth club and leaving money for his father and stepmother when he visits them, though we sense his noblesse oblige is not mere altruism. The Hyams brothers aren't apprentice Kray Twins, but even allowing for the British anti-Semitism of the era, they make embarrassing viewing now.
The fourth strand involves a trio of inept thieves whose haul of roller skates no self-respecting fence will take off their hands. They twice fetch up in a pub to be calmly insulted by Detective Sergeant Fothergill (Jack Warner, higher in rank here than he would be as George Dixon) before he shoots off after bigger game, Tommy, whose story meshes with Jimmy Hanley's vicious thug in the film's ugliest moment.
More than a decade before the advent of the kitchen-sink school, It Always Rains on Sunday boldly pointed the way to what an authentic cinema about sad, sordid British lives might be. Not that it doesn't have grace notes. A sole black man can be seen amid the crowds enjoying Petticoat Lane during a plein air shot of the market. When Rose looks anxiously out of her kitchen window toward the Anderson where Tommy is hiding, in front of her can be seen a bird in its cage and a predatory cat perched directly behind it on a fence. And when Fothergill looks for Tommy in a dosshouse, the dismissive landlady, played by Hermione Baddeley no less, turns her back on him and scratches her arse. The British new wave never topped that.