I Give It a Year |

reviews, news & interviews
I Give It a Year
I Give It a Year
Dan Mazer's debut skips the schmaltz and goes straight for the comic jugular
Wednesday, 06 February 2013
Love is in the air: Rose Byrne and Rafe Spall before it all goes wrong in 'I Give It a Year'
Although I Give It a Year seems to have more than a whiff of a Richard Curtis rom-com about it, don't be fooled as this is the debut of British writer-director Dan Mazer, the co-writer of the emphatically more outré Brüno and Borat, along with various incarnations of Ali G. Furthermore he's lobbed Scary Movie's Anna Faris and Bridemaids' Rose Byrne into the mix.
The message is thus: while it's certainly not averse to plundering the fridge for cheese, for the most part
I Give It a Year
puts the emphasis on broad, bawdy comedy.
Hastening through the schmaltz, the film begins with a courtship montage charting the whirlwind romance of novelist Josh and advertising executive Nat (Rafe Spall and Byrne); they first lock eyes on New Year's Eve and are married by the end of the credits. But, for this pair at least, it seems that this will not be a happy-ever-after love story: as the vicar ominously splutters over his final pronouncement, Nat's bitchy sister Naomi (Minnie Driver, pictured below right) utters those damning words, "I give it a year". Shortly after - and turning the irreverence all the way up to 11 – Stephen Merchant pops-up as best man from hell Danny, with a speech that confirms the film's "anything goes" approach.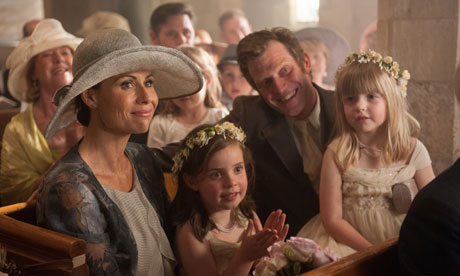 It's a bumpy ride for the relationship (and film) from here on in. Differences which may have initially proved endearing become jarring (the couple are shown confessing all to an unsympathetic and embittered marriage counsellor Olivia Colman – playing against type), and more suitable alternatives present themselves. In Josh's case it's his ex, Chloe (Faris, pictured below left with Simon Baker), a laidback charity worker, who it turns out he never officially broke up with. And Nat finds herself tempted by a potential new client Guy (Baker), going so far as to remove her wedding ring to fuel their flirtation.
Despite his solid track record as a writer, Mazer's directorial choices leave a lot to be desired: I Give It a Year is peppered with touristy shots of London; its feel-good (Eurostar-advertising) conclusion aims for subversive but feels cringingly contrived; an entire sequence is lifted from Seinfeld; and the film is bookended nauseatingly by "I Never Knew Love Like This Before". Even more problematically, the characters are clichés: the uptight advertising executive, the frumpy charity worker, the lazy writer. The plotting is clunky and fraught with issues and, by setting up two parallel romances these almost necessarily remain underdeveloped, with Baker and Byrne having to awkwardly straddle the fact that they are alternative romantic leads and obnoxious obstacles to the more likeable couple getting it on elsewhere.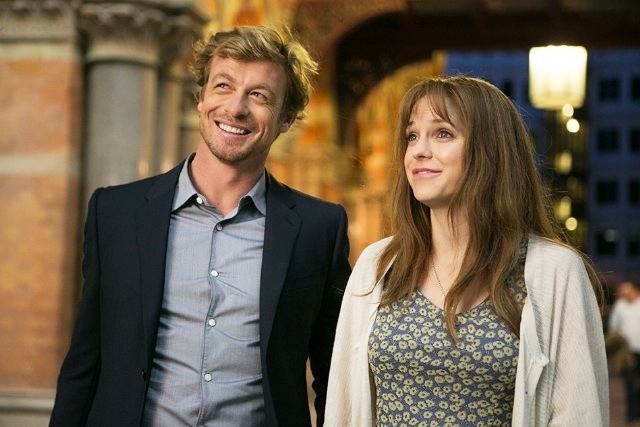 However, it's funny how much you'll forgive if a comedy repeatedly hits the mark - and Mazer is a very talented gag man. The film's generous, frequent laughs may have you forgetting its flaws and there's plenty of credible observational relationship stuff here too (apparently Mazer plundered his own relationship for material and those of his friends). There are a number of well-executed comic set pieces: a digital photo frame gag is mined for all it's worth; Guy unknowingly defends Nat from the attentions of her own husband; Chloe gets involved in a brilliantly awkward threesome; and a game of charades elicits numerous clangers.
The cast have mixed fortunes. Minnie Driver is nicely spiky in a (too) small role and it's refreshing too to see Olivia Colman play nasty. A slimmed-down Spall is out to prove he's leading-man material and more or less does so and, while Merchant has been drafted in to provide his characteristic garrulous shtick, this works well enough. Faris is underused in a pretty straight role but milks plenty of laughs from the threesome. Baker doesn't do much more than provide Spall with dauntingly handsome competition and, though Byrne has proved herself a formidable and versatile comic actress (see Bridesmaids and Get Him to the Greek), her character is so gratingly humourless here she's impossible to like.
I Give It a Year is all a bit slapdash and far from a vintage rom-com but it would be unfair to ignore the masking effect of winning gags and a superior (if not always well-utilised) cast. You'll cringe, you won't cry but you probably will laugh. I'll give it a three.
Watch the trailer for I Give It a Year
It's funny how much you'll forgive if a comedy repeatedly hits the mark
rating
Explore topics
Share this article