The Forbidden Room |

reviews, news & interviews
The Forbidden Room
The Forbidden Room
Guy Maddin summons a magnificent morphing hauntology of missing movies
Tuesday, 08 December 2015
Bring on the Brain!: An island like no other in 'The Forbidden Room'.
Guy Maddin diehards will find the Winnipeg auteur's delirious latest homage to antique cinema so mesmerizing they'll be sorry when it ends. There are times during the 119-minute The Forbidden Room when it seems it'll run forever, like M.C. Escher ants on a Moebius strip. But shortly after the rapid-fire montage of multiple climaxes, even the most dedicated fan must accept that it's time to go home and bathe.
Ageing roué Marv, played in a gaping dressing gown by Maddin regular Louis Negin (pictured below right), gives precise instructions on "how to take a bath" in the opening sequence (scripted by poet John Ashbery after a 1937 Dwayne Esper exploitation movie) and appears intermittently as the film's unofficial MC. Negin plays more than one part, as do Mathieu Amalric, Geraldine Chaplin, Udo Kier, and Maria de Medeiros. A sorrowful Charlotte Rampling, cast as a mother craving laudanum, haunts a picture laden with Maddin's familiar concerns: unrequited love, sexual repression, and the damage done by parents.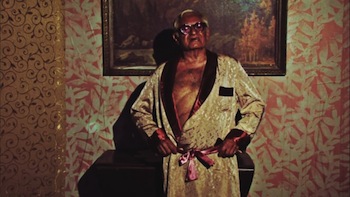 Mainstream moviegoers lured to watch this unsettling but frequently hilarious phantasmagoria will likely baulk at its fetishising of silent films and early talkies that were either lost, never made, or never completed. Maddin and his co-writer-director Evan Johnson imagined these phantom works into existence as morphing mini-movies.

Roy Dupuis and dancer-singer-composer Clara Furey are the nominal leads. Dupuis plays Cesare, an intrepid, square-jawed woodsman, and Furey is Margot, a sultry amnesiac. Cesare and his fellow "sapling-jacks" seek to rescue this vamp-in-distress, who's been kidnapped by the Red Wolves, a gang of ineffectual bandits named for a possibly apocryphal film. They hover around her in a cave symbolizing, as per a title card, a dangerous vagina – not the only one to be represented geologically or architecturally. Cesare and Margot disappear for such long stretches as tangential narratives spring forth that they are just two protagonists among many. That's probably another reason why many viewers (apparently) deserted a Sundance Film Festival screening of The Forbidden Room in January, instantly cementing its legend as a difficult film. Those who stay with it will discover a ludic masterpiece.

Maddin and Johnson conceived stories for missing films helmed by the likes of Hitchcock, Feyder, Lang, Murnau, Stroheim, Mizoguchi, Vigo, Dovzhenko, and Naruse, and by lesser known directors, such as Denmark's George Schnéevoigt (Gardener's Boy Sought, 1913). The Forbidden Room – a title implying the unconscious mind and source of dreams – was originally the name of a 1914 Lon Chaney film directed by Allan Dwan. The Blue Mountains Mystery (1921), made by the Australian pioneers Raymond Longford and Lottie Lyell, prompted the priceless sequence in which Amalric's madman gives his wife (Amira Casar) birthday presents chosen from his collection of stuffed animals and tries to convince her they are duplicates. When she indicates his menagerie is short, he accuses his faithful manservant (Kier) of theft and shoots him.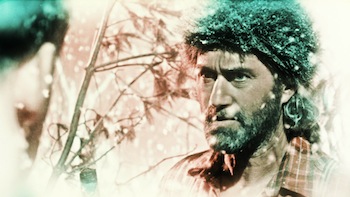 Taped digitally before audiences in Paris and Montreal, then gorgeously tinted and distressed by Johnson in post-production to resemble a compendium of early color nitrate films in different stages of decay, The Forbidden Room is its own morphological phenomenon – "melt-ological," perhaps, given the many molten or melting frames, the oozy digressions from one story to another in the spirit of the poet-novelist Raymond Roussel, and the Freudian play with magma.

Literalising immersiveness, the movie reveals that beneath Marv's ablution demonstrator's bathwater is an ocean. Forty fathoms deep, a submarine's four-man crew fears its cargo of blasting jelly will explode before the oxygen runs out. Though they can survive for a while on the air trapped in the flapjacks they eat, they need the guidance of their captain, who is missing in action. Dripping freshwater, Cesare (pictured above left) enters the sub and tells them of Margot's capture in "the blackest heart of Scheswig-Holstein".

We see Cesare infiltrating the Red Wolves by undergoing "ordeals" – "offal-piling", for example – that are Pythonesque in their reductive absurdity, though Maddin's version of antic Dadaism is original. Escaping the Wolves "though the doorway of a dream," Margot (pictured below right) sells flowers and sings at a Sternbergian jungle nightclub on a volcanic island, and – via the lobomotization of a gentleman (Kier) obsessed with women's bottoms, and the flight of a squid thief – trysts with a bejeweled woman attorney who parachuted there. So it goes on – enfolding a baron's hiring of an old murderer as his boy gardener and bath-time valet; the passionate love of a shattered motorcyclist for her surgeon and then for his anchorite brother (after the doc succumbs to the lust of three Lamia-like "skeletal insurance defrauders") – and on…and on.
Almost exactly at the midpoint, the beautiful rail traveller Florence Labadie (Karine Vanasse), willingly seduced "between Berlin and Bogota" by a train psychiatrist (Gregory Llady channeling the notorious ham actor Lionel Atwill), shoots her "inner child", whom he has revealed to her in analysis. (That the child later shoots Florence suggests Maddin is drawing on the usually discredited rumor that the Canadian silent star Florence La Badie was murdered in 1917 for having conceived a child with President Woodrow Wilson.) Florence's pulling the trigger, a desperate act of symbolic self-liberation, in turn triggers the un-nesting of the nested narratives, which Maddin and Johnson revisit successively. Like unrepressed anxieties, darker new stories emerge in the second half, as if bubbling up from the damage done by Florence to the film's psyche.

Oedipus is present when a blind woman (Medeiros) who touches her little boy's glued-on moustache is persuaded that her dead husband (Kier) still lives. An eerily lit surrogate for F.W. Murnau's Dr. Jekyll and Mr. Hyde adaptation Der Janus-kopf (1920) conjures the dread and morbidity of German Expressionist cinema. After the barrage of climaxes, the sub's crew, Cesare, Margot, and Marv return to bring merciful closure. If you're up for The Forbidden Room, it fulfills it's oneiric promise by leaving you with the vague impression that you dreamed it – and dreamed its dreams within dreams – even if you know you didn't.
For more on The Forbidden Room, read The Arts Desk's interview with Guy Maddin and Evan Johnson this Saturday.