DVD/Blu-ray: Indochine |

reviews, news & interviews
DVD/Blu-ray: Indochine
DVD/Blu-ray: Indochine
Deneuve resplends in Régis Wargnier's spectacular Vietnam-set saga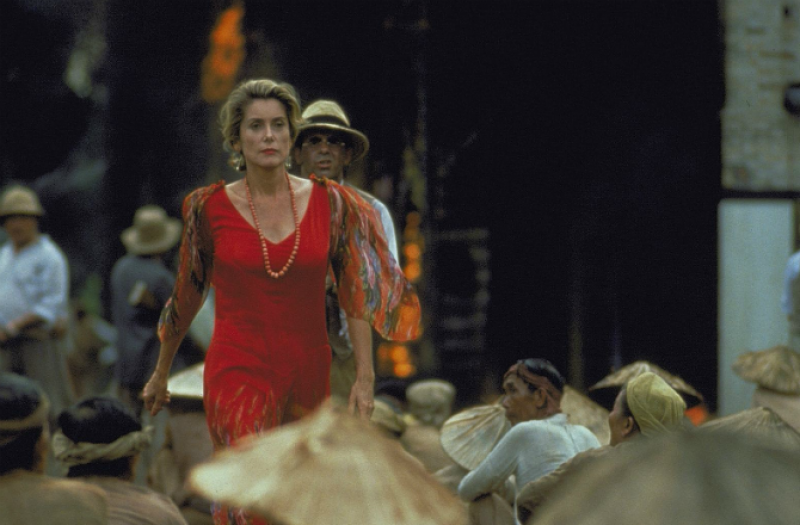 Glory in a red dress: Catherine Deneuve as Eliane
The end of empire has rarely looked more cinematically beguiling than in Régis Wargnier's Indochine, the visually lavish 1992 drama written for Catherine Deneuve, who gets the film's epigraphic line about "believing that the world is made of things that are inseparable: men and women, the mountains and the plains, human beings and gods, Indochina and France…"
Substitute Communism for "gods" in this somewhat
faux-
glamourised depiction of an independence movement, and it becomes clear why that final pairing didn't last.
Indochine has moments of visual glory that raise it to the ranks of truly epic cinema, like the opening funeral procession over the water that introduces Deneuve's character, Eliane Devries, clad in black, her Nguyen princess adopted daughter Camille by her side, or the flotilla in the spectacular scenery of Halong Bay (pictured below). Scenes on land rarely approach them: Vietnam, the setting of Wargnier's 1930s-onwards story, couldn't provide locations either for Eliane's rubber plantations, or for colonial-era Saigon (Ho Chi Minh City was too decayed), both of which were recreated in Malaysia. But there's no shortage of exotic glamour in the film's depiction of a decadent royal culture shortly to be toppled by the more primitive aesthetics of rebellion.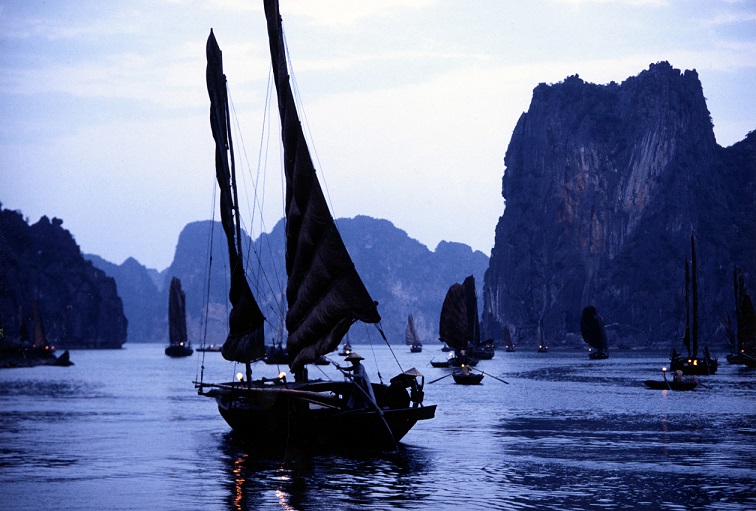 Visuals virtually came before story, Wargnier reveals in an extra: early meetings with tyro producer Eric Heumann had him talking of a run-time of three hours (Indochine managed 159 minutes), a budget of 120 million francs (a fortune from an era in which French production had passed largely into the hands of utility companies), and an Oscar (it garnered Best Foreign-language Film, with Deneuve nominated for Best Actress). Such ambitions were almost on the scale of a Selznick, but the more immediate comparison must be David Lean, though it's hardly "Zhivago in a warm climate", not least because the romance is somewhat awkwardly bifurcated. Though in that final scene, set in Geneva in 1954 and slightly uneasily tacked-on, you can almost imagine Deneuve launching, Rebecca-like, into "Last night I dreamt I went to…" in a film in which sweet revery, almost opium-inspired, dominates over reality.
François Catonné's cinematography is a thing of glory in itself
The creation – "development" surely the wrong word – of the script was a story in itself: out of a six-page sketch about two young officers and rubber plantations, novelist Erik Orsenna and others crafted a whole world, bringing together Deneuve and love interest Vincent Perez (an outsider for the role) as the dashing young naval officer, Jean-Baptiste. The ferment of revolution duly brings Perez's character into fateful first contact with Camille (Linh Dan Pham, a Vietnamese emigrant who had left Saigon as a boat-person, aged one), as well as the sécurité-intelligence world of Jean Yanne as the rotund Guy, unsuccessful contender for Deneuve's attentions.
The scriptwriting quadriga had practically finished work before they realised there wasn't a role for Dominique Blanc (star of Wargnier's earlier I'm the King of the Castle), so they created Yvette for her in a day, a memorable combination of temper and tragedy that won Blanc Meilleure actrice dans un second role at the Césars, at which Indochine rather cleaned up, not least in the technical departments. Deservedly so: François Catonné's cinematography is a thing of glory in itself, while designer Jacques Bufnoir reveals here how Tintin provided clues to getting the naval officers' visual look right.
We owe Indochine's appearance in this new 4K restoration to the film having been selected for the "Cannes Classics" 2016 section. Its release is accompanied by the aptly titled hour-long documentary extra Indochine - Une épopée française, with some nice reminiscences from Wargnier and his (male) collaborators, not least on the pioneer challenges of filming in Vietnam at the end of the 1980s. But not a word from Deneuve (nor indeed any of her co-stars): a surprising omission from the package for a film more than marked by its female presence.
'Indochine' has moments of visual glory that raise it to the ranks of truly epic cinema
rating
Share this article