Dorian Gray |

reviews, news & interviews
Dorian Gray
Dorian Gray
No Oscars for Oscar's Faustian fable
Wednesday, 09 September 2009
Here's looking at you, kid: Ben Barnes with eponymous picture in 'Dorian Gray
Oscar Wilde was once bossing a high-society drawing-room with swishes of his rapier wit when someone else had the temerity to mint an aphorism. "I wish I'd said that," intoned the great man. Back came the devastating retort: "You will, Oscar, you will."
Wilde was in fact a keen recycler of his own bon mots. Many of those clever-clever inversions that ornament the plays first did service in The Picture of Dorian Gray. The author's pragmatic calculation was that if they worked on the page, why not the stage? But for some reason, not a lot of them seem to have made the onward journey to the screen in Oliver Parker's film account of the Narcissus with a rotting portrait locked in his loft.
The real thing in the attic was Wilde's homosexuality
This is Parker's third visit to Wilde's shores, having already given us The Importance of Being Earnest and An Ideal Husband. So maybe he just felt he'd heard them all before. This cinematic account of a young man's Faustian barter to retain his beauty and do all his withering on canvas concentrates on ramping up the gothic. In a fin-de-siècle London, corpses bob in the inky Thames, predatory rent boys moue and mince, and the cavernous townhouse inherited by the orphan Dorian does an awful lot of creaking.
But oh dear, where have all the witticisms gone? If anyone has any fun here it's Colin Firth, modelling a splendidly disfiguring beard and, in due course, a fast-receding hairline. No portrait in the attic for him. For this and other reasons the grand knitting circle of diehard Darcyites might like to avert their simpering gaze. "Make life burn with the hardest flame," drawls his Lord Henry Wotton, leading the wide-eyed Dorian into a netherworld of gin and tarts. Lionel Bart aficionados will recognise the joint at once. It's a sort of Oliver! with nobs out.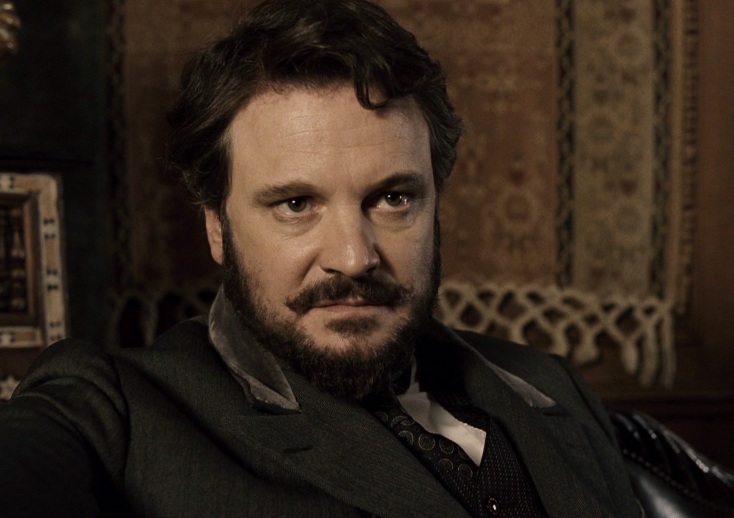 As Dorian, Ben Barnes gets to do all the humping and bumping, the slicing and dicing. Poor lamb, it's a thankless labour. Barnes, lately of Narnia, is jolly buff and all that, but something of the character's heartlessness has eaten out the film's core from the inside like the maggots who infest the portrait, leaving behind a polished teak surface. The problem is that Barnes just doesn't exude the brand of sinful Jaggeresque charisma required to earn sympathy for this particular devil. The boy Gray is a grey boy. It's not all his fault. The sybaritic interludes of breathy soft porn, which are many but sadly not various, go to work on you like a fast-acting tranquilliser.
This was Oscar's walk on the wild side, the closest brush his art ever had with the life that landed him in Reading Gaol 20 years later. The real thing in the attic was his homosexuality. Of the many liberties Toby Finlay's screenplay takes, the most imaginative is an overt allusion to Wilde's fondness for feasting with panthers (that's shagging the rough trade to you and me). Being all but an alter-ego, Wilde naturally kept the figure of portrait painter Basil Hallward in the closet. Here, played by Ben Chaplin, he's allowed out, although not for long. No sooner have he and Dorian had a brief fumble than he's been despatched downriver limb by lopped-off limb. To put it mildly, the punishment for glimpsing Dorian's secret degradation is depicted rather more colourfully than in the book.
The film's best trick is to fast-forward until a diabolically fresh-faced Dorian re-enters society after a long stint abroad to find that everyone is 20 years older. Hats off to the make-up department: we now know what a lot of well-known character actors will look like in their dotage. Lord Henry's baby daughter, meanwhile, has shot up into a succulent suffragette in the form of Rebecca Hall. Wotton belatedly twigs that in Dorian he has created a monster. "You are against nature!" he yells in an 11th-hour citation of Wilde's own literary source, Huysmans's A Rebours. Rather more of that kind of plagiarism would have slipped down a treat. As it is, this film's a stuff will not endure any better than youth itself.
Ben Barnes gets to do all the humping and bumping, the slicing and dicing. Poor lamb, it's a thankless labour
Explore topics
Share this article