The Damned: Don't You Wish That We Were Dead |

reviews, news & interviews
The Damned: Don't You Wish That We Were Dead
The Damned: Don't You Wish That We Were Dead
Documentary that grippingly unravels one of rock's most convoluted, seldom told tales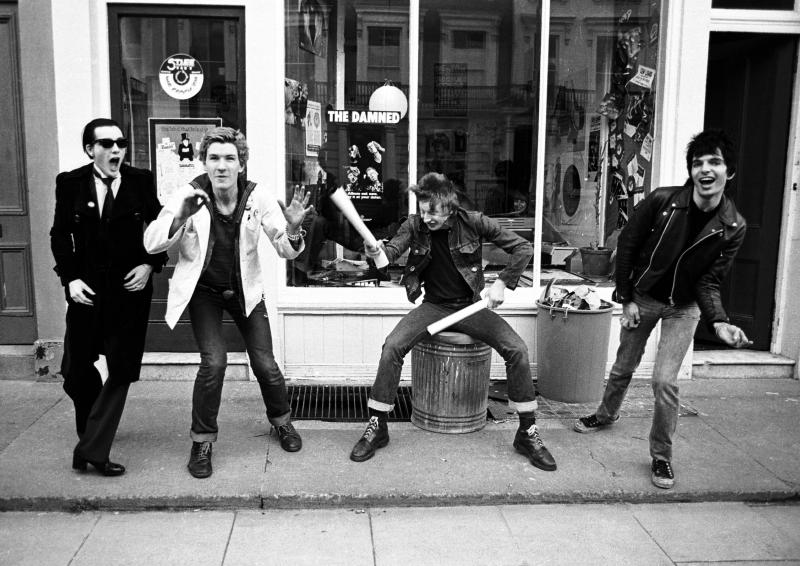 The jokers of punk - Vanian, Sensible, Scabies and James - in their prime
What Wes Orshoski's new documentary points out, above everything, is how much pop success relies on an ordered narrative and an easily understood package. First-wave British punk band The Damned, on the other hand, wrote as many great songs as their peers, but their career has been a mess of random creativity, changing line-ups and dreadful business decisions. There is a telling moment where Rat Scabies, the original drummer, weeps as he recalls the one occasion the band had all their ducks in a line. With a major label deal, solid American management, and 1985's chart-friendly Phantasmagoria album under their belt, they had returned to a plush studio to record the follow-up. "But we didn't have the will to play," he says, wiping tears from his eyes. It is almost as if chaos is what they thrived on.
Orshoski's previous documentary was the likeable and subtly revealing Lemmy, about Motorhead's perma-rock'n'roll frontman. With Don't You Wish That We Were Dead he has taken on a much more convoluted tale, riddled with interweaving details and alternate versions that must have been nigh-on-impossible to marshal. He acquits himself admirably. Not least, there's the fact that Rat Scabies, kicked out in 1995, and Captain Sensible, who remains in the band, have bitterly fallen out, something both return to uncomfortably throughout, especially a scene in which the former, wandering through an open market, falls into a bitter, vitriolic ramble, marinated in self-pity.
The Damned's original line-up coalesced around the guitar skills and songwriting of Brian James. They were the first UK punk band to release a single ("New Rose", October 1976), the first to have an album out (Damned Damned Damned, February 1977) and the first to tour the US (giving birth to the West Coast's version of punk). What's made clear, however, is that while the Sex Pistols and The Clash were busy defining themselves to the wider public, The Damned were on one long juvenile bender, crawling along hotel balcony ledges to shit in each other's beds, and the like. This line-up was the first of many to implode but a host of talking heads, from minor punk figures such as TV Smith (The Adverts) and Charlie Harper (UK Subs) to bigger fish, such as Duff McKagan (Guns'n'Roses) and Chrissie Hynde (The Pretenders), make clear that The Damned offered jokey levity at a time when all was nihilism and year zero militancy. The film zings with their snappy, irrevererent humour, especially Sensible's. "You're never going to have a good political discussion with Jerry Lee Lewis," is the comparison Dead Kennedys singer Jello Biafra uses to explain their appeal.
It's a convoluted biography, grounded in old footage alongside film of the band performing around the world in recent years, from Tokyo to Reading, eating endless pizzas backstage. Sensible comes over as a sharply intelligent, naïf mischief-maker while singer Dave Vanian is an enigma, very private, dryly humorous and intriguingly unknowable. Both of them look far younger than they have any right to. Their music blossomed in the late Seventies and early Eighties, exploring psychedelia – more on their Syd Barrett/LSD obsession would have been interesting. They even had proper chart hits, but the film gives a sense that everyone involved in The Damned is awaiting recognition, as well as financial recompense for an ongoing career full of great music. In that sense this is an unfinished story, made just as The Damned's 40th anniversary approaches. Where many music documentaries have a similar dynamic arc – rise, fall, rise again – Don't You Wish That We Were Dead is a fascinating, rambling saga that emanates a rich, sometimes morose, sense of what it's really like to have a whole life defined by the oh-so-brief explosion that was punk rock.
Overleaf: Watch the trailer for The Damned: Don't You Wish That We Were Dead
Rat Scabies, kicked out in 1995, and Captain Sensible, who remains in the band, have bitterly fallen out, something both return to uncomfortably throughout
rating
Share this article