Berlinale 2014: The Winners |

reviews, news & interviews
Berlinale 2014: The Winners
Berlinale 2014: The Winners
China captures Berlinale Bears
Dangerous skating: China's Liao Fan, left, won Best Actor award for his role in Diao Yinan's 'Black Coal, Thin Ice'
The Chinese thriller Black Coal, Thin Ice by director Diao Yinan won the Golden Bear at the closing ceremony of the Berlinale last night, as well as picking up the best actor prize for its star Liao Fan.
It was a night for Asian cinema in general, with the best actress award given to Japan's Haru Kuroki, playing in veteran director Yoji Yamada's The Little House, while Chinese cinematographer Zeng Jian came away with the Silver Bear for outstanding contribution in the technical categories for his work on Lou Ye's Blind Massage.
Expectations were high for 'Boyhood' by Berlin favourite Richard Linklater
No one could accuse the Berlinale jury, led by the American producer-screenwriter James Schamus, of narrowness of taste. Diao's third film, Black Coal, Thin Ice, one of three Chinese films in competition, is a bleak but energetic thriller, extremely contemporary in style, set in the wintry landscapes of northern China following murder investigations that run over a decade. It plays on classic noir traditions, with Liao playing a police officer, who's been suspended and gone to seed but still follows the case, and comes too close to one of his suspects.
In contrast, The Little House, the single Japanese entry in the Berlinale is a very traditional film that plays on understated emotions, returning in long flashbacks from the present day to the years before World War II. Haru (pictured right, standing left with Takako Matsu) plays a maid in a prosperous Tokyo family, who both observes, and has her own presence in a precariously balanced relationship triangle.
General opinion had it that there wasn't a clear stand-out film from this year's slate of 20 completion works, though expectations were high for Boyhood by Berlin favourite Richard Linklater, who came away with the best director prize. The Silver Bear Grand Jury prize also went stateside, to Wes Anderson for the festival opening premiere film, The Grand Budapest Hotel.
That left two prizes for Europe. Widely acknowledged as the best German film in competition, Dietrich Brüggemann's somewhat neurotic Stations of the Cross, about the travails of a 14-year-old girl caught between her normal teenage interests and a strict Catholic upbringing, brought the director, along with his co-writer and sister Anna, the best script award.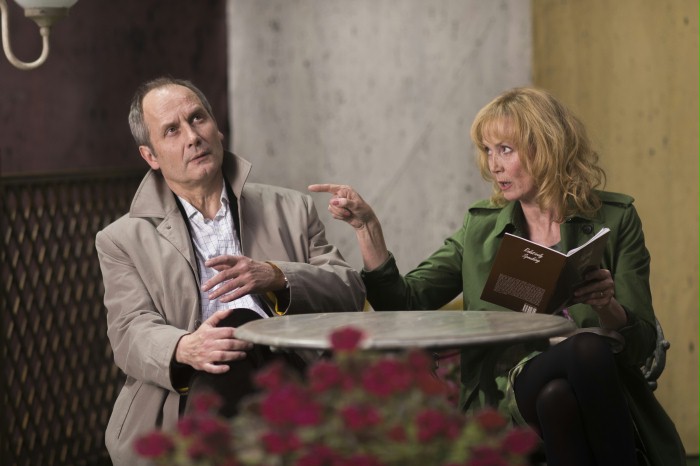 More controversial was the award of the Silver bear named in honour of the Berlinale festival founder Alfred Bauer for a "feature film that opens new perspectives", to French nonagenarian director Alain Resnais for his Life of Riley (titled in French, Aimer, boire et chanter: pictured left, Hippolyte Girardot with Sabine Azéma). Riley is the third time in a decade that Renais has turned to the work of British playwright Alan Ayckbourn for inspiration, creating a highly stylized film that relies heavily on theatrical backdrops in telling its story of actors in an amateur stage production whose real life concerns overlap with their stage roles. It scored the highest number of walk-outs from any press screening, as well as low marks, especially from some English-language critics who saw it rather as a step backwards rather than forwards in film-making. Nevertheless it also won the FIPRESCI critics' association award.