Untitled, 2023 / Corybantic Games / Anastasia Act III, Royal Ballet review - a magnificent end to the season |

reviews, news & interviews
Untitled, 2023 / Corybantic Games / Anastasia Act III, Royal Ballet review - a magnificent end to the season
Untitled, 2023 / Corybantic Games / Anastasia Act III, Royal Ballet review - a magnificent end to the season
There's grist and glory in this triple bill, and a career-high for Wayne McGregor
Ever upward: Anna Rose O'Sullivan and Melissa Hamilton in 'Untitled 2023', the new work by Wayne McGregor
Is it a cop-out for an artist to label a piece of work "Untitled"? Painters and sculptors make a habit of it, reasoning that they want to leave the viewer free to bring to the experience what they will, unhampered and unlimited by prior information. Odd, then, that dance, being such an ambiguous, free-associating art form, should be so far behind the curve.
Wayne McGregor's latest work for the Royal Ballet is the first "Untitled" that I have come across in three decades of watching dance. It is also one of the most exciting new non-narrative ballets in years.
Untitled, 2023 is named after the piece of visual art that forms its backdrop, a work by the late abstract-minimalist Cuban-American Carmen Herrera who died last year aged 106 and was approached to provide this, her first work for the stage, at 102. In bald terms, Herrera's contribution is a backcloth painted with a wide green triangle on a startling white ground, and a white sculptural shape, waist-height, on the floor. Neither refers to anything specific. Were we to be told that the triangle (pictured below) was a mountain, or an arrowhead, or a graph, we'd pursue that line of thought. Left to our own devices, the green triangle nags at the brain to be something else, or multiple other things, possibly all at once.
McGregor's choice of music chimes with this visual austerity in a way that guides those thoughts – or perhaps it's the art that guides the music. The orchestral works of Icelandic composer Anna Thorvaldsdottir use epic forces to present great granite blocks of sound within which individual pitches, barely discernable, become pockets of rhythm that seethe and bubble and slither like molten lava. As with Herrera's triangle, it offers us nothing familiar to clutch at, yet I found I wasn't alone in finding within this massive sound thoughts of ocean deeps, tectonic plates and the bulk and density of icebergs.
The introduction of 19 dancers into this vast sensual environment is bracing. Dressed (by Daniel Lee of Burberry) in unitards in different graphic permutations of green and white, it's as if the bodies are ice shards that have briefly detached from Herrera's painting. Everything connects. Too often in new ballets made for the Opera House main stage, detail gets lost in the vastness, perhaps because choreographers panic about filling the space and over-fill it, distracting the eye. McGregor, now a veteran of three decades of dance-making, boldly gives us less, and in this richly suggestive visual and aural context less is indeed more.
And while there is plenty of the hyper-extended, hyper-articulated body language McGregor is famous for, there are also moments of felicitous lightness, as when two girls break away in sync with each other, hopping and fluttering like finches oblivious of a volcano that could be about to blow. McGregor has learnt much from the experiments of the late Merce Cunningham, especially about creating complex micro-rhythms of steps within huge swathes of sound not made for dancing. Gesamtkünstwerk is an unwieldy word for a work as cleanly limned as this, but the unity and cogency, not to mention beauty, of McGregor's Untitled, 2023, is phenomenal.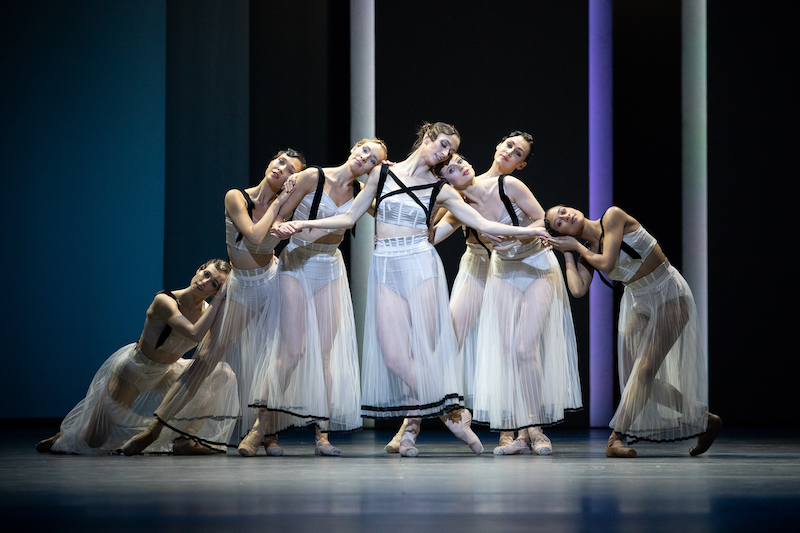 The programme is completed by two other pieces generated from within the Royal Ballet. Christopher Wheeldon's Corybantic Games, new in 2018, glances back to the sporting contests of Ancient Greece. The music is Leonard Bernstein's Serenade (after Plato's Symposium) which adds another historical stratum with its brash, bright, Hollywood Bowl era confidence. The stage is busy, but Wheeldon's genius for organising space guides the eye. There are gorgeous moments (pictured above) when the pace suddenly calms and the women lean into one another, heads drooped, as if posing for a sculpture. Elsewhere, Mayara Magri makes a superb athlete-in-chief, moving her long strong limbs at fizzing speed.
Kenneth MacMillan's one-act ballet Anastasia comes with some curious baggage. It's a taut little drama that tells the story, with clever economy, of a woman in a Berlin mental asylum who believed she was the Grand Duchess Anastasia Romanov – having survived the assassination of the rest of her family in 1917. At the time of its premiere in 1967, half the world (including the choreographer) believed, or hoped, that she really was. A DNA test in 1994, three years after MacMillan's death, proved decisively that she wasn't. Yet this makes barely a dent in the ballet's power. It now works as an emotive study of early-onset dementia and loss of identity.
Against an aural backdrop of electronic burblings and music by Martinu, the woman, flanked by her nurses and psychiatrists, watches scraps of flickery home movies from the Romanov archive. Well-heeled visitors come to gawp at her. She suffers flashbacks, some benign, some terrifying, but all of them a feasible reaction to the stories that are fed to her. Laura Morera (pictured above), in her final role before retirement, is riveting to watch, whether sprinting dementedly around the perimeter of the stage, or wrestling with nightmare visions of her nemesis, the creepy Rasputin, or rifle-wielding Bolsheviks. It's a priceless role for a dancer of Morera's dramatic gifts, and MacMillan's experimental expressionism (a style he rarely visited again) gives them thrillingly free rein.
The unity and cogency, not to mention beauty, of McGregor's new work is phenomenal
rating
Share this article