theartsdesk in Perm: To Russia With Romeo |

reviews, news & interviews
theartsdesk in Perm: To Russia With Romeo
theartsdesk in Perm: To Russia With Romeo
MacMillan's iconic English ballet Romeo and Juliet emigrates to Gulag country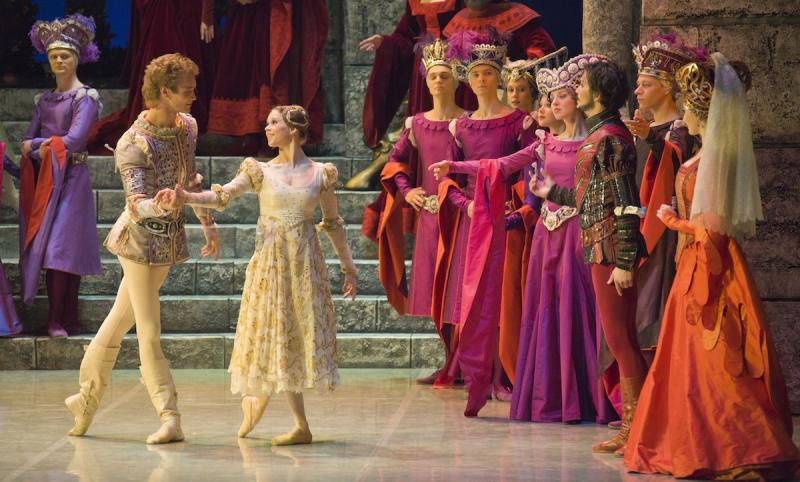 Old lovers, new colours: Perm Ballet perform MacMillan's Romeo and Juliet
If you look at a map of Russia, you will find the city of Perm just west of the spine of the Ural Mountains which divides European Russia from Asia, about 720 miles north-east of Moscow. Just under two hours away by plane, you only understand the reality of its remoteness going there by Russian train: 24 hours' slow chug through endless forests of silver birch, pines and bog, only occasionally enlivened by the startling yellow of kingcups. You feel yourself being translated into a different dimension.
In Russian cultural memory, it's a symbolic place: the faraway country, northern, pagan, a place of mystery, hidden treasures and magic inspirations which only converted to Christianity in the late 14th century. The Stroganov family (of Beef Stroganoff) came in the 16th century to mine salt from vast tracts of the Perm area. Two centuries later modern Perm started to grow: the city just ordered into existence from the top, like St Petersburg: new mining and metal works arrived and production for the Russian military began.
As did the prison camps for those who didn't toe the political line. At which point a new theme starts in the narrative; Pushkin writes of a godforsaken and scary province, a place of exile and banishment; gloomy and dreary on the threshold of Siberia. Writing to Maxim Gorky, Chekhov said of his play The Three Sisters that it "takes place in a provincial town like Perm". It snows even in May, and the railway station is far away from the town. It is like a city of the dead which the living cannot leave.
For many years in the 20th century, it was literally such a place, closed to foreigners until 1989, kept secret because of its huge armaments industry, its massive scientific research university and the ever-enduring prison camps. Perm was the largest of the Soviet Gulag provinces: there is one camp left, Perm-36, which is preserved as a historical monument. In the summer, tourist buses leave regularly for a round trip combining with an ice cave, a salt mine or a monastery.
So the city has a strange feel about it. The boulevards are spacious, the buildings of the historic centre quite well preserved against the onslaught of high-rise flats both newly-built modern and rotting Soviet. The houses are elegantly plastered in ice-cream colours - pistachio, strawberry, apricot - with the occasional duck-egg blue. Mostly, they seem to be facades only - as in St Petersburg, behind the façade the building is rough brickwork, sometimes even timber logs, the "gardens" turned over to parking amid the weeds. Looking out across the Kama River from the central crossroads of Lenin and Komsomol streets, you see a black line of trees start almost immediately and stretch away far to the horizon. Pushkin even describes the "dark and thick Perm woods".
Commercial life as we know it in the West - ads, shop windows, billboards - seems hidden from view. While it's a relief not to have such visual bombardment, it makes a simple exercise to buy a bottle of milk a considerable adventure, opening random doors in the hope of finding a food shop. Most disconcertingly, nobody will meet your eye or smile spontaneously, as I found on the 15-minute walk down the main Lenin Street to the Tchaikovsky Theatre.
Many former Gulag inmates remained exiled here, their children growing up as children of convicts
One explanation could be that many former Gulag inmates were still forbidden to return back to their homes, so they remained exiled in Perm with their children growing up as children of convicts. Apparently hundreds of children were also evacuated to Perm for safety in World War II, many of them without identity papers and so effectively orphaned in the city. And if your parents were working with the secretive armaments industry, or as a rocket scientist working on inter-ballistic missiles, or for the KGB, you would learn very quickly to present a blank exterior to the inquisitive.
They say Perm is the last city in Europe (though it's the first, if you follow the direction of the sun). Siberia next stop. Yet this month the first Russian company ever to acquire the most famous of the Royal Ballet's works, Sir Kenneth MacMillan's Romeo and Juliet, was in this faraway city.
"Why Perm?" was the frequent question put to Deborah MacMillan, Kenneth MacMillan's widow (with the implied question, why not the Mariinsky, or the Bolshoi.) Her answer is that she will now only allow companies to perform MacMillan which understand that his work was about all aspects of theatre: certainly the steps, but also the music, the design, and the drama. Companies that want a long-term relationship with MacMillan's work, and which are committed to developing new generations of dancers in his roles - in other words, which see his ballets as an investment in their artistic life.
And increasingly Deborah MacMillan is seeing this in Russia, where Perm's preparations for Romeo and Juliet followed close on those at the Stanislavsky Ballet in Moscow for his Mayerling.
Perm's ballet company is one of the most important in the Russian scheme of ballet. It is ranked only just behind the two giant state companies of St Petersburg's Mariinsky and Moscow's Bolshoi. Founded in 1925, it was pushed onto a new level by the Second World War - which Russians call the Great Patriotic War - when the Kirov Ballet and the Vaganova School were evacuated there from the German advance on Leningrad (now St Petersburg). Not only did the Kirov perform regularly in Perm, but the school began training the local talent – and continued to do so after the war was over, when permits to return to Leningrad were not forthcoming. The Kirov star Ekaterina Geidenreich (the first wife of the great choreographer Leonid Lavrovsky) wasn't allowed to leave for 10 years during which time she forged its classic foundations; her Kirov style was then combined with the Moscow ballet background of Lyudmila Sakharova who took over as the next director.
Wartime Perm students included the boy Yuri Grigorovich, later the iron man of the Bolshoi Ballet. Illustrious ballerinas emerged from Perm to decorate both the Kirov and Bolshoi: Lyubov Kunakova, Nadezhda Pavlova and Olga Chenchikova for three, and Perm continues to be a hugely influential ballet school, harvested by Moscow and St Petersburg.
But there must be anxiety at the news that the Mariinsky is inflating itself to a 400-strong company, and the Bolshoi to 300: these behemoths will suck in as much of the talent as they can get, offering salaries far above anything that a remote, provincial city can offer, however enticing the repertory that the ballet's artistic director Alexei Miroshnichenko can promise. This year, the Mariinsky hoovered up 12 of the Perm School graduates: it's rumoured that they've already picked the eyes out of the next year's talent before they've even graduated.
Still, Perm's strange history has its benefits. Memories of the closed military city are being banished with a conscious effort to promote a new cultural identity, not least because the legendary Serge Diaghilev grew up in Perm.
The Ballets Russes impresario's family moved there when he was 10, and their home still exists (now used for a high school). His interest in the theatre was kindled with performances at what is now called the Tchaikovsky Theatre (Russia's most iconic composer was born just south of the city in Votkinsk).
Hence this month the Diaghilev Festival, which has been running biennially since 2003, of which the opening performance was the first-ever Russian production of MacMillan's Romeo and Juliet. It was quite a statement for a Russian ballet company to make. In Russia the 1940 staging by Leonid Lavrovsky of Prokofiev's new score has become an untouchable monument, and despite its datedness continues to be critic-proof in the country.
Arguably Perm was underscoring its difference from the Moscow and St Petersburg ballet titans in choosing this version for itself. However, it was by no means a given that a Russian company would bring the fresh eagerness of approach to the rival Western version that Deborah MacMillan demanded.
MacMillan's ballet will be 50 years old soon; time enough to be encrusted with complacency, colours dimmed, storytelling flabby
MacMillan's Romeo and Juliet will be 50 years old in a couple of years: time enough to be encrusted with the complacency of familiarity in companies that know it well; colours dimmed, motivation forgotten, storytelling flabby, even the ruder details of his imagination smoothed over for the sake of "niceness" for the audience.
But teach the ballet strictly from the notation, respecting every detail of MacMillan's original intentions, to a company who have never danced MacMillan before and are hungry for the experience, and the piece might spring back into the dramatic life that made its first audiences hail its originality.
That certainly happened at the opening production of the Diaghilev Festival. The Perm Ballet Company, coached by Karl Burnett and Gary Harris, produced a Romeo and Juliet that fizzed and crackled with energy. The stage was populated with real characters, from the townsfolk going about their business contrasted with the Capulets - clearly super-rich thugs - whose arrogance overwhelms the passionate intimacy of the lovers (tenderly danced by Natalia Domracheva and Ruslan Savdenov).
The sword fights mounted to a realistic violence that had us on the edge of our seats: never have Mercutio (Alexandr Taranov) and Tybalt (Ivan Poroshin) died to such shattering effect in my experience. After Lady Capulet's insanity of grief closed Act 2, Natalia Makina literally throwing herself across the stage at the crowd around the body, there was a palpable and stunned silence from the audience. And it goes without saying that all of it was danced with the superb technique which we take for granted from top Russian companies.
MacMillan's Romeo and Juliet had only ever been seen live in Russia from Royal Ballet visits with the original Nicholas Georgiadis designs. Perm decided to commission its own new designs from the Italian team of Mauro Carosi and Odette Nicoletti. To invite such a clearly European production to the hallowed ground of Prokofiev's score is a tremendous achievement for the ballet director, Alexei Miroshnichenko, who has been agitating to present the work since he arrived in Perm four years ago.
Miroshnichenko is himself a working choreographer and so is sympathetic to the overall needs of the stage picture. He started choreographing while still at the Vaganova School in St Petersburg and made new work all through his dancing career with the Mariinsky (where he was also appointed ballet master for the William Forsythe repertoire). He soon attracted attention from other companies: two consecutive invitations to the New York Choreographic Institute led to work for New York City Ballet and American Ballet Theatre and then the invitation to come to Perm.
"Ballet is about things that you cannot express with words, you have to do it with your body," he says. "And to be really expressive you have to push your body to the extreme, do things that are probably uncomfortable for the body. I think of it as similar to the way monks cultivate the spirit in their monasteries."
When he arrived in Perm in 2009, he presented a fourfold mission: to preserve the traditional historical classics; to enrich and add to those with more recently established classics, such as Romeo and Juliet; to introduce a variety of contemporary works by the likes of Forsythe, Jiří Kylián, Jerome Robbins and others; and finally, to make new works with the company itself. At 38, he has a long list of work to his credit: he makes his first full-length ballet next season, in a programme full of new productions.
Evidently he is his own man. But equally significant of Perm's independence of mind is that the recently arrived new artistic director of both the Diaghilev Festival and Perm Opera and Ballet Theatre is one of the most controversial characters on the music scene at the moment. Greek conductor Teodor Currentzis has made a name for himself with making both great music and derogatory comments about his colleagues and general standards of music-making. He is given to lavish pronouncements.
His career was launched in the glamour of St Petersburg's Conservatoire, where his teacher, the maestro to the maestros Ilya Musin, called him the only genius among his pupils, who have included Valery Gergiev, Yuri Temirkanov and Semyon Bychkov, as well as the Kirov's legendary ballet conductor Viktor Fedotov. Currentzis now guests all over the world and has come to Perm after a solid stint as music director at the massive Soviet theatre in Novosibirsk, Siberia, where the stage was built large enough to take parades of tanks.
Why Perm? It's like making love: using a condom is safe, but sometime you have to take a risk
"Why Perm?" I asked him. "Perm", he said, "is the only place I can create the artistic atmosphere that I am striving for. In a big theatre you have to work along with other people's strategies. Or you can go along with your own vision. It's like making love: using a condom is safe, but sometime you have to take a risk." (He's quite happy when I check if I can quote him on this.)
His risk includes gathering together his own orchestra, MusicAeterna, from the best players he can find throughout Europe. His spies are out everywhere to suss out the talent and invite them to join him in Perm, where the orchestra is now ensconced at the opera house alongside the regular orchestra, having moved over from Novosibirsk.
They have a recording contract with Sony for the Mozart Da Ponte operas, they give concerts and tour all over, they were to close the Diaghilev festival with a centenary performance of Stravinsky's Rite of Spring. Currentzis and MusicAeterna were due to bring the Stravinsky over to Manchester International Festival this summer in a radical installation-production by Romeo Castellucci, but this week it was cancelled when the director decided that his vision could not be adequately realised in Manchester.
It was Currentzis's MusicAeterna who played for Romeo and Juliet, creating a dizzying tapestry of sound and rhythm that completely electrified the dancers. I've never actually heard the score so vivid - the energy transmitted to the stage was astonishing. The problem was that at the premiere Currentzis forgot his responsibility, or understanding, that conducting for ballet must include a support for dancers who have to move bodies in space and must have the music make appropriate adjustment to their speeds. Currentzis simply went his own way, tempi waywardly different from those that had been agreed in rehearsal. You wouldn't have know it from the stage picture, but the dancers weren't comfortable.
It's a pity, because for my money, ballet needs seriously demanding conductors to extract the maximum out of the orchestra but they also have to understand they are responsible for a team working together. Currentzis doesn't do team work.
He probably won't conduct too much ballet in Perm: it doesn't really fit into his scheme of things: "Art can save the world and we must go on trying, even if no-one will understand. It's the spiritual quality of art that matters," he told me, in characteristically grandiose fashion.
But his expansive ideas are expensive. Currentzis operates with the support of an adoring and probably very wealthy fan club, but he has a worrying mentor in the shape of Gérard Mortier, opera manager and patron of the avant-garde, who developed in the heavily subsidised European arts scene of the last century. Currently in charge at the Teatro Real in Madrid, Mortier is very prominent in Currentzis's firmament: Perm's next opera project is Tchaikovsky's Iolanta directed for Teatro Real by Peter Sellars.
One shudders at the plans, one shudders at the budget. How long will the city tolerate the spend, when the serious priorities are clearly to bring the housing stock up to date and fix the potholes in the road? I suspect Currentzis will be in Perm only as long as it provides a useful platform for him along his career trajectory.
Meanwhile, although the new Romeo and Juliet was probably the most expensive production the ballet company has mounted to date, it will stay in the company and work for its box office and artistic development over many years. The current run of performances was sold out the minute the box office opened, and there is already an on-line queue for seats for the new season which it opens in September. They take it to Dublin in November.
MacMillan's style and vision have been well embedded in the company, adding to Perm's already rich heritage. Now it must add to the theatre's coffers to enable the work to go on.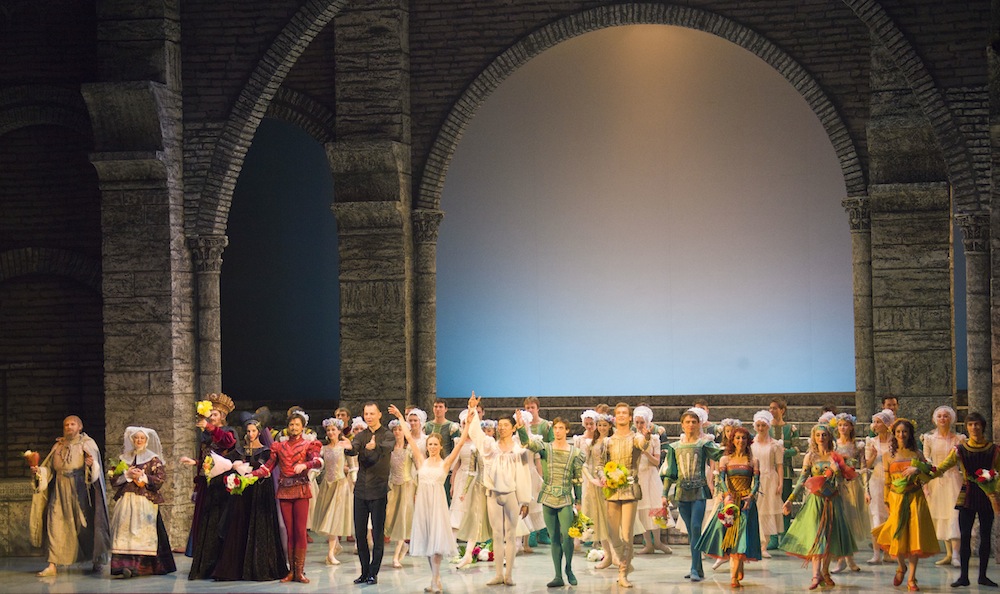 Why Perm? It's like making love: using a condom is safe, but sometime you have to take a risk
Explore topics
Share this article
Subscribe to theartsdesk.com
Thank you for continuing to read our work on theartsdesk.com. For unlimited access to every article in its entirety, including our archive of more than 10,000 pieces, we're asking for £3.95 per month or £30 per year. We feel it's a very good deal, and hope you do too.
To take an annual subscription now simply click here.
And if you're looking for that extra gift for a friend or family member, why not treat them to a theartsdesk.com gift subscription?