NDT2, Sadler's Wells review - a diverse triple bill |

reviews, news & interviews
NDT2, Sadler's Wells review - a diverse triple bill
NDT2, Sadler's Wells review - a diverse triple bill
A joyful showcase of technical skill and choreographic range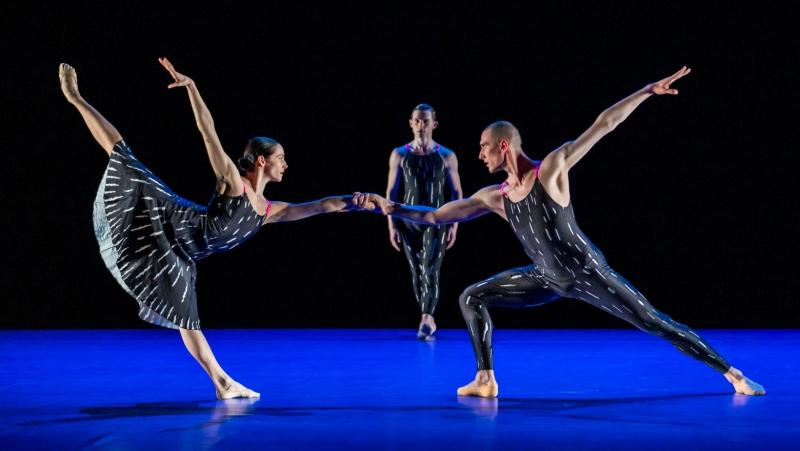 NDT2 dancers performing Hans van Manen's Simple Things
It's not every junior dance company that could sell out a house at Sadler's Wells. But NDT2 – younger sibling of one of Europe's top contemporary dance ensembles, Nederlands Dans Theater, have grown over the last 35 years into a box office blockbuster in their own right.
Marco Goecke's The Big Crying, made shortly after the choreographer's father passed away, opens the evening with a haunting display of virtuosic strength. The dancers' movements are incessant and frenetic – quick lifts, flicks of the leg and jagged arm gestures are so fast we are barely able to process them, giving a nightmarish feel to the piece. Light falls on lithe, sinewy arms glowing on a dark stage, as dancers work together in unison or slip apart into stark solos – the duet between Ricardo Hartley III and Rui-Ting Yu a standout moment. Set to music by Tori Amos, the dancers are fractured and angular where the songs are enveloping and comforting. Whether they suit the dance is unsure, but they certainly soften the more disturbing imagery of animalistic crawling, scuttling and claw hands. A haunting figure, mouth opening in a silent wail, whispering but heard by none, purges himself, until eventually his pain becomes vocal and the group share in his despair as they alternate between laughing and piercing screams. This interchange and the final image of the ghostly male centre character juggling air beneath a flickering torchlight perfectly concludes a dramatic physical wrangle between living with grief and simultaneously trying to embrace life, in the knowledge that it will end.
Hans van Manen's Simple Things brings line and pathway into sharp focus, with accordion piece "Scarlatti Fever" and "Haydn's Piano Trio No. 28 in E Major" creating a cause-and-reaction dialogue which allows the dancers to simply luxuriate in the dynamic fluidity of the music. Emmitt Cawley and Auguste Palayer duet playfully with a shrug of bravado, opening themselves out to the audience with upturned hand gestures, performing Balanchine-esque slinky-hipped side jumps. The fusion of elegant balletic line with a throwaway finesse lets the dancers' personalities shine. In the pas-de-deux with Cawley and Kenedy Kallas, the pair trace linear pathways, slicing the space like Ashton's Patineurs, bearing each other's weight to hold traditional montage arabesques and lunges, staying within the parameters of classical strength from the waist down, but paired with casual arms and curved torsos as they mirror one another within a calculated space.
Impasse by Johan Inger concludes the triple bill in a riotous finale that showcases the vitality and passionate spirit of these young dancers. An intriguing narrative sees three friends, brimming with innocence and immersion in trust and ungainly introversion, falling prey to a cast of characters who become increasingly more elaborate. The transition from falling trust games to vibrant swagger, hip thrusts and head bangs sees a loss of innocence, and the initial trio disconnecting as they become more and more immersed in mob mentality and conformism (a clear pop at social media versus reality and the power of filters/short lived trends) until the stage becomes a carnival of the grotesque. A pregnant girl dressed in pink does the splits on repeat; a white-face guy is desperate for his 15 minutes; a diamante catsuit-clad girl struts and falls as the all-encompassing jazz rhythms of French-Lebanese trumpeter and composer Ibrahim Maalouf sees the treadmill begin to tire until the curtain descends, leaving the dancers vying for the limelight. In the background, a neon-lit house shrinks in size – a demonstration of the more we have the less we need, perhaps.
The dancers' expert technique, showmanship and ability to maturely interpret complex choreography make for an impressive combination, and this young company has a very European ability to translate isolation and togetherness at a time when audiences are yearning to feel connected.
The fusion of elegant balletic line with a throwaway finesse lets the dancers' personalities shine
rating
Explore topics
Share this article