Lest We Forget, English National Ballet, Barbican
Lest We Forget, English National Ballet, Barbican
Strongly styled pieces inspired by World War One show Tamara Rojo's company on fine form
'Dust' by Akram Khan (pictured centre) is the standout piece of a strong evening.
Taken together, the memorial accoutrements of the First World War are probably this country's most highly developed, and widely experienced, discourse of public history. Through two-minute silences, poppies, public monuments, and near-univeral school exposure we still, four generations later, honour in the texture of our national public life the desperate need of the war generation not to forget the horror they had been through.
Though subsequent conflicts have been included in the commemoration – Armistice Day becoming Remembrance Day – it is still the war called Great that shaped it: the poppies are from Flanders fields. But as that conflict fades completely out of living memory – in a generation even the grandchildren of veterans will mostly be gone – the future shape of remembrance is called into question.
One possibility is that artists will step in to tell the stories whose speakers are dead, continuing at least in some form the direct transmission of experience. English National Ballet's rich new mixed bill Lest We Forget, which opened last night at the Barbican Theatre, certainly raises this possibility, though it's too early to say whether this sort of thing signals the future of Great War memory.
It has a surer claim to signal the future of ENB: artistic director Tamara Rojo clearly has both a remarkably strong vision for her company, and the drive to realise it. Not content with having persuaded two of Britain's leading contemporary choreographers, Russell Maliphant and Akram Khan to create new work (Second Breath and Dust respectively) for this year's Great War centenary, she then secured Liam Scarlett, the Royal Ballet's rising star choreographer, to create No Man's Land, and decided to support ENB's own young choreographer, George Williamson, by reviving his 2012 Firebird.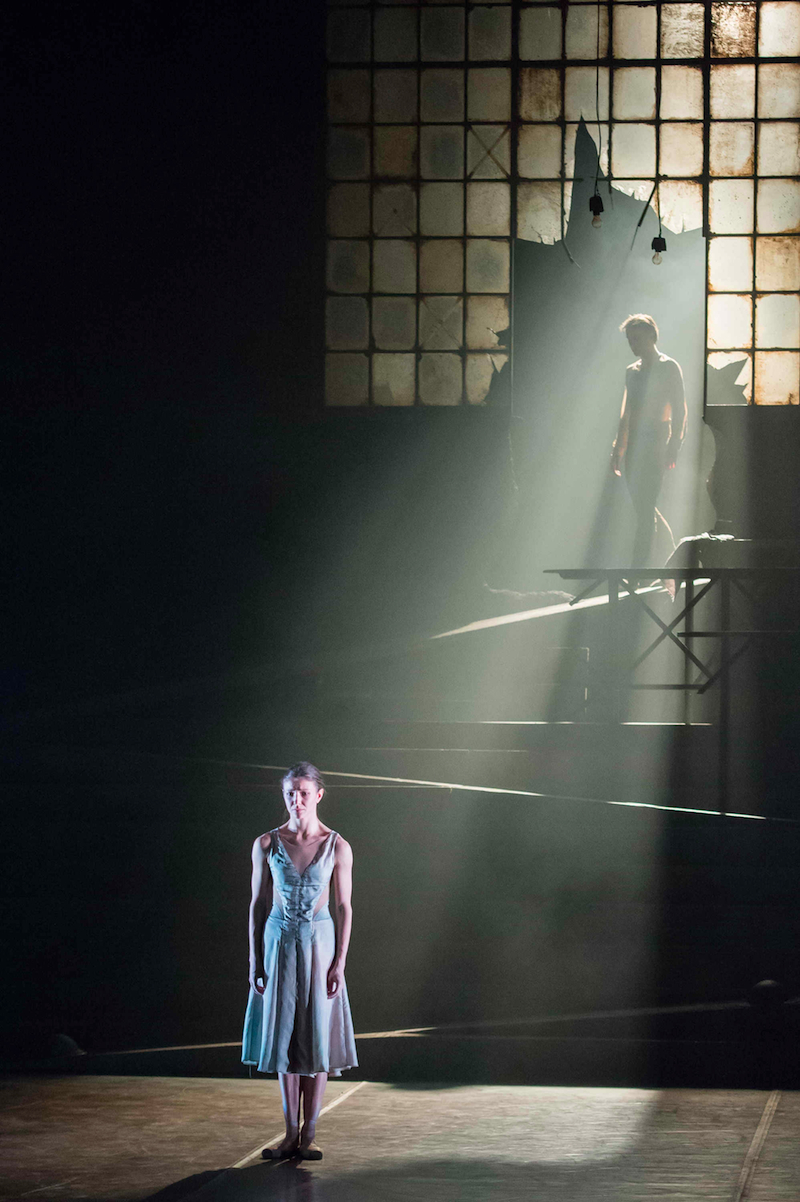 No Man's Land, which focuses on nameless women in a munitions factory and the menfolk they lose to war, shows Scarlett's talent on the up-and-up: poignant, clear storytelling and striking design (pictured right) complemented by beautiful choreography. It would have been much tighter with rather less of the beautiful choreography: the emotional hit faded after the strong opening moments, in which seven couples do gut-wrenching reunion in unison, before – fantastic image! – the women's white arms, embracing from behind, become the knapsack straps of soldiers trudging off. These figures are too generalised, too deliberately blank-faced, for their fate to remain gripping for forty minutes, however fine the dancing (and it was fine, particularly from the women, headed up by Tamara Rojo on very musical form). Excerpts from Liszt's Harmonies poétiques et religieuses made for an appropriate soundworld, though I suppose it is futile for me to wail about unnecessary miking. Surely Gavin Sutherland and the ENB orchestra don't need amplification, particularly if it undermines their power to haunt with sound, and conveys every paper rustle in the pit to the audience?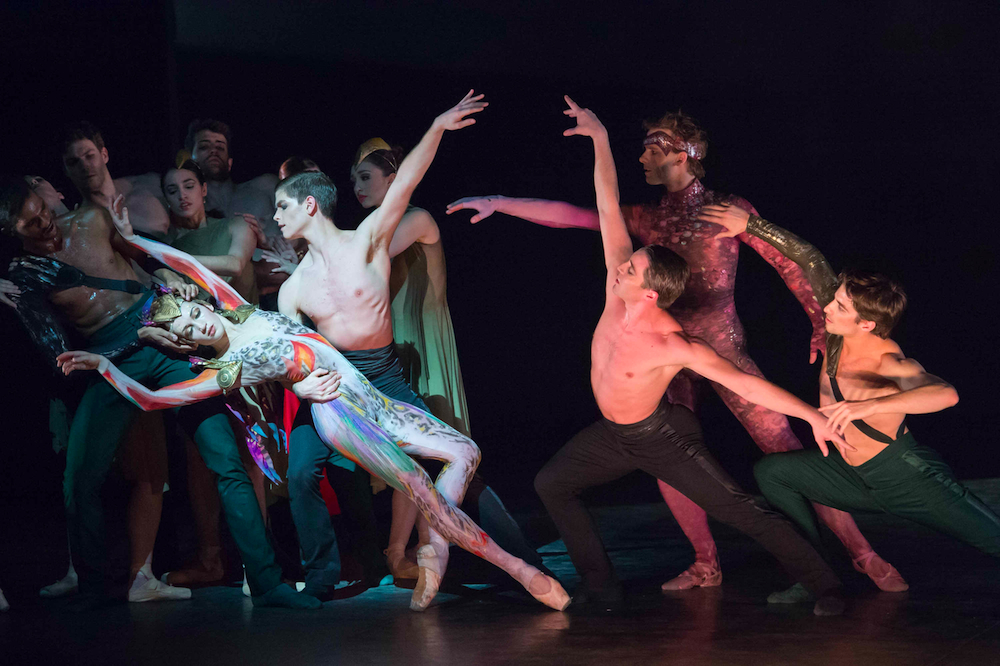 Williamson's Firebird was received in 2012 with more respect for its young author's talent than liking for the piece itself. Reworking it has done little to alter either verdict: yes, he's obviously good, but this fable about hurting the earth is desperately confusing – the Firebird is pursued for her resources and maimed by characters with the unenlightening names of Peacock, Captain and Celebrity. It's also too long, notwithstanding good performances from gorgeous Ksenia Ovsyanick as the Firebird (pictured left) and saucy Nancy Osbaldeston as a vaguely roaring Twenties Celebrity.
In Russell Maliphant's Second Breath it's the ENB ensemble that stands out. The curtain rises on them swaying eerily, like ship-borne souls, or blades of grass before the scythe, and the first half features them all, in the low dappled lighting which recurs throughout the programme, climbing, clutching, and falling as if shot (pictured left), while Andy Cowton's music paints tension and unease in broad, but effective brushtrokes – soft piano chords over jittery, scratchy tremolo in the strings accompany a veteran's recorded voice repeating the chilling plaint, "strain of continual bombardment...continual bombardment... all the time..." The second half pas de deux between Alina Cojocaru and Junor Souza fell flatter: though both are compelling dancers, I couldn't access their relationship, their story here, though I'm sure there was one (Cojocaru, an intense actor-dancer, looked close to tears at the curtain call).
I was swept away by the final piece, Akram Khan's Dust. Khan chose to symbolise the horror experienced by millions by having the dancers passionate, tortured and sad, but with eyes averted from the audience, staring instead fiercely at their hands, up at heaven, or down at the ground. Unlike the blank stares with which Scarlett's characters faced us, these private agonies tore at the heartstrings the way Jocelyn Pook's percussive score hit the chest: with the hollow punch of a gun report. Simple figures of line, linked hands and unison conveyed the collectiveness of the war experience, and strange movements its alienness (Khan balancing upside down on the top of his head alone; or at the centre of two writhing, slinking, discomfitingly fleshy chains of arms). Add stunning design, with a haunting red-rippled bank of dry earth, clouds of dust (main picture), and rough muslin costumes the shape of nuns' habits and texture of bandages, and Khan's closing duet with Tamara Rojo, both dancers in deep, focused harmony, is almost an embarrassment of riches for one piece.
The gamble on new work and a serious theme (for which the Barbican venue is an astute choice) has paid dividends for Rojo: she and ENB emerged from last night's buzzy, big-deal opening looking very strong and very smart, with this quartet of strongly-styled pieces. Hard to predict now which – if any – have a future as either free-standing pieces or sites of public memory, but their thematic, and indeed stylistic unity, as well as the very assured performance of ENB's dancers, make this absolutely an evening to catch if you can.
Private agonies hit the heartstrings with the hollow punch of a gun report
rating
Explore topics
Share this article