La Bayadère, Mariinsky Ballet, Live Cinema Broadcast |

reviews, news & interviews
La Bayadère, Mariinsky Ballet, Live Cinema Broadcast
La Bayadère, Mariinsky Ballet, Live Cinema Broadcast
Impressive dose of Russian tradition whets appetites for forthcoming London season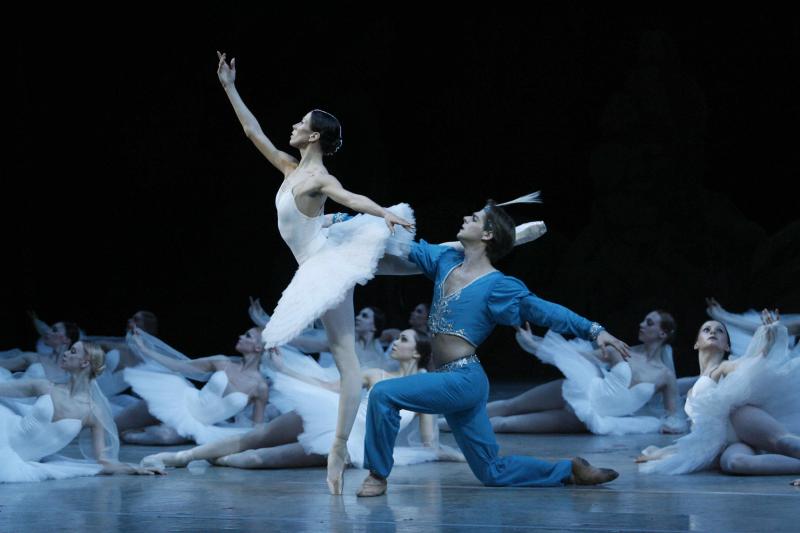 Home-grown Mariinsky stars Viktoria Tereshkina and Vladimir Shklyarov starred as the temple dancer Nikiya and her lover Solor in last night's live cinema broadcast of 'La Bayadère'
La Bayadère is one of the ballets I recommend to people who have never seen ballet before. It has high drama, exquisite tragedy, fabulous costumes, one of the best "white" acts going, and it almost passes the Bechdel test. Sitting in a mostly empty Vue cinema in Harrow watching last night's live broadcast from the Mariinsky Theatre in St Petersburg, I had a chance to try my own prescription.
If it were my first experience of ballet, would this 19th-century gem as beamed worldwide by the hallowed Russian company for whom it was originally created, convince me to splash considerably more cash on going to a live performance by the Royal Ballet, or ENB, or even the Mariinsky Ballet itself in its upcoming London tour?
The Mariinsky production has noticeably less bling than the one the Bolshoi brought to London last year. This, combined with a lower image quality than I've seen in the live broadcasts from Moscow (and Covent Garden) made for a less glittery visual experience than we sometimes get from a ballet which seems to send costume designers into diamanté-spattered, lamé-laced frenzies. Of course there were plenty of pearls and harem pants on show, but the inescapable Orientalism was mercifully muted – no blacked-up children here – in favour of characters for whom one could feel. This is the advantage of filming ballet: fine facial acting can be lost on those beyond the front stalls in a theatre, but the camera shows us conflicted feelings in close-up. There is a great deal of melodramatic gestural storytelling in La Bayadère, but the Mariinsky dancers take it seriously, and with a zoomed-in camera we can admire the pain which with Vladimir Ponomarev imbues his High Brahmin, and the aristocratic haughtiness of Viktoria Tereshkina's gaze when she enters as the titular temple dancer, Nikiya.
Tereshkina is a pure Mariinsky dancer, product of the legendary Vaganova Academy, and she gives us a Nikiya as conscious of her own sacredness as she is of her vulnerability. Yes, she is at the mercy of the High Brahmin, the Rajah, and her rival Gamzatti, but she is also in her own way untouchable. She chooses whom to love, and how to die, and in one of the best scenes of female "dialogue" in ballet (not an art form over-loaded with them), she comes within inches of stabbing a princess of the realm in anger. Even with the slave girl's downcast eyes, Tereshkina moves like the ballet royalty she is, demanding homage with every inclination of her long neck and every perfectly poised balance.
For the difference in stage presence between them, you wouldn't believe that Tereshkina is actually one year younger than Anastasia Matvienko, the prom-princess-pretty dancer playing the Rajah's daughter, Gamzatti. Matvienko didn't come through the Vaganova or even the ranks of the Mariinsky: she migrated from the Mikhailovsky Ballet only five years ago, and she cannot match Tereshkina for gravitas, though (close-ups again) she gives a very fine account of Gamzatti's lip-trembling rage in the confrontation scene (pictured right). Tereshkina's every movement seems to have been forged by centuries of tradition; next to her, Matvienko, though technically more than competent, looks like a schoolgirl, still making schoolgirl misjudgements like lifting a leg higher than necessary, or letting her back shoulder creep up in arabesque.
Vladimir Shklyarov, another home-grown Mariinsky talent, is a fine partner to both women and an exceptionally satisfying dancer in his own right. Restrained and sensitive in both acting and partnering, he really covers the ground with his long legs in the big male variations, but still lands neatly in a perfect fifth out of every double tour. Bravo.
A few characterful, sparky girls in the corps made the most of their variations, particularly the flirty water-carrier and the two talented little girls accompanying her, and there was strong supporting work from the pas de quatre and pas de trois in Acts II and III. But there were also some raggedy lines and bad landings – not what one expects, but I'll give them the benefit of the doubt and attribute at least some of the problems to the camera angles.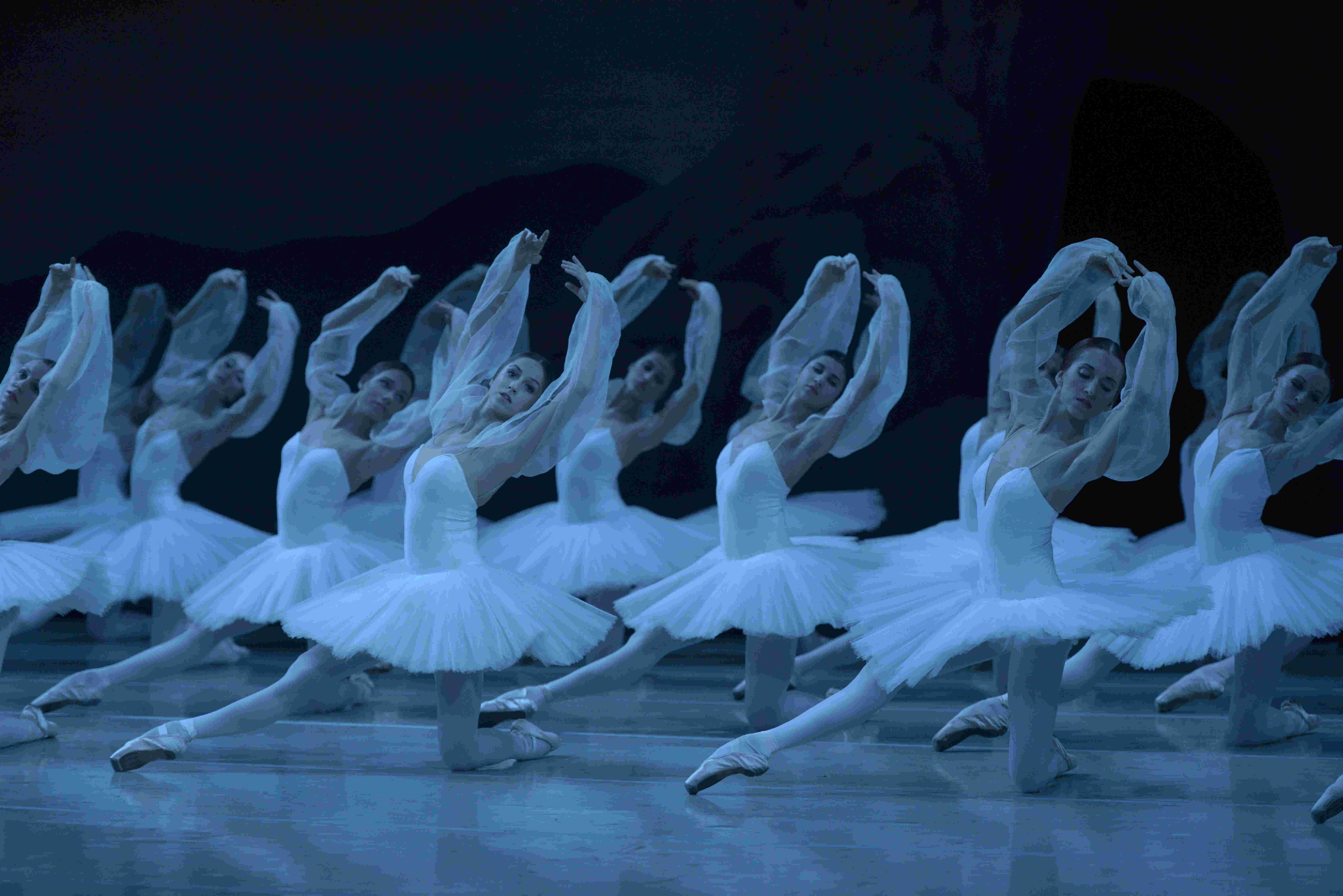 One of the serious problems of these live broadcasts is the cinematography during the scenes in which more than one thing is happening – if the camera focuses on only half of the stage, we lose entirely the intended effect of the choreography. Mostly this is just irritating, but when we cut away from something as central and gorgeous as Nikiya's flower solo to a close-up on the Rajah, it is maddening (there were a few outraged gasps in the cinema). And cutting between shots during the entry of the Shades is simply inexcusable. One of the purest, most monumental moments in ballet, the gradual entry of 32 dancers doing the same arabesque across a ramp is like a glacier. It is slow, it is cold, it is white, it is relentless – and you can only grasp the enormity of it by seeing it as a whole: in one take, like a single, unbearably slow exhalation.
In the end, I feel much the same about broadcasts versus theatre performances – there is simply nothing like breathing in the same space as the orchestra and the dancers, or taking in the whole vista of a stage in one sweeping glance, unmediated by the camera. But for letting us see what would otherwise be geographically or financially inaccessible, these cinema events are brilliant. And, of course, for whetting our appetite for the Mariinsky Ballet's forthcoming London tour.
Listings for future cinema broadcasts from the Mariinsky Theatre can be found here. The Mariinsky Ballet are peforming at the Royal Opera House, Covent Garden in July and August.
The gradual entry of 32 dancers doing the same arabesque is like a glacier. It is slow, it is cold, it is white, it is relentless
rating
Explore topics
Share this article