Jewels, The Australian Ballet, Royal Opera House review - a sparkling parade of great dancing |

reviews, news & interviews
Jewels, The Australian Ballet, Royal Opera House review - a sparkling parade of great dancing
Jewels, The Australian Ballet, Royal Opera House review - a sparkling parade of great dancing
David Hallberg's Australians are pitch perfect in Balanchine's masterpiece
Super-slinky: Ako Kondo and Brett Chynoweth in Rubies
Every time you see Jewels, George Balanchine's masterpiece from 1967, something new emerges from its treasure trove. What the Australian Ballet pleasurably bring to the fore is its playful, and play-acting, side.
The story of how Balanchine came to write the piece is now engraved in, well, stones. Inspired by the wares on show at the high-end New York jeweller Van Cleef and Arpels, he decided to create a string of abstract gems, each section of the three parts to a different composer and each a tribute to a particular style of dance. And each would be made on one of his leading dancers at New York City Ballet (Violette Verdy, Patricia McBride and Edward Villela, Suzanne Farrell).
That's a tall order for any company to replicate, though many have since taken this piece into their repertory with huge success, including the Royal Ballet. What could the Australians do? To be honest, after their visit in 2016 at the Coliseum, I wouldn't have bet on its being a piece they would take on tour. But since then they have acquired a bold new artistic director, the starry former American Ballet Theater principal David Hallberg, who appropriately has also guested with companies that continue these different dance traditions, Russia's Bolshoi and Mariinsky, and Paris Opera Ballet.
The company also had the extended enforced isolation of lockdown, during which they were allowed to work together as a unit. Hallberg, in an interview with The Times, acknowledged that this lacuna allowed him to focus extensively on the dancers' skills. What has emerged is a clearly well drilled company in all the ranks, with pitch-perfect bounce and attitude and, significantly, some fine principals.
Their Jewels set, designed for the 1967 premiere in New York by Peter Harvey, is a delight: cleverly recyclable through the different pieces, with festoons of discs that swirl from top to bottom of the stage, reflecting lighting that changes from green to red to white, with a coronet of baubles overhead. Costumes, too, are based on the originals by Barbara Karinska, reworked by Carole Divet.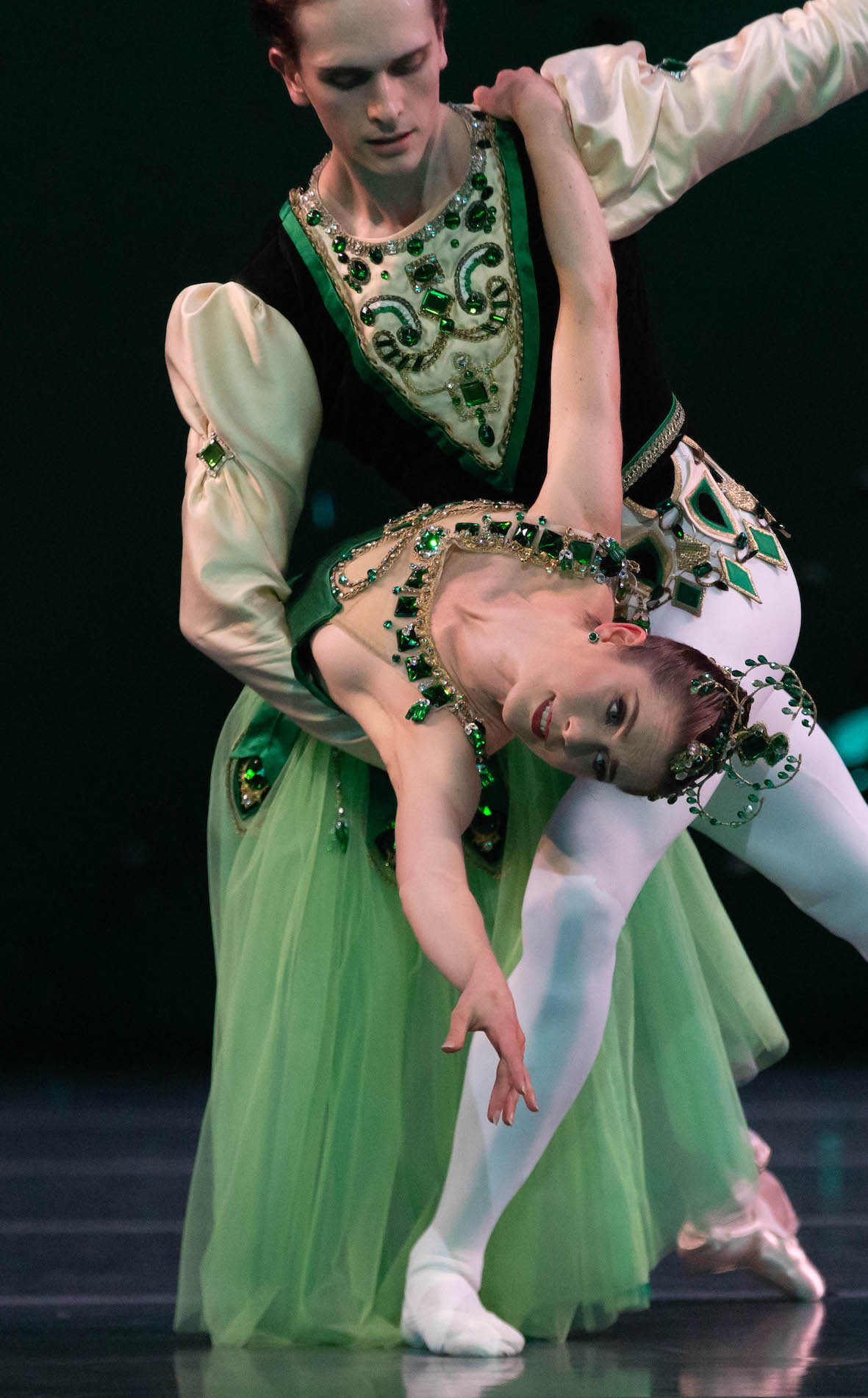 "Emeralds", to extracts from Fauré, is a tricky opener. It's dreamy and lyrical, the women in long tutus that waft and flounce with each leg movement, while the men are in danseur noble mode, princely-serious. Everything seems to be taking place in slow motion, caught up in a swoony, otherworldly French romanticism, though interrupted by a more everyday perkiness when a skipping step is introduced or a foot is extended unexpectedly bent.
The lead couple on opening night, Callum Linnane and Sharni Spencer (pictured left), caught the mood perfectly, lyrical yet seemingly yearning, like principals who had strayed in from a narrative ballet happening somewhere else, looking for a story to join. A few supporting arm wobbles aside, it was a strong start, especially in the beautifully fluid choreography of the act-finale.
For "Rubies", the American section, the jagged rhythms of Stravinsky's Capriccio for Piano and Orchestra take over, and the women's costuming gets larky: skimpy red numbers with skirts of multiple little panels, like a modish centurion's. Their signature moves are hip thrusts and catpaw-hands, with occasional flat-footed steps and audible hand slaps. There's a whiff of exuberant chorines from a Roman-themed burlesque show.
The female soloist here was the impressive Isabolle Dashwood, a tall warrior of a dancer, as Balanchine intended, never better than in the sequence where she performs an arabesque with a man attending to each of her limbs. Her expression throughout was key: a knowing smile with just the right hint of irony, as if to say, Fear not, I'm in charge here, and isn't it fun?
Just as engaging were the principals in the "Rubies" pas de deux, Ako Kondo and Brett Chynoweth, who have a lovely energy together, she super-slinky, he deft and mercurial. They moved almost like apache dancers at times, though breaking into rowing and skipping motions and going into inventive holds — in one, he stands behind her, "playing" her body like a double bass; in another he lunges while she arcs her body at full stretch away from him.
"Rubies" becomes a dancey playground game as the men chase each other in energetic packs. Chenoweth pulled off dizzying chainés, he and Kondo played sexy games with their interweaving arms and the whole ended with an impeccably synchronised ensemble.
The temperature had been rising steadily: now it overflowed in "Diamonds", to music from Tchaikovsky's Third Symphony, as a welter of Russian classicism was unleashed.
This section is a fever dream of imagery from Petipa choreography, a white scene he never wrote, with added parades of couples Raymonda-style, the women in demi-tutus like pseudo-swans. Lead honours here went to the effortless elegance of principals Benedicte Bemet and Joseph Caley (pictured right), late of BRB and ENB, a tender partner to her tragic heroine. Both showed that special quality this piece needs, grounded in strong technique but with an odd air of knowingness, as if they are conscious of all the nuances of their moves even as they are executing them.
By the finale, Balanchine's genius for matching sounds to movements, both big patterns and minute gestures, was writ large, each swirl of orchestration presented with a matching visual flourish. It was a triumphant evening for the whole company, who were ably accompanied by the Royal Ballet Sinfonia, plus "Rubies" pianist Andrew Dunlop. It was also a great argument for the piece, whose depths should be regularly plumbed. More, please.