English National Ballet, 2012 Season |

reviews, news & interviews
English National Ballet, 2012 Season
English National Ballet, 2012 Season
Complete listings for England's touring ballet company in 2012
ENB's Dmitri Gruzdyev in Balanchine's ballet Apollo, in the Beyond Ballets Russes season in March
English National Ballet's 2012 summer is studded with events to build new audiences, with a new version for children to introduce them to The Sleeping Beauty, collaborations with Tate Britain and hip hop, and a special Olympics event uniting Scotland, Wales and English in ballet.
A season of ballets inspired by the Ballets Russes will bring some new commissions to the stage, and the company dances through the Olympics period with their fine theatrical version of Swan Lake, both events hosted at the London Coliseum. Autumn and winter see the return of their grown-up Sleeping Beauty and their Christmas Nutcracker.
The news that artistic director Wayne Eagling is stepping down in August does not affect the 2012 schedule.

14-18 February, Strictly Gershwin, Bristol Hippodrome. Final dates of the nationwide tour for Derek Deane's song-and-dance creation of various kinds of dance to George and Ira Gershwin tunes.
27 February-4 March, ENB at 
Tate Britain
, Tate Britain, London. Alongside the exhibition Picasso and Modern British Art dancers open their classes and workshop to the public to look at connections between ballet and Picasso's circle. Full daily schedule here.
5 March, ENB Emerging Dancer Competition
, Queen Elizabeth Hall, Southbank Centre, London. 
The competition where the public vote for their choice of six up-and-coming ENB dancers. This year's nominees are Yonah Acosta, Junor Souza, Barry Drummond, Ksenia Ovsyanick, Nancy Osbaldeston and Jia Zhang (pictured).
22 March-1 April, 
Beyond Ballets Russes
, London Coliseum. Two mixed bills celebrating the legacy of Diaghilev's legendary company with masterpieces of that time, such as Balanchine's Apollo and Nijinsky's L'après-midi d'un faune, and new commissions on their themes by George Williamson and Wayne Eagling, Also a major new redesign for Kenneth MacMillan's huge Rite of Spring.
3 April-3 June, 
My First Sleeping Beauty, London Peacock Theatre 3 -13 Apr; 
Birmingham Alexandra Theatre 21-22 Apr; 
York Grand Opera House 28-29 Apr; 
Wimbledon New Theatre 5-6 May; 
Crawley The Hawth 11-12 May; Bromley The Churchill 19-20 May; 
Wycombe Swan Theatre 26-27 May; Manchester Palace Theatre 2-3 Jun. 
Matthew Hart choreographs a child-friendly introduction to the enchanted world of the fairytale ballet, with ENB2, a new touring company featuring graduating dancers of outstanding potential from English National Ballet School.
Summer 2012
1 June-8 July, Flawless and English National Ballet, Against Time. London Hammersmith Apollo, 1-2 June; Royal Concert Hall Nottingham, 9-10 June; Oxford New Theatre 14-15 June; Torquay Princess Theatre 16-17 June; Birmingham New Alexandra Theatre 21-22 June; Wimbledon, New Wimbledon Theatre 23-24 June; Woking New Victoria Theatre 28-29 June; Aylesbury Waterside Theatre 30 June-1 July; Manchester Palace Theatre 6-8 July. Ten ballet dancers and nine streetdancers get together for a new fusion of breakdance and ballet created by Flawless's Marlon Wallen and ENB's Jenna Lee.
19 June-8 July, Dance GB
, Glasgow Theatre Royal, 19-23 June; Cardiff, Wales Millennium Centre, 28-30 June; London, Old Royal Naval College 4-8 July. 
The UK's three national dance companies - English, Scottish and Welsh - perform specially commissioned work to celebrate the world's eyes on London.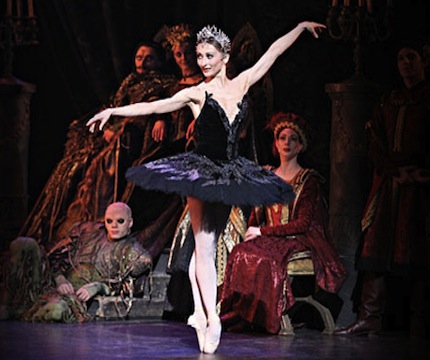 3-11 August, 
Swan Lake, London Coliseum. Derek Deane's splendid medieval-style production of this greatest of classical ballets (Daria Klimentová, pictured right).
Autumn 2012
17-20 September, The Sleeping Beauty, Milton Keynes Theatre. Production by former Royal Ballet director Sir Kenneth MacMillan with distinguished designs for this most spectacular fairytale ballet, costumes by Nicholas Georgiadis, sets by Peter Farmer.

31 October-3 November, The Sleeping Beauty, Liverpool Empire.
22-25 November, The Nutcracker, Southampton Mayflower. Wayne Eagling's traditionally Victorian-styled new production.
28 November-1 December, The Sleeping Beauty, Manchester Opera House
12 December-5 January, The Nutcracker, London Coliseum.
9-19 January 2013, The Sleeping Beauty, London Coliseum.