Carlos Acosta: A Classical Farewell, Birmingham Hippodrome |

reviews, news & interviews
Carlos Acosta: A Classical Farewell, Birmingham Hippodrome
Carlos Acosta: A Classical Farewell, Birmingham Hippodrome
On his retirement tour, Cuban superstar showcases the young, and proves he's still got it
'Daddy lion': Carlos Acosta
Appearing before theatres full of middle-aged women in just your underpants is certainly one way to throw a retirement party. It may not be everybody's choice, but then Carlos Acosta is not like everybody, and never has been.
For me, what marks Acosta out isn't biography, though his journey from Cuba to the top tiers of Western ballet was unusual, nor is it talent, though he has it in spades. It's generosity. All top performers are givers to some extent, but Acosta on stage has the warmth of the natural empath, appearing to love the audience for loving him. That, surely, is why he has become a household name like no male ballet dancer since Nureyev, why another date was added to this Birmingham run and immediately sold out, and why the ladies around me in the audience were explaining their presence with fangirl simplicity: "I just love him. I don't know anything about dance, but I think he's marvellous."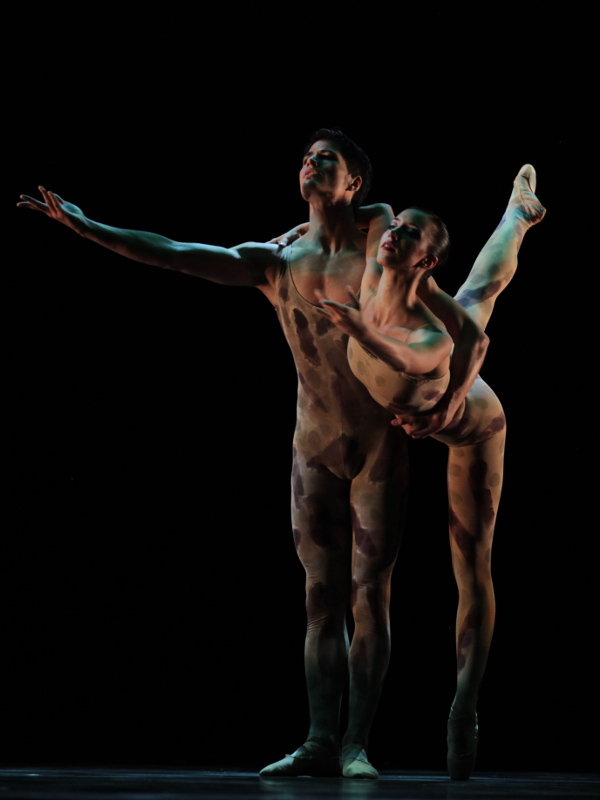 Acosta is generous to other dancers, too; he's not one of those big cats who smile for the audience and snarl at their co-stars or stomp on their juniors. That's why he's such a great romantic lead – ballerinas know they're taken care of when Carlos is partnering them – and also why his post-retirement projects include starting a ballet school and a dance company in Cuba. The regional tour of his self-curated farewell show is in fact part of the latter project, featuring dancers of the brand new Acosta Danza company in the roles that in London were filled by Royal Ballet principals. These kids are on stage far more than Acosta himself (he features in only three pieces) and that an audience largely brought in by Acosta's name were not disappointed is a sign of both how well-designed the show is, and how talented the Cuban cubs are.

Enrique Corrales is slender, long of leg and sensitive of face; his turn as Siegfried with Gabriela Lugo in the White Swan pas de deux may be marred by inexperienced partnering (and a few port de bras issues) on both sides, but he puts his heart into the acting, and the few big jumps he gets in George Garcia's Majisimo are divinely elegant. If the Mariinsky went danseur noble shopping in Havana, Corrales would be my tip to go the way of Xander Parish. He's a treat to watch also in the best of the evening's new-to-me works, The End of Time pas de deux (pictured above right), an unashamedly tender little piece of storytelling by Ben Stevenson in which Déborah Sanchez, carefully classical enough to have been a convincing Sylphide earlier, also shines.

The other standout talent is Luis Valle, an Acosta lookalike who shares the great man's lyric flair and energetic ballon, though we see too little of the latter; just the odd jump in Majisimo. In the Winter Dreams pas de deux, he masters Kenneth MacMillan's emotional intensity, and much though I regret the inclusion of the trite, awkward pas de deux from Acosta's own recent Royal Ballet Carmen, Valle in it showed that he has the chops to be sexy on stage. One can imagine him being funny too, a trait shared by both Acosta and his ENB principal nephew Yonah, but amongst the youngsters on stage last night, only Ely Regina Hernández got a proper shot at comedy. Her turn in the tongue-in-cheek Je ne regrette rien (pictured below left), another new-to-me little gem, suggests she could one day do Lise, ballet's favourite sunshine girl.


However good the cubs are, daddy lion Acosta shows the value of years whenever he stalks on. He makes it look a little too easy in Ben Cauwenbergh's sardonic Les Bourgeois, but the Diana and Actaeon pas de deux is no cakewalk. It takes guts to strip off and do a young buck's gala piece at 42, especially when there are YouTube videos of you knocking it out of the park yourself in younger years (see below). But Acosta gamely dons the world's smallest skirt and shows us the meaning of showmanship in this delightful shard of Soviet classical bombast, set to music by Drigo at his most rumpty-tumpty (main picture). The Nuñez-alike Laura Rodríguez is crisp and confident, obviously helped by Acosta's characteristically steady and chivalrous partnering, and if young Luis Valle could probably have done the cabrioles better, well, I suspect few in the audience would either have known or cared.

A live orchestra, the Manchester Camerata conducted by Paul Murphy, adds immeasurably to the evening's charm and even get their own party piece, playing an entr'acte of cheerful Massenet. The whole thing can't fail to send you out with a smile on your face and a spring in your step. And regret at witnessing the end of a great stage career was tempered for me at least by excitement about Acosta's future gifts to dance, especially to the once great, now faded Cuban ballet tradition. El rey ha muerto, ¡viva el rey!
Carlos Acosta: A Classical Farewell is at the Birmingham Hippodrome until 7 May, then touring to Southampton and Salford. It is part of International Dance Festival Birmingham 2016, which runs until 21 May
Below: watch Carlos Acosta dance the Diana and Actaeon variation
Acosta gamely dons the world's smallest skirt and shows us the meaning of showmanship
rating
Explore topics
Share this article