Shagged Married Annoyed Live, O2 Arena review - popular podcast lost in translation |

reviews, news & interviews
Shagged. Married. Annoyed. Live, O2 Arena review - popular podcast lost in translation
Shagged. Married. Annoyed. Live, O2 Arena review - popular podcast lost in translation
Intimacy crucial to Chris and Rosie Ramsey's show is missing
Tuesday, 07 December 2021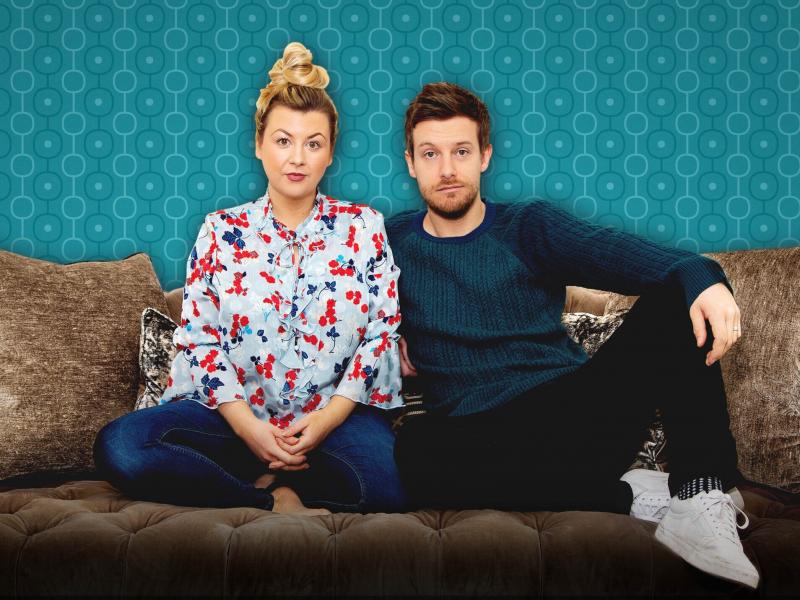 Rosie and Chris Ramsey air the niggles of living together
The lengthy ovation Chris and Rosie Ramsey received when they walked on stage at the O2 showed there was a lot of love in the room, and why wouldn't there be? The married couple's podcast Shagged. Married. Annoyed. has clocked up 144 episodes and built a large and loyal following, and now here they were doing the show live.
Chris Ramsey is a stand-up and a former contestant on Strictly Come Dancing, and Rosie Ramsey is an actor and presenter who is now also an influencer (that last job leading to a cringworthy in-show advertising routine for their sponsors, acted out by the couple as if a comedy skit).
Essentially the evening followed the same format as the podcast, only here there was a sofa on stage (with lamps of course, as Rosie is obsessed with them, as regular listeners will know), as the couple dissected married life, parenthood and the joys and irritations of living together.
They rolled out "What's Your Beef?" in which they took turns to say what annoys them about each other. There was the usual friendly joshing, with Rosie bristling at Chris's love of cycling (he has three bikes). "It's good for my mental health," he protested. "You know what's not good for my mental health? You," came the rejoinder.
That exchange is typical of the podcast – gripes from real life given a healthy airing, with both parties holding their own in the to and fro – and one that shows how relatable much of the material is. There was a lot of laughter of recognition, and one half of a couple nudging their partner as each niggle was mentioned.
The second half of the show went downhill as Rosie read out readers' letters. They're supposed to be amusing but they weren't, and Chris's responses to them (apparently he has no knowledge of them before his wife reads them out) were poor from someone who tells jokes for a living.
While the couple were clearly having fun – with Chris particularly Tiggerish about them having the biggest ever audience for a live podcast, even if the O2 wasn't full – as the evening wore on, the audience grew quieter, and many were heading for the exits before the show had ended.
The intimacy of hearing a podcast through headphones can't be replicated in a theatre, still less a barn of a place like an arena. The couple's faithfulness to the format didn't help; what works on a short podcast, here, over more than two hours, felt dull and unoriginal – lazy and self-indulgent even.
That's a shame as the couple – unless they're very good actors – appear genuinely nice and create a warm and welcoming atmosphere on the podcast. Just not in an arena.