The One Griff Rhys Jones, BBC One |

reviews, news & interviews
The One Griff Rhys Jones, BBC One
The One Griff Rhys Jones, BBC One
Sketchy return to light entertainment by a comedian better known for cagoule work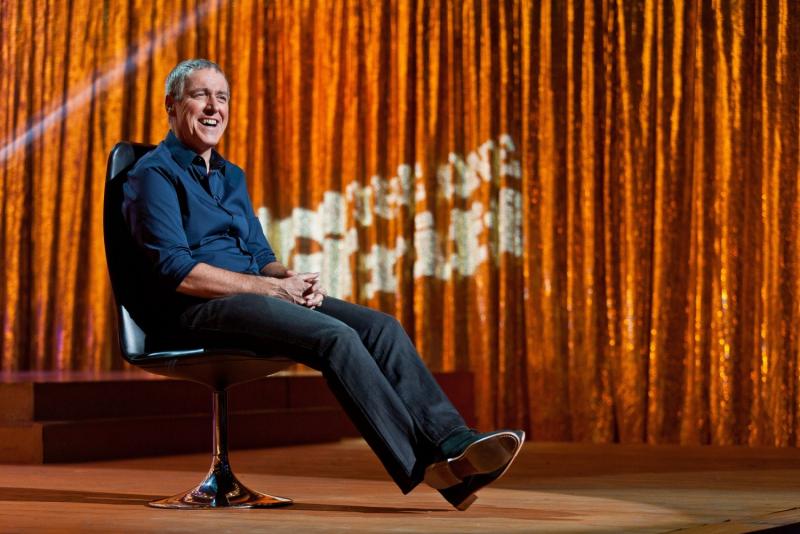 Travelling back in time: last laugh from Griff Rhys Jones
What's the opposite of a pilot? Griff Rhys Jones has not performed in a comedic capacity for nearly a decade and a half. When he did, he was always part of a larger company – first Not the Nine O'Clock News, then for 14 years in a partnership with Mel Smith. There must be a reason why he never struck out on his own.
Alas, last night the reason was supplied by
The One Griff Rhys Jones
, a one-off half-hour of sketches topped by a bit of live stand-up, tailed by a reunion with Smith. They've already offered the same sort of exhumation to Ronnie Corbett and Jasper Carrott, who are at least still in the business of laughter.
It began knowingly, with Jones reporting from a wind-swept peak revealed as the camera pulled away to be a stepladder in a BBC carpark. The summons arrived from a fresh young producer to come indoors and show the younger audience what they have been missing all these years. "There's a lot of young people," he was told, "that have never really seen your comedy, Mr Palin."
It's no coincidence that Jones has followed the nicest Python into teletraveloguery. He always occupied the safer end of the danger zone: he was the Ringo of Not the Nine O'Clock News, the Dudley Moore of Alas Smith and Jones (although so too was Smith). Their breakaway alliance turned him at a fairly young age into a workmanlike figure of the comedy establishment. Making a tall stack from the sale of their production company will have softened his worldview even further.
Last night's sketches, showcasing a multi-millionaire who will be 60 next year, were delivered from the very epicentre of the mainstream. Two bankers complained about being underpaid. An office worker couldn't believe his colleague didn't like football. A gang of hoodlums considered the health and safety implications of a forthcoming hit job. A baffled man in a supermarket had a spat with the disembodied voice in the bagging area. One sketch even gave rein to a sort of Telegraph leader-writer's fantasy in which teachers are free to shoot aberrant teenage schoolboys. In a dozen years' time, perhaps The Armstrong & Miller Show or That Mitchell and Webb Look will also be reactionary.
To help give Jones a coordinate for viewers who know him only as a bit of a berk in a cagoule, he sparred with familiar figures from prime time: Downton's Hugh Bonneville, Rev's Tom Hollander, Gavin and Stacey's Larry Lamb. But the heart of this trip down nostalgia's leafy lane was the reunion for the first time in years with Smith for one of their sub-Beckettian head-to-head dialogues. As written by Mark Burton and John O'Farrell, there were a couple of nice gags, but television comedy has not stood still since these two ugly mugs last did their baffled shtick and history, as it often isn't, has not been as kind. Their comedy about ordinary blokes now seems gruellingly ordinary.
There won't be another one of these. So what is the opposite of a pilot? A black box?