Lazy Susan, Soho Theatre On Demand review - sketch duo's ingeniously plotted show |

reviews, news & interviews
Lazy Susan, Soho Theatre On Demand review - sketch duo's ingeniously plotted show
Lazy Susan, Soho Theatre On Demand review - sketch duo's ingeniously plotted show
Freya Parker and Celeste Dring examine male behaviour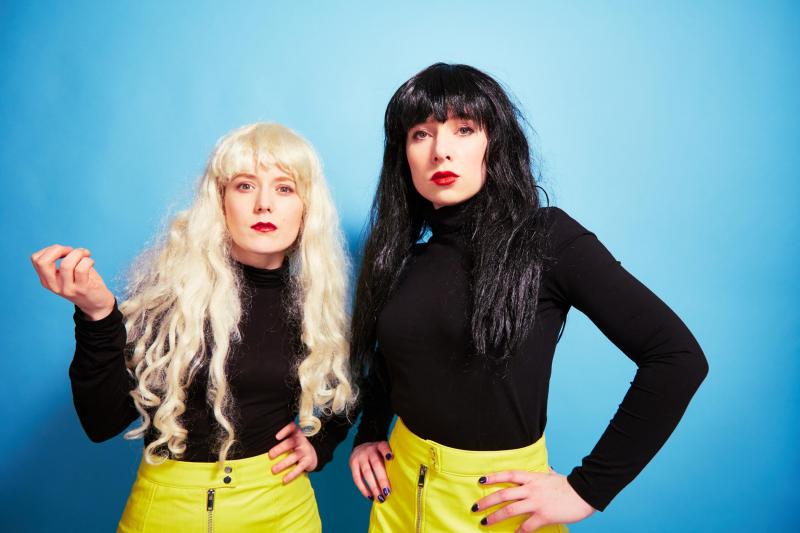 Freya Parker (left) and Celeste Dring deliver a show where all becomes clear in the clever denouement
You may have seen Lazy Susan's excellent BBC pilot last year; now a series has been commissioned from Freya Parker and Celeste Dring so we can look forward to more sketches, surreal interludes and tiptop visual gags – as well as returning characters including Northern lasses Megan and Michaela, tottering on their heels to a night out where they "don't want any drama".
In Forgive Me, Mother!, their most recent stage show, they make a slight departure from previous work as they allow their stage personas to come to the fore, while establishing a very funny narrative through their wide array of characters and interlocking sketches.
They tell us at the top of the hour that this is "just a bit of lighthearted fun", yet there's an undercurrent here. This show doesn't have an agenda, and is certainly not about gender, they joke – but of course it is, a work created in the #MeToo era. And, despite the safe space they say they have created at the Soho Theatre, Parker, the nervier of the two in contrast to her partner's more no-nonsense approach, becomes increasingly worried she and Dring are about to be murdered by a man in the audience.
That makes it sound serious, but it's not. It's playful and funny and each sketch, each sight gag, each throwaway line builds to a wholly unexpected denouement.
Their sketches satirise how women have been portrayed by male writers and directors in cinema, who just love whimsical Amélie types: "Dance with me, Thomas! Dance with me in the rain!", says a fey Dring, and their Hollywood musical spoof, complete with rapid-fire dialogue and clipped Cary Grant/Katharine Hepburn accents, is given very sweary modern dialogue.
While men's behaviour is ostensibly under the spotlight, women are examined too, as in the standout sketch about "sexy girls with a catch" – for instance, a gorgeous-looking woman who is cruel to her boyfriend's child when he isn't in the room.
They go dark, too – and just about pull off the sketch in which Parker and Dring are two rapists bonding with touchy-feely mutual support while waiting for their next victim – but then it's back to the straight-up comedy with Megan and Michaela, Parker's mother interrupting with phone calls to her daughter, while sisters Stacey and Natalie talk us through their food delivery service for fussy eaters: "Cherry tomatoes are a no-no – it's the way they explode in your mouth. It's a bit scary."
Dring's flirting with a bloke in the audience, meanwhile, at first seems hack but, as with everything in the show, there's more going on than at first appears – and all is revealed in the very clever and subversive finale.
It's playful and funny and each sketch builds to a wholly unexpected denouement
rating
Explore topics
Share this article