Flo and Joan, Soho Theatre review - sisters in satirical harmony |

reviews, news & interviews
Flo and Joan, Soho Theatre review - sisters in satirical harmony
Flo and Joan, Soho Theatre review - sisters in satirical harmony
Musical comedy with complex rhymes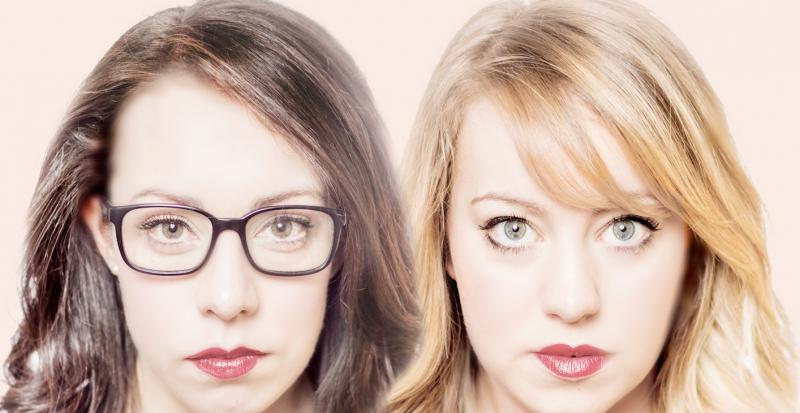 Nicola and Rosie Dempsey perform together as Flo and Joan
Flo and Joan are sisters (Nicola and Rosie Dempsey: they have borrowed their stage names from their nan and her sister) and you may have recently seen them on television doing advertisements for Nationwide. Others may know them from social media, and their runaway hit "The 2016 Song" about music fans' annus horribilis with the deaths of David Bowie and Prince. If you like either iteration, you will love this hour-long show, called The Kindness of Stranglers.
Nicola, always deadpan, is at the keyboard, while the chattier Rosie adds a bit of percussion on a shaker or triangle. The chat between songs is as dry as a bone, with subtle pieces of one-upmanship, but mercifully they don't overdo the bickering siblings shtick. They harmonise beautifully and the music is done in various styles, with Nicola jazz free-forming on a recorder at one point. But don't let that put you off – it's all done in the name of comedy, as Rosie stamps out an increasingly fast beat to see if her sister can keep up.
While most of the wit is sardonic they can do heartwarming tooThere's a lot of dark humour in songs with complex rhymes covering subjects from Big Macs to the plight of the bumblebee, to finding love and trusting your sister to end your life if such a thing was necessary.
Their greatest piece of verbal dexterity is "The Lady in the Woods", sung a cappella in the style of an old English folk song; it requires the women to get their tongues around an ever-increasing list of adjectives beginning with the letter "l" to tell her story, and the payoffs in each verse are a joy. While most of the wit is sardonic they can do heartwarming too; the last song, "Dear Little Flo and Little Joan", a letter to their younger selves, is both amusing and touching.
Critics have favourably compared Flo and Joan to Flight of the Conchords and Victoria Wood, although a fantastically complicated and fast-paced conversation without music – about nothing much, but involving lots of names and biographical detail – put me in mind of The Two Ronnies at their best.
And yet they are definitely their own women – indeed a couple of set-ups to songs about love and dating would confirm that. This is a lovely show and worth an hour of anybody's time.
Nicola, deadpan, is at the keyboard, while the chattier Rosie adds percussion
rating
Explore topics
Share this article