Antonacci, ROHO, Pappano, Royal Opera House |

reviews, news & interviews
Antonacci, ROHO, Pappano, Royal Opera House
Antonacci, ROHO, Pappano, Royal Opera House
Nothing deep, but plenty of glitter as the Covent Garden pit band hits the stage
Birmingham Royal Ballet production of Bernstein/Robbins's 'Fancy Free'
Few conductors would think of putting Bernstein's comic-sexy Fancy Free ballet and the orgasmatron of Scriabin's The Poem of Ecstasy together in a concert's second half. In fact I'll wager, without research, that it's never been done before.
Yet as Music Director of the Royal Opera, Antonio Pappano has proved himself style-sensitive in everything from Mozart to Turnage – even Wagner, though that took time – and so he proved in bringing his orchestra onstage for their first, long-overdue mixed-programme concert together here.
It will now be an annual event, Pappano told us before the music began – hardly enough, but it's a start. He explained that his aim was to give lush and/or impressionistic context to Szymanowski's Król Roger, which opened on Friday. That still left Fancy Free as the odd one out, unless it was there to show how dance music could sound in 1944, nearly two decades after the Polish composer's Dionysiac dithyrambs. In fact the split was really between second-rank scores in which sound matters more than substance – Chausson's Poème de l'amour et de la mer, Scriabin's symphonic extravaganza, and, until the Royal Opera production maybe blows me away and changes my mind, Szymanowski's opera maybe fits that category too – alongside sure-footed works by real masters.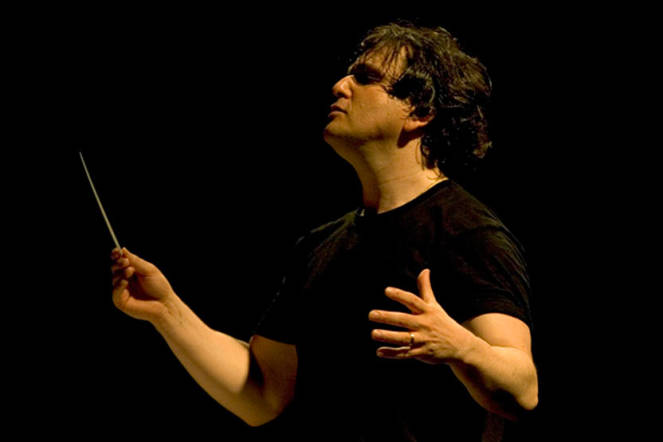 The two Ravel impressions which launched the concert perfectly summed up the facets of dream and dance. "Une Barque sur l'océan" is so shimmeringly, evasively conjured by the supreme orchestrator that you'd hardly believe it could have first been conceived for piano, in the suite Miroirs. Pappano (pictured above) has always been a master of perfumed French refinement, applying it to the sensitive moments of Puccini's Madama Butterfly and the second act of Wagner's Tristan und Isolde, so the perfect billowing came as no surprise. The orchestra had to work extra hard in the clear but uncushioning environment of the Royal Opera House, and while being onstage here isn't as much of a second-best to the pit as it is in the Coliseum – witness ENO's recent Sweeney Todd – it does mean that the woodwind are more distant than they would be in either of London's main concert halls. Still, they pulled it off in stilling a restless audience within minutes.
"Alborada del gracioso" sprang Pappano's nimble way with dance music on us, with some especially impressive fast-articulating trumpet work, though that section had an off-time in Bernstein's Fancy Free later in the concert. This, too, flew along, the thin plotline of three sailors and two girls in a New York bar carried by Bernstein's unceasing rhythmic élan and his insouciant nods to jazz, with pianist John Alley excellent in cocktail-hour mode. Why, though, no juke-box Billie (or Lenny) singing "Big Stuff" at the beginning? Much of the ballet's thematic material depends upon it, so that was a loss. And the big stomp didn't exactly expand to whoop as it did when Bernstein conducted his own tribute to Strauss's Der Rosenkavalier. The mode otherwise, though, is freed-up Stravinsky, as Pappano's tight corners and bright primary colours emphasized, especially in the Pas de Deux.
Languid orchestral phrases were perfectly, not over-lingeringly caressed in the Chausson, set to rather feeble fin-de-siècle poetry by Maurice Bouchon. The "amethyst sea" was reflected in the lighting of the Opera House dome, the restless ocean's fluctuations triumphing against the grain of the woody onstage set, the desolate barcarolle between the two settings hypnotically perfect. For a voice to match, a more opulent, luminous tone than Anna Caterina Antonacci's (the soprano pictured above) would have been needed, though her open middle range – think Régine Crespin without the same degree of sensuousness – caught the French text's fugitive visions well and she undulated to just the right degree to the orchestra's strains.
Dream had the last word over dance in the final apotheosis of Scriabin's decadent imagination. I guess we had to imagine Bernstein's sailors in New York taking themselves off to an opium den and succumbing to repetitious hallucinations. Even Pappano's justifiably fleet way with the score couldn't conceal the fact that, in thrall to sonata form, Scriabin stops and starts his path to consummation at least three times too often. Personally I'd have liked a bit of the vibrato applied to the Bernstein turned on here in the famous trumpet solos, but they coasted effortlessly above the orchestra and the final blaze, hammered to victory by an imposing iron bell, duly wowed an audience refreshingly composed of all ages.
Next page: listen to Billie Holiday sing the original version of Bernstein's "Big Stuff" not heard last night
Billie Holiday sings Bernstein's "Big Stuff" in 1946
We had to imagine Bernstein's sailors in New York taking themselves off to an opium den and succumbing to repetitious hallucinations
rating
Explore topics
Share this article