Roger Scruton: Music as an Art review - how to listen? |

reviews, news & interviews
Roger Scruton: Music as an Art review - how to listen?
Roger Scruton: Music as an Art review - how to listen?
Odd and uncategorisable essays fail to enlighten
'A delighted controversialist'
Hegel, Kant, David Hume, Nietzsche, Schopenhauer, Leibniz are all adduced, referred to, and paraphrased, and that's just for starters. Add Rameau, Schubert, Beethoven, Benjamin Britten and the contemporary composer David Matthews (who is also a friend) into the mix for Professor Sir Roger Scruton's odd and uncategorisable series of essays on music and – especially – listening to music.
Underneath it all is a kind of call to arms about
how
to listen. Scruton is a self-declared conservative, scholar, philosopher, polemicist, prolific writer, teacher and musician – both player and
composer
– as well as a delighted controversialist.
He has already published Understanding Music and The Aesthetics of Music; Music as an Art is his third book on the subject, one which is obviously a profound interest, as both practitioner and listener. It is a passionate series of essays on what he sees as the classical canon. He is concerned that we have lost the ability to sit and to listen to music, and that the classical canon is steadily losing ground and audiences. (He does not note, however, the steady expansion of concert halls, both new and converted, that might suggest otherwise. In London alone in the past several decades Cadogan Hall, Milton Court and King's Place have been added to the mix, whilst the Royal College and Royal Academy of Music have and will be expanding their concert halls, which are made available to a public audience. Not to mention the new concert hall planned for the City that Simon Rattle and the LSO are inching closer to reality.)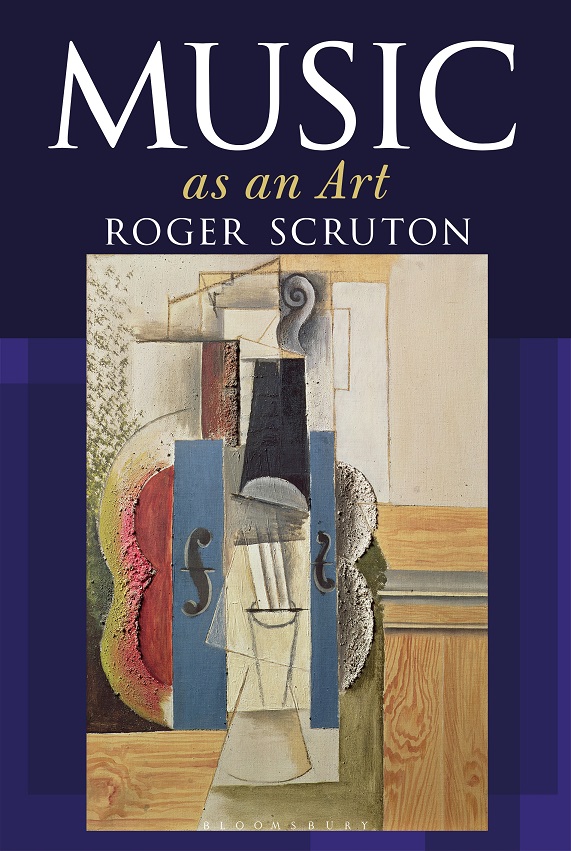 Scorn and adverse criticism is reserved for pop and rock, with mayhap surprisingly a grudging admiration for heavy metal, and an affectionate and convincing one for jazz. Here he suggests that pop and rock depend on fandom for the perfomer, and those such as Ella Fitzgerald and Louis Armstrong were admired and followed for their music.
The views of Theodor Adorno, as well as the music and cultural space occupied by Pierre Boulez, are heavily chastised. Even further, Scruton has found Boulez's heavily subsidised presence monopolistic and offensive – as are the French government agencies which, Scruton suggests, enabled Boulez to do as he willed. The music of Stockhausen is also beyond the pale, and he dislikes Schoenberg (certain passages of Berg's Lulu seem to pass muster, however).
He does have a tendency to point out the obvious: music is unlike spoken and written language, the experience of sound is different from an experience of music, listening to which is organised in the ear. The grammar of music is recognised but is not the whole story.
However, it is difficult to see who this book is for, except for the author to explore his own enthusiasms and antipathies. It is not, one suspects, substantial and original enough for academic musicologists, although as Scruton frequently reminds us, he has often lectured at professional academic music conferences. Its title, Music as an Art, suggested an appeal to the lay person, the amateur practitioner, the member of the audience, but it is not beguiling enough for that. There are many quotations from musical scores, and in particular a dissection of tonalities, discussions of melody, and an unremitting attention on keys and especially chords and diatonic scales. Minor, major, harmony, tonality, melody dissonance and so on are all under analytic review. Hard to follow, if not listening.
Underneath it all is a not-so-quiet moan about the decline of civilisation - whatever that may mean in Scruton terms
He talks about virtues and vices in music and goes so far as to say that expression in music is a manifestation of the moral life: "A way of inviting us to shape our sympathies in response to a character imagined in musical form." We are told that music is not representational, in the way that in his view (visual) art is: "Expression and representation are distinct forms of artistic meaning. The representational work of art identifies a subject and says something about it. It has a content, that could be – partially at least – rephrased in words." This seems at times to take representational art literally and to imply – in spite of all the words that Scruton uses – that music is beyond verbal description, beyond words.
This is also not only about western music, and there are seemingly gratuitous swipes from time to time at everything from African drumming to what he sees as the dominance of youth culture. There is room, too, for some savage thrusts at Islamists. Underneath it all is a not-so-quiet moan about the decline of civilisation – whatever that may mean in Scruton terms, although it certainly includes well-mannered attendance at concerts programmed with what the consensus might define as classical music.
But what defines music as an art is never particularly made clear, as the subtitle promises. There are touching moments, especially in discussions of the anticipation and acceptance of impending death, one coming all too soon, to be found in the music of Schubert, in particular the Quartettsatz for which Scruton feels profoundly, and in the fascinating discussion of why the operas of Rameau are so significant. There are just a few flashes of humour. Wagner is another passion of Scruton's but he happily quotes Mark Twain (who was actually quoting another humourist, Edgar Wilson "Bill" Nye, unacknowledged by Scruton) about Wagner's music: "It is better than it sounds." Whoop-de-do…
Music as an Art by Roger Scruton (Bloomsbury £25 hardback, £12.99 e book)
Scorn and adverse criticism is reserved for pop and rock, with mayhap surprisingly a grudging admiration for heavy metal, and an affectionate and convincing one for jazz
rating
Share this article