Marcel Proust: Letters to the Lady Upstairs - a very slim volume |

reviews, news & interviews
Marcel Proust: Letters to the Lady Upstairs - a very slim volume
Marcel Proust: Letters to the Lady Upstairs - a very slim volume
Proust's brilliant, darting mind is unique, but the Gallimard/Tadié machine seems to be sputtering
Marcel Proust in 1892 in the portrait by Jacques-Émile Blanche
Marcel Proust was a prolific letter-writer. He wrote tens of thousands of them, and at speed, as can be seen from the two facsimiles which are included with the text of Letters to the Lady Upstairs (there are quite a few more in the original French edition).
It is no surprise, given the pace at which he wrote, and the quantity produced, that the occasional batch of previously undiscovered letters should turn up. This new translation comprises 26 of them. Proust wrote 23 letters to Marie Williams, a harpist, a woman who was très distinguée, très parfumée, according to Proust's loyal maid Céleste Albaret, and the wife of a dentist who had his practice on the floor immediately above Proust at 102 Boulevard Hausmann. The Williams couple lived in an apartment two floors above him. Proust wrote a further three letters, also included in this book, to her husband.
When the letters came to light, "the Gallimard machine was set in motion straight away", as one French commentator said at the time, and Lettres à sa voisine was published. The publisher's keenness is easily explicable: Gallimard's copyright on the Recherche expired in 1987, so opportunities to re-connect with their golden goose need to made the most of.
Letters to the Lady Upstairs, in a translation by Lydia Davis, is a very slim volume. The texts of the letters themselves take up a total of just 30 pages, and the remainder of the new English book – roughly another 90 – consists of a preface translated from the French, and an essay by the translator. The UK edition follows a US edition of the same translation by just a few months. In America the book had a different title, Letters to His Neighbor.
I enquired about the change and was told it was an editorial decision: "The editor asked Lydia (Davis) if she could change the UK edition because she wanted the reader picking up the book to know instantly that these were letters which Proust wrote to someone living directly above him, ie. rather than in a house or building next to his, which is what could be assumed from Letters to his Neighbor. She found the intimacy of that particular situation so fascinating and compelling. She also wanted the title to convey the fact that the recipient of the letters was a woman. In the French title, Lettres a sa voisine, the reader would know that it was a woman but this is lost in a direct English translation of that title."
What are these letters about? One topic which is very present is the asthma that plagued Proust throughout his adult life, and the practicalities of dealing with asthma attacks and his need for sleep are a constant preoccupation. The American edition seems to use this theme rather curiously as a selling point, its cover image including a pen which seems to drip with blood.
And then there are requests for quiet at particular times of day, the refuge he seeks from building works – Proust negociates, pleads, flatters Mme Williams. Sometimes he is elaborately, almost obsequiously polite. When he writes about the possibility that he and Mrs Williams might meet in person, the circulocutions are expansive:
"If you are remaining as I am in Paris and if one evening I were not suffering too much, I would like since I believe the Doctor and your son have left and perhaps you are feeling a little lonely to come up some time in the next few weeks to keep you company."
This sentence shows how translator Lydia Davis has carried out her intention to "hew very close to [Proust's style]... to retain as much of its grace, beauty, sudden shifts of tone and subject, and distinctive character as I could." Davis remains true to this aim and it works well, revealing Proust's brilliant, darting mind at work in an unfettered, conversational manner.
The significance of the apartment on Boulevard Hausmann where the author lived from late 1906 until 1919 – now the premises of a bank (image below, mbzt/Creative Commons) – is that it was where most of the Recherche was written, and trains of thought which resurface in the novel are another point of interest. There is a wartime lament for the friends whose lives have been lost. Another letter has a meditation on the damage done to Rheims cathedral, which surfaces in Charlus' lament in Le temps retrouvé.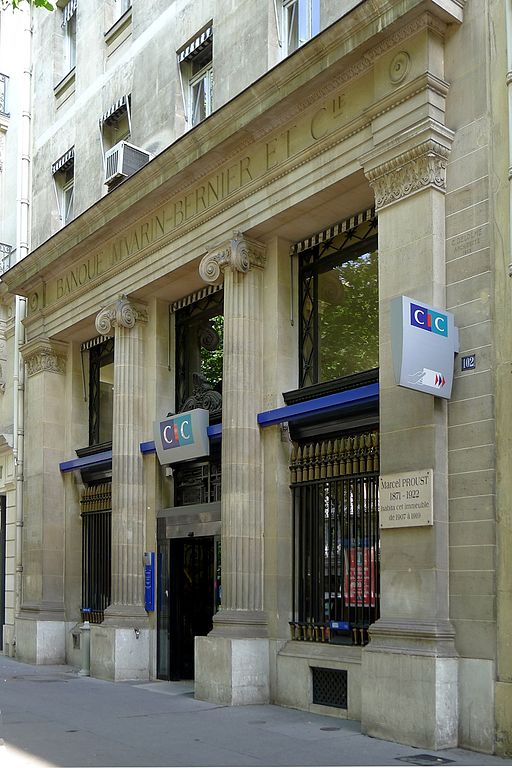 That said, if the reader of "Letters to the Woman Upstairs" is looking for insights in the Recherche, there is nothing of the depth of focus contained, say, in Proust's letters to Antoine Bibesco. Proust was far more diligent in explaining the work's significance to Bibesco, in the hope that he might be able to asssist in getting the work published.
A substantial quantity of the letters were published in the period 1970-1993 in 21 volumes under the supervision of the meticulous and brilliant American scholar Philip Kolb, to whom the task was entrusted by Proust's only heir, his niece Adrienne (Suzy) Mante-Proust. Proust rarely put dates at the head of his letters, so the art and of science of ascribing dates to his letters is notoriously complex, and Kolb's detective work was of superb quality.
Have standards slipped since Kolb? The frequency with which the dates of this small collection of letters have been re-dated in the time since the publication of the French edition does start to ring alarm bells. New dates have been assigned to well over half of the 26 letters. The translator seems to be blameless here – she has been given a new text and apparatus to work with. Some of the changes are slight tinkerings, but there are others where the dates have been moved three to four years, in one case (Letter 14 in the English. Letter 4 in the French) by nearly six years. The sequence of the letters has also been substantially changed.
Some of the changes to chronology and the ordering are attributable to the fact that a descendent of the florist had the records of his family business and was able to shed light on Proust's flower-buying habits, but others are unexplained. Indeed, there is particularly curious case: the date of letter 25 in French ("slightly before 25 February 1916") was justified precisely, with reference to the statement that Proust had met André Gide for the first time in two decades (although Proust says he was not well enough to receive him), and is cross-referenced to Gide's account of a meeting in his published diary. Without any explanation, the footnote to the letter – now with the number 14 and dated "Autumn 1914" – has simply been removed. Presumably the reference to Gide's diary has been later adjudged to be an erroneous, but it does raise the question as to that sort of oversight and standards of consistency Tadié exercises over his team of subalterns. Is the whole machine now sputtering if so many inconsistencies and alterations are still coming to light in the space of a mere 30 pages?
Devotees of Proust will find ways of satisfying their passion, of which digging into the letters is one. Those with unlimited resources will be at Sotheby's in Paris tomorrow to bid for the bibliophile's holy grail, one of the five first edition copies of Du côté de chez Swann that the author had printed on Japan paper in 1913 (estimate €400,000-600,000). And those with no attention span can just taste the madeleines from Mesdemoiselles Madeleines in the rue des Martyrs (also mail order). But the real deal is to keep going back, and as often as possible, to the Recherche itself.
Marcel Proust: Letters to the Lady Upstairs (translated by Lydia Davis, 4th Estate, £10)
Translator Lydia Davis has retained the 'grace, beauty, sudden shifts of tone and subject, and distinctive character' of Proust's writing
rating
Explore topics
Share this article
Subscribe to theartsdesk.com
Thank you for continuing to read our work on theartsdesk.com. For unlimited access to every article in its entirety, including our archive of more than 10,000 pieces, we're asking for £3.95 per month or £30 per year. We feel it's a very good deal, and hope you do too.
To take an annual subscription now simply click here.
And if you're looking for that extra gift for a friend or family member, why not treat them to a theartsdesk.com gift subscription?