Annie Proulx: Fen, Bog & Swamp review - defending the wetlands' bounty |

reviews, news & interviews
Annie Proulx: Fen, Bog & Swamp review - defending the wetlands' bounty
Annie Proulx: Fen, Bog & Swamp review - defending the wetlands' bounty
The peatlands are under threat, but hold so much potential as a cure
Wednesday, 26 October 2022
E Annie Proulx is the Pulitzer Prize-winning author of 'The Shipping News'
Annie Proulx's Fen, Bog & Swamp sees the Pulitzer-winning novelist join a number of authors decrying the ecological devastation we're wreaking on the planet. James Rebanks' English Pastoral argued for radical agricultural rethink. Journalist Bronwyn Adcock chronicled Australia's worst bushfire. And essayist and poet Rebecca Tamás reckoned with the ecological meanings of hospitality, pain and grief.
Proulx, mainly known for writing fiction and guides to smallholdings, has become a champion of fens, bogs and swamps, the mulchy sinking places she loves and which are both a victim of and solution to humanity's catastrophic exploitation of the earth's ecosystems.
Heftily subtitled "A Short History of Peatland Destruction and Its Role in the Climate Crisis", the book is composed of four parts: "Discursive Thoughts on Wetlands", then, following the title, "Fen", "Bog" and "Swamp". The initial essay is Proulx's howl against humanity's degradations of the natural world, which shows how our treatment of wetlands can be understood as a microcosm of the way we treat the planet; and how, if treated better, they could hold the key to the world's salvation. She writes eloquently and desperately, every page stuffed with facts, statistics, and anecdotal evidence.
From here, the book moves into the fens, specifically the English fens; once extensive, then drained to a fraction of their original size, they are now returning to a semblance of their former self. She describes the life of those people who called the fens their home, who worshipped its hidden places and its bounty, but who suffered in its hostile environment (malaria was rife, so much so that a coffin was frequently kept in reserve). Proulx tells the story, here and throughout, of the disenfranchised: people, flora, fauna, and the wetlands themselves.
"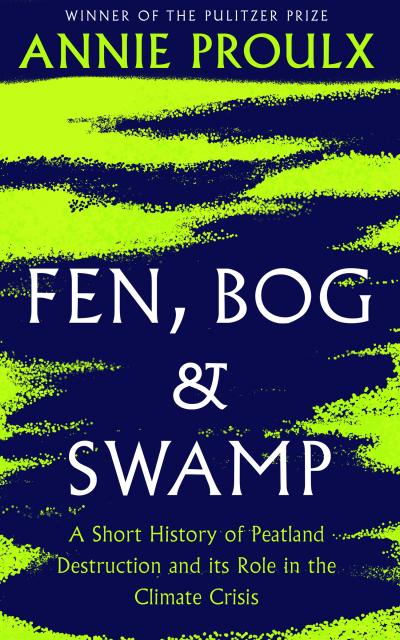 Bog" is a fascinating examination of the secrets of this peaty land, as well as the makeup of its plants, in particular the miraculous, life-sustaining Sphagnum Moss. Proulx dredges up bog bodies, reveals their secrets to the reader, interpreting what they can tell us about society now and long ago. The bog is a place to be feared, an absorber of bones and gallons of blood shed in battle.
"Swamp" is the last and most climate-focused chapter which totals the loss of bird species, naming and describing the obliteration of the great American swamps, including the excellently named "Great Dismal". Proulx is a mistress of fascination, pulling the reader deep within her love for these places, then turning around and arguing furiously against their destruction. She shows us how they can be restored, how they can help heal a warming world, and makes clear their potential to both provide the cure and put the final nail in the coffin if they continue to be mismanaged.
If there is a fault to be found with Fen, Bog & Swamp, it is that at times Proulx's richly descriptive passages dissolve into slightly purple, overly lyrical prose. The writing is always impassioned, however, and this is equally a symptom of her drive to reverse the damage that's been done. She describes how there were 53,000 square miles of essential mangrove forests left in 2010: within six years, these were reduced to 51,700. If care and sense are applied, Proulx explains, these mangrove areas can be restored and can protect our coasts, just as the revitalisation of the wetlands promises to protect the whole world.
Fen, Bog & Swamp is an excellent text that should be read by all those who still think, hubristically, that everything on earth is a resource for humans to consume and destroy. However, it also shows us that there is hope, that the earth has the potential to heal, if we are prepared to change the way we act and think.