Writing Britain: Wastelands to Wonderlands, British Library |

Visual arts reviews, news & interviews
Writing Britain: Wastelands to Wonderlands, British Library
A splendid national narrative moves from Anglo-Saxon latitudes to platform 9 and three quarters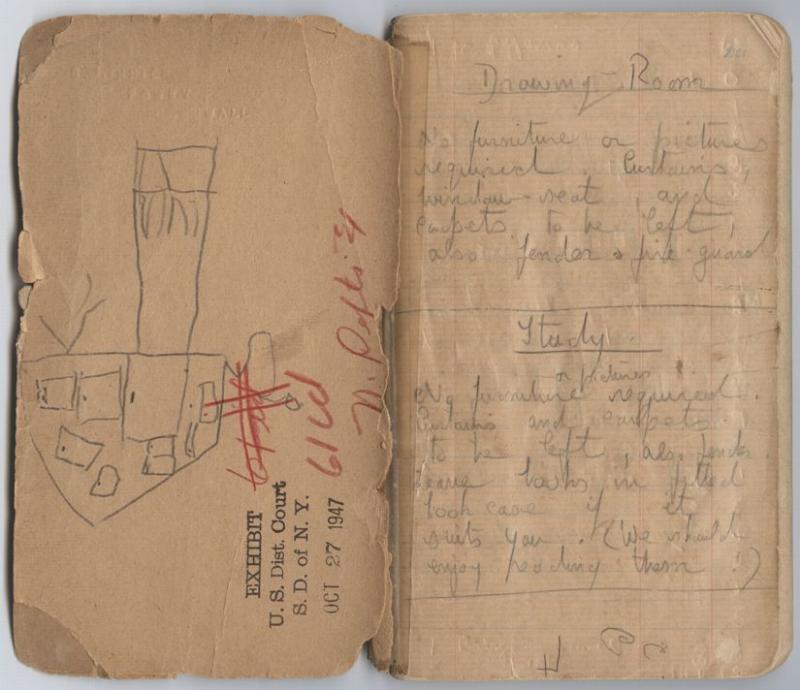 Where Daphne Du Maurier first dreamt she went to Manderley: The Rebecca Notebook
Wordsworth would not be happy. The bard of Grasmere once wrote a poem deploring the new-fangled habit of tourists wandering about the lakes with a book in hand. "A practice very common," he harrumphed, before crossing out the whole poem. The preference, as he saw it, should be to engage directly with the landscape rather have one's responses fed to us through the prism of literature. Writing Britain goes one better (or worse): a tour of the whole island and its islands as seen through its writers, you can travel from Daphne Du Maurier's Cornwall to Dr Johnson's Hebrides entirely through the written word, without the wearying business of trudging for miles in the wind-blasted outdoors.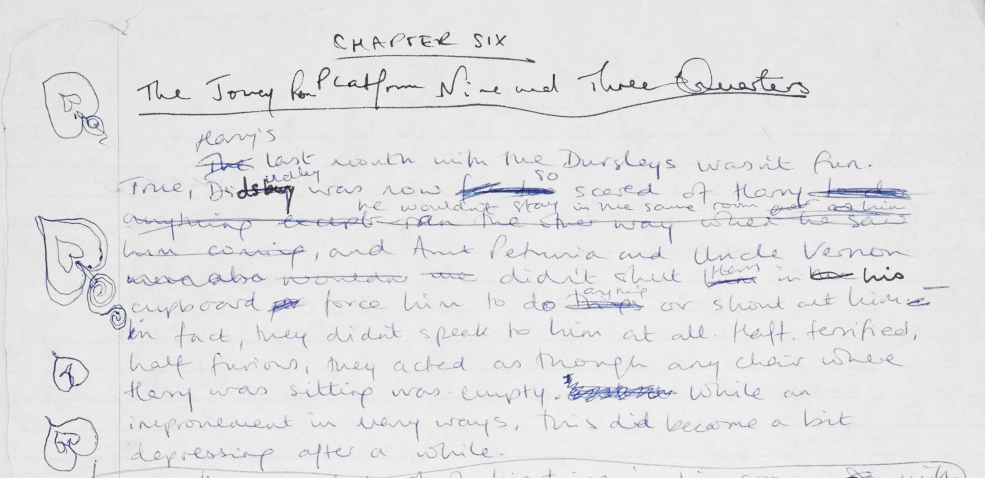 This is the exhibition with which the British Library, anticipating a summer rush of international visitors, is putting our literary heritage on show. The span is vast in every respect – in centuries covered, in literary merit and something as basic as quality of paper. From a priceless 10th-century manuscript of The Seafarer to a sheet of lined A4 on which JK Rowling scribbled a page of Harry Potter and the Philosopher's Stone (pictured above), there is something here for everyone
One of the show's captivating arguments is that our national literature is a thousand-year story in a constant state of self-quotation. Wales' compendium of tales The Mabinogion resurfaces in Alan Garner's The Owl Service. Jane Austen's Persuasion is followed onto the Cobb in Lyme Regis by Harold Pinter, tersely adapting The French Lieutenant's Woman. Fay Godwin snaps the moody moorland ruin thought to have been Emily Brontë's inspiration for Heathcliff's lair. Posy Simmonds' Tamara Drewe (pictured below) reboots Thomas Hardy.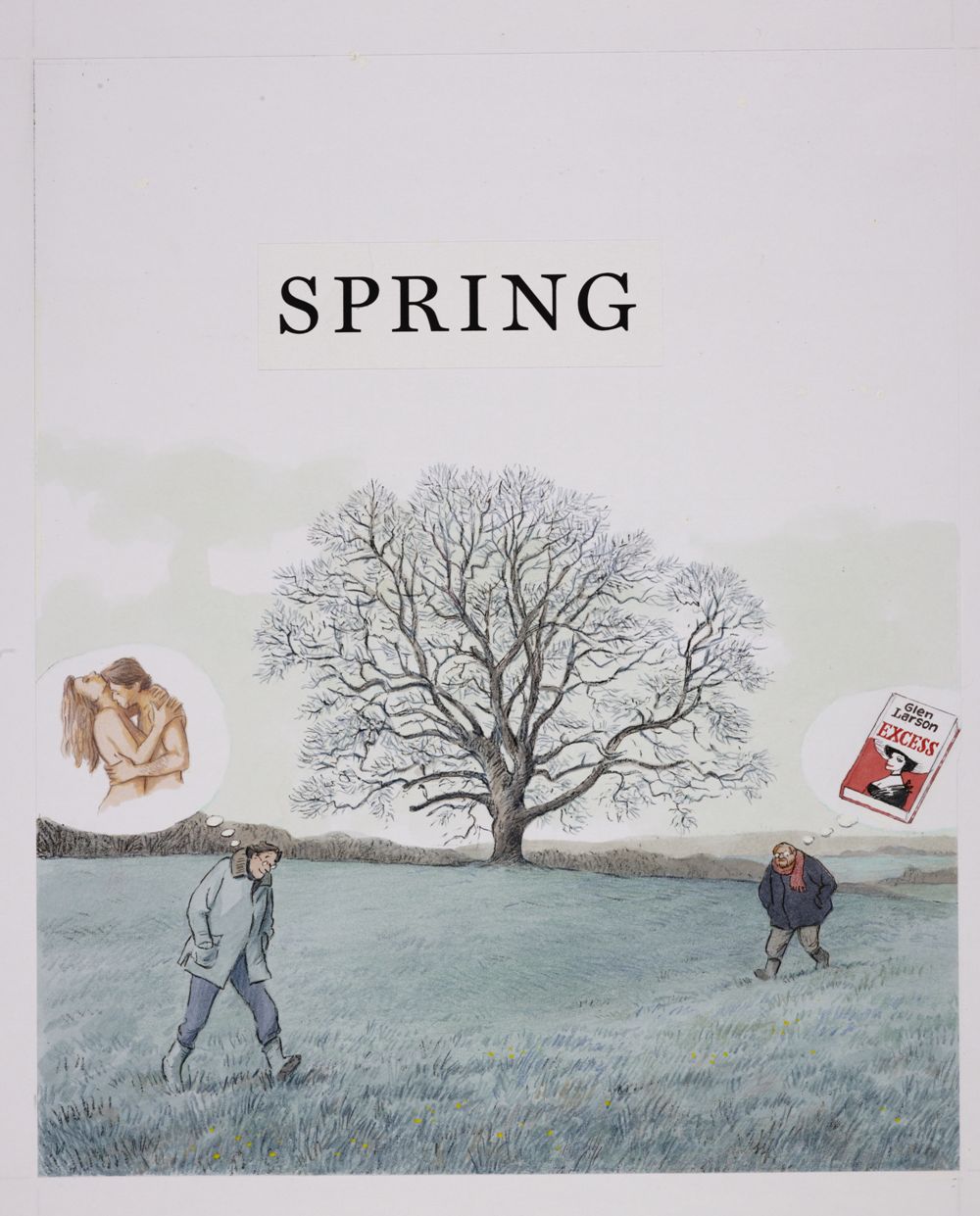 Subtitled From Wastelands to Wonderlands, Writing Britain breaks up the canon into half a dozen distinct sections. We begin in the rural fastnesses of Robin Hood and the pagan Green Man where a general air of contentment and wonder is exuded by the likes of Katherine Phillip's A Country-Life (1650), by the pastoral elegists and eulogists Gray and Clare, by Housman's diary entry for 15 May 1891: "Oaks green... hail nearly as big as cherries." Voicing Gwendolen Fairfax, Wilde's looping hand gently pokes fun at the tedium of rural life in the MS of The Importance of Being Earnest: "I cannot understand how [the word 'people' is crossed out] anybody manages to exist in the country."
For much of our literature, all too easily. How they managed to exist in industrialised England is more moot. A letter from Charlotte Brontë in 1848 frets at "our northern congregations of smoke-dark houses clustered round their soot-vomiting mills". Elizabeth Gaskell is similarly anxious that Manchester "is not the most healthy place". But industry is a source of fascination and even sentiment to others. Remembering the environs of childhood, Auden neatly if oddly lists Derbyshire lead mines and mining terms in a notebook from just after the war. John Lennon's original lyrics in upper case for "In My Life" (pictured below) summon images from the Liverpool of his youth, including Penny Lane, which was eventually memorialised in song by Paul McCartney. Poignantly, "In the pram I had some good times" never made it onto Rubber Soul.

As distinct from agricultural Britain, the exhibition migrates to the unpopulated Celtic wildernesses discovered, principally, in the 18th century on England's doorstep when the Napoleonic wars put a stop to the Grand Tour. We find Keats rhapsodising in a letter to his brother Tom about Ailsa Craig and Wordsworth at Tintern Abbey, before a tour of suburbia drags the exhibition into the early 20th century with Betjeman hymning the suburban gateway in "Baker Street Station" and Evelyn Waugh gently twitting "fair Penge". We then head into London, the mythic phantasmagoria peopled by Chaucer, Blake and Dickens, and thence out onto the rivers, waterways and seascapes captured nostalgically by Larkin, who in neat pencil summons the sound of "the small hushed waves' repeated fresh collapse".
The span is vast in every respect – in centuries covered, in literary merit and something as basic as quality of paper
Share this article
Subscribe to theartsdesk.com
Thank you for continuing to read our work on theartsdesk.com. For unlimited access to every article in its entirety, including our archive of more than 10,000 pieces, we're asking for £2.95 per month or £25 per year. We feel it's a very good deal, and hope you do too.
To take an annual subscription now simply click here.
And if you're looking for that extra gift for a friend or family member, why not treat them to a theartsdesk.com gift subscription?