A Voyage Round my Father at the Freud Museum |

Visual arts reviews, news & interviews
A Voyage Round my Father at the Freud Museum
The DreamWork exhibition builds a bridge between a daughter and the early life of her obsessive-compulsive father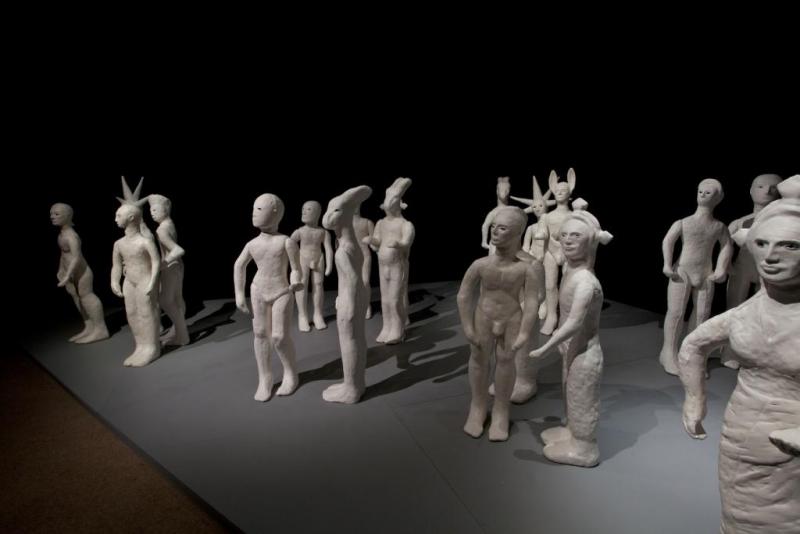 'Sleepover' by Christie Brown: 'An uncanny narrative has been interrupted which may resume at any time'.
What would Sigmund Freud say to newcomers infiltrating his priceless collection of Greek, Chinese and Egyptian antiquities? His study on the ground floor of 20 Maresfield Gardens in Hampstead, where Freud and his family lived after fleeing the Nazis in 1938 (he loved the house, saying it was "incomparably better" than his flat in Vienna, but only lived in it for a year before he died in 1939) has always been filled with his Egyptian gods and goddesses, bodhisattvas and buddhas, Eros figures, mummy masks and Greek vases. He was "like a curator in a museum", said the American poet Hilda Doolittle, one of his patients. He used these "old and grubby gods", as he called them, as a source of inspiration in his work, and said that a psychoanalyst, like an archaeologist, "must uncover layer upon layer of the patient's psyche before coming to the deepest and most valuable treasures".
Christie Brown, a professor of ceramics who has spent several years in analysis herself, was inspired by this analogy. Her DreamWork figures have joined the grubby gods at the Freud museum. Seven small turquoise ceramic teddy bears, looking Egyptian in colour and shape, as well as a white porcelain doll in risqué black satin lying brazenly on his famous Iranian-rug-covered couch (pictured below), are in residence in Freud's ground-floor study. On the landing, on a desk in front of shelves filled with Anna Freud's books, are more of Brown's objects – heads, torsos, feet, dolls, more teddies, and a sphinx-like figure.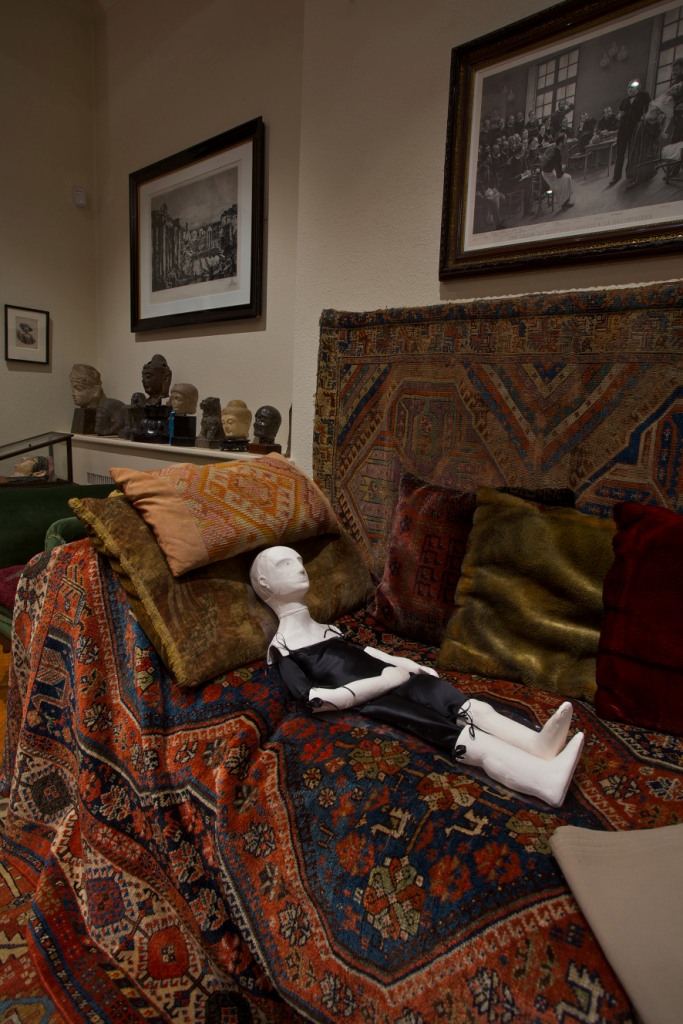 Upstairs in the Anna Freud room – she lived and worked in the house till her death in 1982 - are groups of small figures of children cast from wax ex-votos. Next to the video room is an extraordinary exhibit called Sleepover. It's a surreal experience, listening to Anna Freud's high-pitched voiceover in Home Movies, a documentary about Freud and his family in the 1930s – lots of weddings and family gatherings - while looking at this crowd of pale alien ceramic beings, some with animal heads, others more or less human, some with pronounced mouths and genitals, some veiled, all with black, haughty eyes that follow you. It's nightmarish, and the longer I look, the more hostile they seem. "An uncanny narrative has been interrupted which may resume at any time," says Christie Brown about Sleepover.
It's even more uncanny for me because my father must have come to this house countless times, probably starting in the 1940s and continuing through the 1950s and 1960s, during his analysis with Anna Freud. She was his last analyst – others I know of were Ernest Jones and Karen Horney. He never talked about any of them with me (he died in 1980), though my mother took me to Anna Freud's children's clinic once, not for analysis but to donate my old tricycle.
I look at the Sleepover figures with their angry black eyes and think about what Jones, Freud's colleague and biographer, said in a letter to Freud in December 1930. My father was 29 at the time and he was, wrote Jones, "one of the most difficult cases I have ever had to handle. It is a case of obsessional neurosis [now called obsessive compulsive disorder], with a basis of melancholia, but the main analysis has been a characterological one. He has throughout shown the most implacable hostility I have ever known and this has been coupled with the typical negative therapeutic reaction to progress." My father was hoping that Jones could arrange a meeting in Vienna between him and Freud, and Jones did write a letter of introduction, but Freud was "turning away all visitors" at the time and told Jones that my father's bad behaviour should not make him an exception, and that he probably was just looking for "fresh material for difficulties with his analysis".
Way to go, Dad. Never let an analyst get too close
Share this article
Subscribe to theartsdesk.com
Thank you for continuing to read our work on theartsdesk.com. For unlimited access to every article in its entirety, including our archive of more than 10,000 pieces, we're asking for £2.95 per month or £25 per year. We feel it's a very good deal, and hope you do too.
To take an annual subscription now simply click here.
And if you're looking for that extra gift for a friend or family member, why not treat them to a theartsdesk.com gift subscription?