Big Fat Gypsy Weddings, Channel 4 |

TV reviews, news & interviews
Big Fat Gypsy Weddings, Channel 4
Hit series ends amid grumbling from its subject matter
Wednesday, 16 February 2011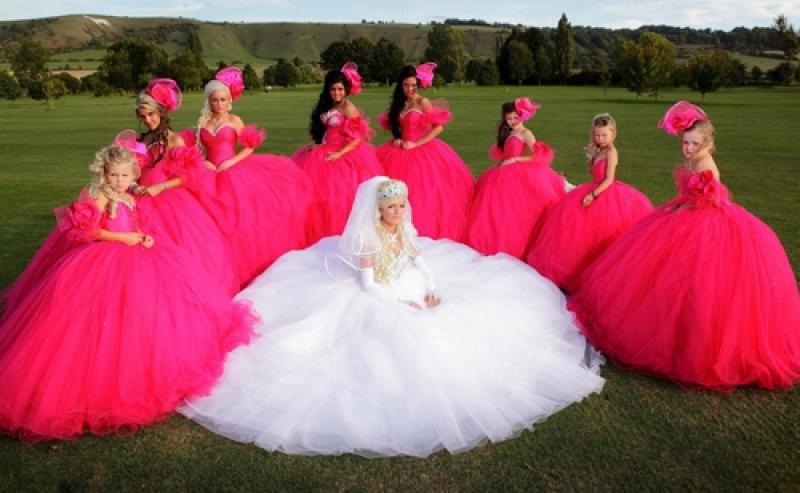 Bridget the fairy-tale bride, surrounded by her retinue of bridesmaids
News reaches us of discontent within the so-called "travelling community", where not everyone appreciates the portrait of Romany life which has been emerging from Channel 4's hit series. Perhaps they didn't like all that stuff about hairy-knuckled male chauvinism, women being married off as teenagers and kept in the kitchen, and the gypsies' habit of settling disputes by staging punch-ups in car parks.
"I think the show's a bad thing, and I'm not the only one saying it," complained Hughie Smith, president of the Gypsy Council. Roxy Freeman, a traveller who has written a book called Little Gypsy, says, "All this programme has done is add 'laughing stock' to the long list of insults that we already face." Channel 4 countered by saying: "We have intentionally avoided many commonly held stereotypes and attempted to provide a balanced view."
Of course, it's impossible to know what editing choices have been made in the cutting room and how the subjects for the show were picked. However, considering its form in "freak show" TV like Big Brother or Beauty and the Beast, it's not beyond the bounds of possibility that the network adored the idea of creating a species of New Chav at whom the chattering classes could chuckle over their Waitrose champagne and Alaskan smoked salmon.
But what the hell. It worked. The nation has been abuzz and atitter at the gypsy girls in their half-ton dresses, adorned with twinkly tiaras and flashing lights. The tone of the series has teetered between documentary and reality stitch-up, mixing scenes of seemingly genuine insight with sequences that just look too good to be true.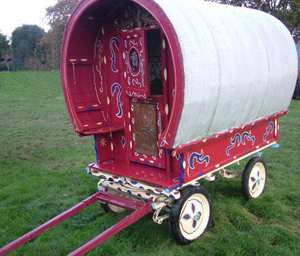 There was a prime specimen in this final episode, where John set off on a two-week trek in his traditional hoop-topped gypsy caravan (like the one pictured right) to the Appleby Horse Fair in Cumbria, leaving his wife Violet behind because the trip is for men only. After about 10 miles, John began to pine for Violet's home cooking, called her on his mobile and told her to bring some stew down in the car for his lunch. She obliged of course, albeit two hours late. You couldn't make it up. Could you?
One giveaway sign that high seriousness was not always the watchword was the way the narrator kept giving a situation recap after every commercial break, as if the viewers were presumed to be guffawing so heartily and pointing at the screen that they couldn't be expected to remember anything that had just happened. Moreover, there was a sense of the show putting on a straight face, buttoning its collar and combing its hair for this final show, which was about the racist attitudes and prejudice which travellers have to put up with (it was called Bride and Prejudice). "Fuck off gypsie scum" said the graffiti on a nearby wall. We were talking about racism here. It was time to get serious.
Well, almost. In between being told an incalculable number of times that gypsies are very secretive about when and where they're going to hold their weddings because they're afraid that venues will ban them if they find out they're travellers, there was another splendid parade of girls in Walt Disney fairy-tale frocks (custom wedding carriage, pictured above). In particular there was Bridget in Swindon, in a billowing white galleon of a dress, huge tiara and tumbling blonde Guinevere tresses, surrounded by her bridesmaids in eyeball-melting "neon pink". Twinkly hurdy-gurdy background music heightened the atmosphere of Ruritanian unreality.
A heroic climax to the series had been concocted around the Appleby Horse Fair, where heavy-handed policing by cops being "very racial and abusive" finally drove the gypsies to march en masse to the police station and demand that the police lay off. "We're proud and honourable people and we won't put up with it," declared Billy Welsh, the fair organiser. And, it seems, the cops backed down and stopped harassing everybody for no reason. Great result. Almost too good to be true, in fact.
Watch Big Fat Gypsy Weddings on 4oD
The narrator gave a situation recap after every commercial break, as if viewers were guffawing too hard to remember anything that had just happened
Watch on
Share this article
Subscribe to theartsdesk.com
Thank you for continuing to read our work on theartsdesk.com. For unlimited access to every article in its entirety, including our archive of more than 10,000 pieces, we're asking for £2.95 per month or £25 per year. We feel it's a very good deal, and hope you do too.
To take an annual subscription now simply click here.
And if you're looking for that extra gift for a friend or family member, why not treat them to a theartsdesk.com gift subscription?