Salad Days, Riverside Studios |

Theatre reviews, news & interviews
Salad Days, Riverside Studios
Spry, classical look at the pretty gels and goofy cheps of the 1950s musical
Tuesday, 28 December 2010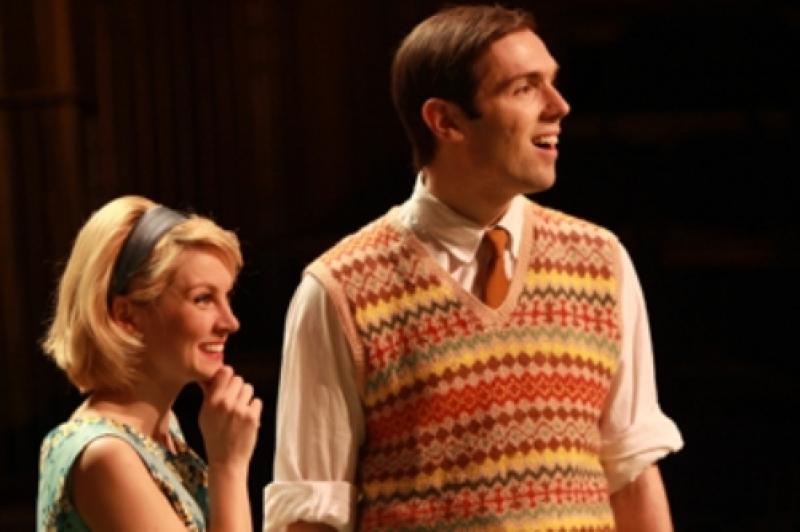 'Pretty gels and goofy cheps': Katie Moore's Jane and Sam Harrison's Timothy are looking for a piano
"Bliss was it in that dawn to be alive," trilled critic Harold Hobson in Wordsworthian mood about a musical which even in 1954 must have made Gilbert and Sullivan look like Ingmar Bergman. Over half a century on, can Salad Days's sweetly silly paradise be regained? The fact that my eyes pricked as the two lovers launched into the dance-song celebrating their magic piano may partly be ascribed to nostalgia for teenage am-dram - late Seventies, not early Fifties - but much more to the airy lack of irony in Tête à Tête's deliciously classical production.
Julian Slade and Dorothy Reynolds, concocting a "summer musical" for the Bristol Old Vic in six weeks, must have done something right: Salad Days went on to become the longest-running West End show between Chu Chin Chow and Oliver! The catchy, simple songs still engage if done with frothy candour. But the last time I saw it on stage, in Ned Sherrin's 1996 revival, the dialogue bored me rigid and the whole thing, despite the presence of Kit and the Widow as well as an amusing audience of ladies with Fifties hairdos and identical daughters, went down like a lead balloon. At times like that you realise that Monty Python's Sam Peckinpah version (see video below) may have had a point. But I've clung on fervently to my copy of the long-deleted 1994 40th-anniversary recording, with cameos from the likes of  Leslie Phillips, Roy Hudd, Valerie Masterson and the stage family West. That partly worked because its hour-long span had shorn some of the more dated revue-like sketches.
They survive, perhaps unwisely, in Bill Bankes-Jones's true company show, first staged a year ago and running at well over twice that length. Yet while I could do without the hair salon monologue, the dancing-copper sketch and the very dated campery of Ambrose Gusset's fashion parade, not to mention the characters of PC Boot and Rowena, they could hardly have been more crisply characterised, and with stylish help from Caroline Hughes's costumes.
An alternative vision from Monty Python 'as directed by Sam Peckinpah'
Still, bring on the tunes for which the plot of graduate shenanigans in a fantasy London is but the merest prop. There are shafts of Savoy-opera wit in the libretto, and something a little more louche yet groaningly pleasurable (like the "Song of the Nightclub Manager" - an oleaginous Mark Inscoe - moralising on the tale of Cleopatra: "Don't let your pals become too chummy/ Or you'll end up an Egyptian mummy").
But the simple songs are the thing, and if what's happening on stage is all too naive for you, there's always the refined pleasure of the lacy, Winifred Atwellesque counterpoints in which the two/three pianists led by MD Anthony Ingle take such expert delight. Otherwise the performances are hardly gobsmacking, nor should they be. In fact most are just right, led by Katie Moore's delightful professional debut as Jane, who gets the sweetest, sunniest numbers of all, and Sam Harrison's spiffing/bemused Timothy. Together they sing of how they said they "wouldn't look beck", and the cut-glass Fifties accents of the pretty gels and goofy cheps can be a little more stilted than's good for it at times. I wish Kathryn Martin's Asphynxia had gone a bit more for the cabaret jugular with "Sand in My Eyes", amusingly staged; in fact the real star quality was only briefly on show as Rebecca Caine's Lady Raeburn (pictured below in the centre of the hairdressing scene) took the top line in another of those Slade numbers (no, dear, not "Merry Christmas Everybody", pay attention) which are so nostalgically fine-tuned.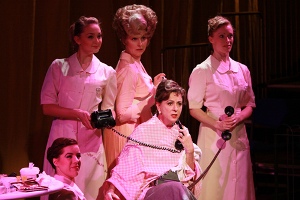 Companywise, it couldn't be faulted. Within the narrowish astroturf park, flanked by the audience and easily convertible into nightclub and catwalk, the ensemble - unmiked with the obvious exception of Asphynxia - went through Quinny Sacks's elaborate routines with an enthusiasm that made them seem spontaneous. Audience members of all shapes and sizes seemed quite happy to flap about in the reprise of "Look at Me, I'm Dancing"; a conga led by the enchanted piano covered up a weak Act One curtain and it seemed harder than ever to believe that "We're Looking for a Piano" was an afterthought on Slade's and Reynolds's parts, so infectiously well was it done. I'd stalled on taking knowing kids to so innocent a show, but to judge from the engaged looks of the ones in the audience, Tête à Tête's happy energy levels should be enough to please all ages.
Salad Days runs at the Riverside Studios until 6 February
Find the original cast recording of Salad Days on Amazon

Director Bill Bankes-Jones on this production of Salad Days
Bring on the tunes for which the plot of graduate shenanigans in a fantasy London is but the merest prop
Share this article
Subscribe to theartsdesk.com
Thank you for continuing to read our work on theartsdesk.com. For unlimited access to every article in its entirety, including our archive of more than 7,000 pieces, we're asking for £2.95 per month or £25 per year. We feel it's a very good deal, and hope you do too.
To take an annual subscription now simply click here.
And if you're looking for that extra gift for a friend or family member, why not treat them to a theartsdesk.com gift subscription?