Video Exclusive: BJ Smith covers Mos Def's Umi Says |

New music reviews, news & interviews
Video Exclusive: BJ Smith covers Mos Def's Umi Says
A stunning nu-Balearic cover of the hip hop soul classic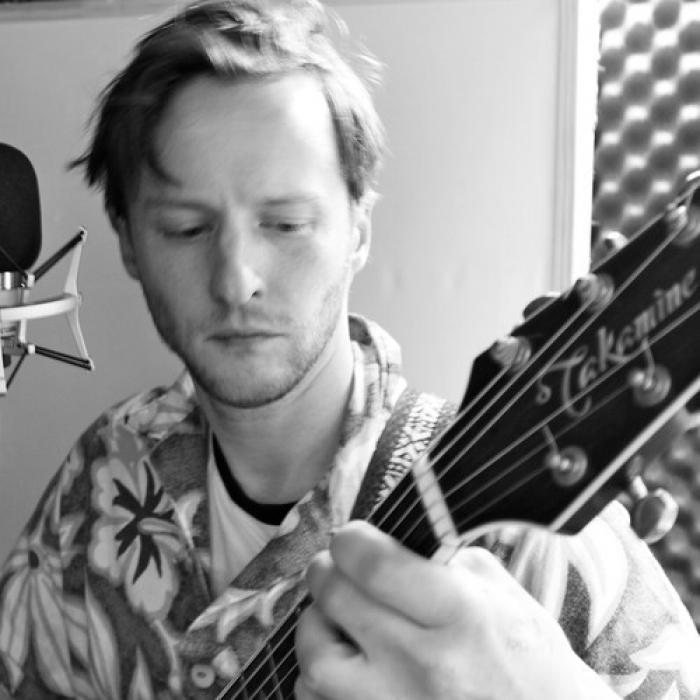 Benjamin James "BJ" Smith in the sessions for Dedication to the Greats
We're extremely proud to be able to present this charming exclusive video by the London multi-instrumentalist singer-songwriter (and animator) BJ Smith - a ray of sunshine in the winter greyness. It comes from the forthcoming Dedication to the Greats release on the Nu Northern Soul label, which features Smith's acoustic covers of tracks by hip hop artists: The Pharcyde's "Runnin'", and the track featured here, Mos Def's "Umi Says".
Smith has been a low-key but impressive presence in underground music for a while now, collaborating regularly with international festival favourites Crazy P, and with no less a luminary than Holger Czukay of Can in the psychedelic rock band Bison. He developed a taste for creating radical cover versions after a remix commission from Crazy P turned into a complete acoustic re-recording, and this quickly led to the two balmy, gently psychedelic tracks on Dedication...
BBC 6Music's Gilles Peterson says that this track in particular will be "the soundtrack to sunrises around the world for years to come", and we're inclined to agree: it's a song that warms up and opens up quite magically over its four dreamy minutes. The double a-side single is being released as a limited vinyl package with hand-printed artwork by Liverpool artist TOMO. We strongly recommend getting a cup of tea, putting aside distractions and taking in the self-drawn video in its entirety.
Order the release on Nu Northern Soul BandCamp page
Watch BJ Smith's "Umi Says":
The soundtrack to sunrises around the world for years to come
Explore topics
More New music
Share this article
We at The Arts Desk hope that you have been enjoying our coverage of the arts. If you like what you're reading, do please consider making a donation. A contribution from you will help us to continue providing the high-quality arts writing that won us the Best Specialist Journalism Website award at the 2012 Online Media Awards. To make a one-off contribution click Donate or to set up a regular standing order click Subscribe.
With thanks and best wishes from all at The Arts Desk