Jet Harris, the original Shadow RIP |

New music reviews, news & interviews
Jet Harris, the original Shadow RIP
Farewell to The Shadows' original bassist, one of the architects of British rock'n'roll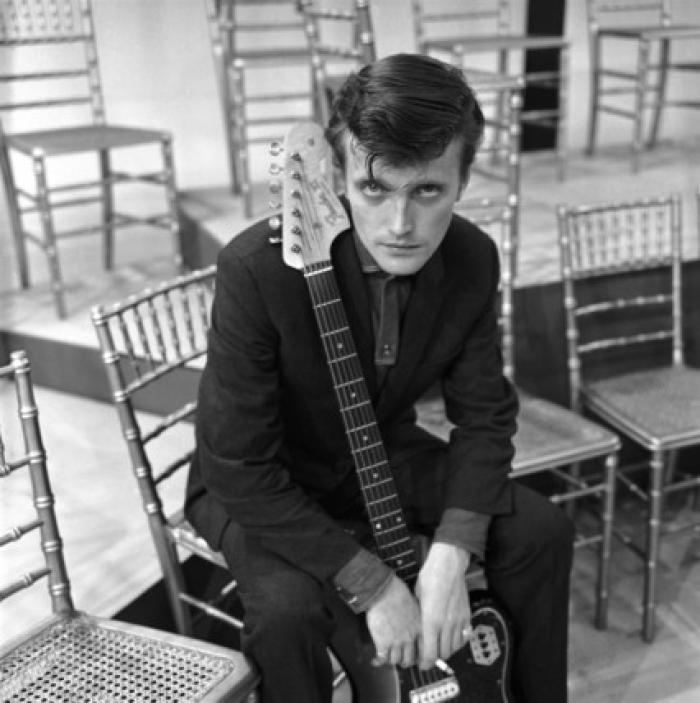 Jet Harris: The dark heart of The Shadows in the early Sixties
Jet Harris was one of the architects of British rock'n'roll. His death rams home just how distant that era now seems. A former skiffler, he joined The Shadows after a spell backing Terry Dene, British rock's first bad boy. In time, Harris became a bad boy too, setting the template for the self-destructive lifestyle that would become a cliché. But his moody image will survive too. His rumbling bass guitar will forever be synonymous with those evocative Shadows' hits.
The Shadows' world-changing moment came in August 1960 when they topped the British charts with "Apache". Everything in British pop was American before The Shadows hit Number One. Tommy Steele, Cliff Richard, Marty Wilde – they all looked to Elvis and America for inspiration. Then, from behind Cliff, The Shadows stepped out.
They were our boys. They weren't cute: their instrumentals launched a thousand schoolboy dreams. Deep Purple's Roger Glover salivated over their Fender guitars. Harris was an inspiration to session bassist John Baldwin, who played on some of his post-Shadows singles – he later became John Paul Jones and joined Led Zeppelin.
And just before wiping the pop slate clean, when recording their first original number in Hamburg, The Beatles chose an instrumental. It was titled "Cry For a Shadow". Everyone wanted to be The Shadows. Jet Harris was their dark heart.
Watch The Shadows perform "FBI"
As the owner of Britain's first electric bass, Jet Harris was The Shadows' blonde and moody bottom end between October 1958 and April 1962 (pictured below). The name Jet was a school nickname, coming from his prowess at running. They were still The Drifters when Harris joined and the new name, The Shadows, was chosen by him.
He was a hard drinker. His first wife, Carol DaCosta, is the only woman that Cliff Richard admits to having had an affair with. Tensions between Shads' guitarist Bruce Welch and Harris led to his departure for a solo career. Success seemed assured: Harris's debut 45 "Besame mucho" hit the charts in May 1962. "Diamonds", made with fellow ex-Shad Tony Meehan, hit Number One in 1963. But in September 1963 Harris was injured in a car crash with pop-girl girlfriend Billie Davis. As he was married to DaCosta, the story became tabloid fodder and he never regained the momentum.
He cropped up regularly on the revival circuit, in recent years with Shadows' tribute band The Rapiers. He was awarded an MBE in 2010. Although his manner could seem cantankerous, I always found him charming and ready to chat. It's a cliché, but he was a rough diamond.
Watch Jet Harris perform "Main Title Theme (from The Man With the Golden Arm)"
I last spoke with him at length in early 2009, before the Cliff and the Shads farewell tour. On relations between him and the rest of the band, he said, "There's absolutely no malice, we all speak to each other, but I automatically thought they'd have me – maybe as the first six or so numbers, the ones I played on. A lot of fans can't believe it and have said it won't be right. It doesn't seem right that I won't be playing 'Apache'. But the powers that be have decided. I'm not losing sleep over it as I've got Jet Harris gigs, and we're filling them." Needless to say, he wasn't invited onto the tour.
On choosing the band's name, he told me, "Me and Hank Marvin had Lambrettas and we were out in Ruislip. We were outside the Six Bells pub drinking Guinness – which we probably shouldn't have been. After an a hour of talking about names I said, 'How about Cliff Richard and the Shadows?' Hank's eyes lit up. We'd been through everything: The Tsetse Flies, The Zodiacs, The Zephyrs."
But he left the band he'd named in 1962 and went solo. "I made up my mind and announced it, and that was it. I had an alcohol problem." (Pictured right in 2007 by Geoff Simmonds, jetharris.biz.)
Describing his approach to music, he said, "I suppose we've all got different ways of playing, I give it some welly." Sadly, he won't be giving it welly any more.
Terence Harris. Born 6 July 1939. Died 18 March, 2011.
Watch Jet Harris play "Diamonds" and "Big Bad Bass" after winning the Musician of the Year prize at the 1964 New Musical Express poll-winner's concert
Subscribe to theartsdesk.com
Thank you for continuing to read our work on theartsdesk.com. For unlimited access to every article in its entirety, including our archive of more than 10,000 pieces, we're asking for £2.95 per month or £25 per year. We feel it's a very good deal, and hope you do too.
To take an annual subscription now simply click here.
And if you're looking for that extra gift for a friend or family member, why not treat them to a theartsdesk.com gift subscription?