Dawn Kinnard, The Serpentine Sessions |

New music reviews, news & interviews
Dawn Kinnard, The Serpentine Sessions
Pennsylvanian preacher's daughter fights to get noticed at disappointing Serpentine Sessions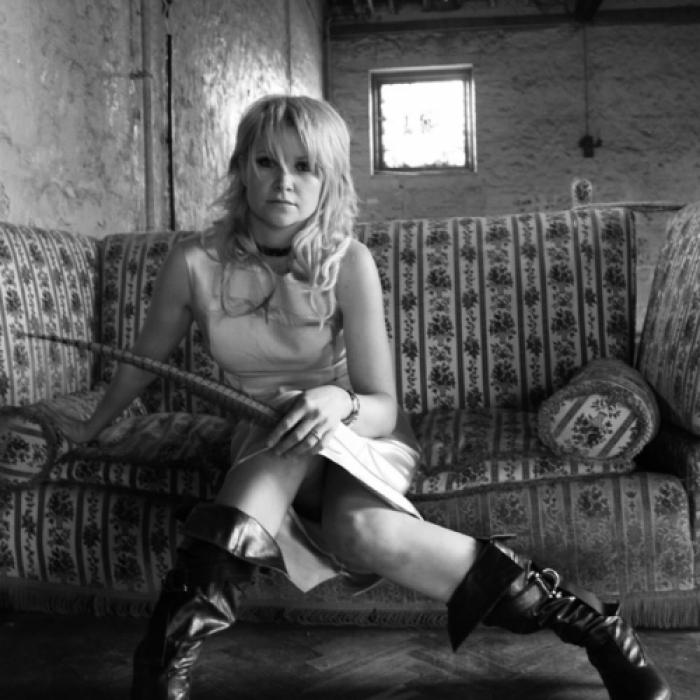 Dawn Kinnard, keeping the dream alive
I first saw Dawn Kinnard on Later...with Jools Holland in 2008. I was so impressed I immediately reached for my laptop and bought tickets for her upcoming gig. If only others had done the same. The poor girl ended up playing the Bedford Bandstand to about 20 people. And yet it was one of the most stirring and affecting concerts I've ever been to. She sang as if trying to woo each of us individually and played her soulful gothic country with such passion it was as if she had "I am never going to back to Pennsylvania to work as a hairdresser again" tattooed on her forehead.
The daughter of a Baptist minister, comparisons could be drawn between Kinnard and fellow preacher's-offspring-cum-country-singer, Diane Birch. Except Birch's music comes from every musical advantage. And there's nothing processed or produced about Kinnard's voice, a glorious mix of Tom Waits and Marge Simpson. Her quirkiness is all real. Part of that reality is the inevitable struggle. And this summer, for the second time in three years, she has put her savings on the line to try to make it here. Her second album is due out in September. Until then she must be relying on word-of-mouth buzz generated by her gigs to keep her dream alive.
This dream of sharing her music with the world was put on ice last year with her return to the States. Thankfully, she kept her stylist's scissors firmly in their case, and instead packed a dog, a goldfish and a guitar into a flat-bed pickup and embarked on a year-long road trip. She's full of these anecdotes – like the story of how she was discovered. Cerys Matthews saw her playing a honky-tonk in Nashville. Matthews was on holiday and Kinnard had saved up her tips to get down there. After the gig Matthews presented her with the keys to her flat in London and told her to stay as long as it took to get noticed.
And tonight I was hoping that Kinnard was going to get the opportunity to show everyone why they should try to catch her this summer. But poor Dawn Kinnard! The Serpentine Session's so-called bandstand stage turned out to be barely a gazebo, opposite the bar and next to a Mexican food stall. With characteristic American manners Kinnard delt with it with grace. But I doubt any number of gigs in Southern sports bars could have really prepared her for coming on to the sound of munched nachos and folding deck-chairs. And with these competing sounds, and the total lack of acoustics, it was hard for those who were interestered to properly appreciate the seven tracks, all from the new album.
Obviously, given the size of the stage there was no full band or New Orleans-style brass section which apparently features on the album. This evening it was just Kinnard plus guitar, a bass and a drum kit. But I definitely liked what I heard. The songs "Death is a Shark" and "Are You Still crazy About Yourself?" seemed to have a dark jazz feeling, like they were poured from bottles of Southern Comfort on sultry verandas. "Japan" was a strange and ghostly song about love and belonging and leaving, and "The Queen of the World" a light and ironically triumphant take on love. My three favourite numbers were "Bicycle", which had a fevered and obsessional quality, "Favourite Ghost" a straight country lament which with its talk of state lines and leaving conjured up Kinnard's recent adventures, and "The Cost of Love" which beautifully oscillated between sorrow and dementia.
And although Kinnard started off looking bemused staring out at an audience mainly comprised of event photographers, her confidence picked up in direct proportion to the friends she won over from the competing food and drink attractions. In fact, by the time she was into "Bicycle" and "The Cost of Love" she was back to her trademark "Elvis shaking legs" and screwed-up eyes. And afterwards, she thanked those of us who'd listened with a sincere smile, lit up a cigarette and strolled over to watch Patti Smith.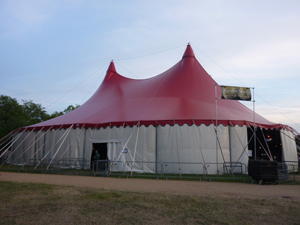 But what were the event organisers thinking of? It's obvious that the Serpentine Sessions was created as a way of capitalising on unused festival space in the hiatus between the Hard Rock Calling and Wireless festivals, but given the line-up – it reads like a warm up to the alternative folk-rock of the Latitude festival – how did they end up using for one stage a tent so large that it will surely terrify Laura Marling this Thursday (pictured left), and for the second stage a small pagoda in the corner of a beer-garden-cum- food-court. And all around lying empty are medium-sized marquees of the sort of size most of the crowd presumably had in mind when they bought their tickets.
For those who would like to see Kinnard in a more appropriate environment, she has just announced a showcase of her new album this Monday at the Borderline. And given the September release date of the album, I imagine there will be a few more gigs before then. She truly deserves to fill them. After all, she has a dream to keep alive.
Watch Dawn Kinnard perform "One Little Step Away" on Later with Jools Holland



Share this article
Subscribe to theartsdesk.com
Thank you for continuing to read our work on theartsdesk.com. For unlimited access to every article in its entirety, including our archive of more than 10,000 pieces, we're asking for £2.95 per month or £25 per year. We feel it's a very good deal, and hope you do too.
To take an annual subscription now simply click here.
And if you're looking for that extra gift for a friend or family member, why not treat them to a theartsdesk.com gift subscription?