LFF 2012: In the House |

Film reviews, news & interviews
LFF 2012: In the House
Ozon's sharp and scathing comedy depicts an unusual teacher-pupil relationship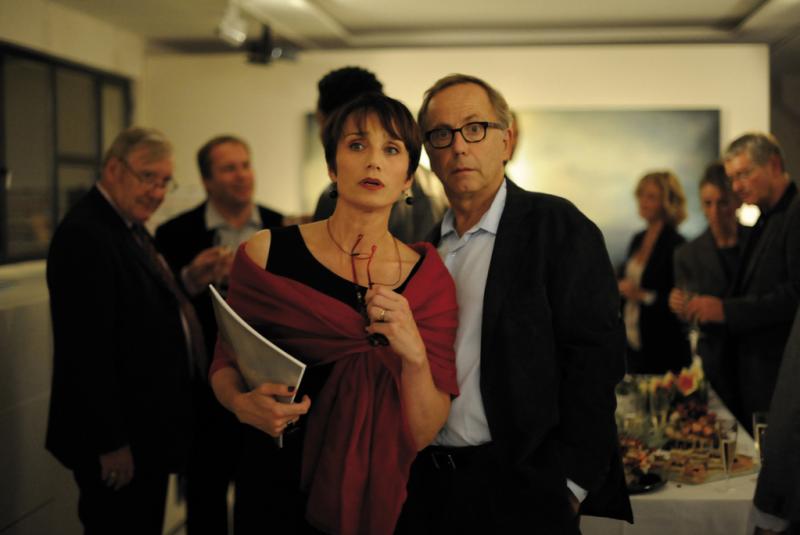 Telling a story within a story: Fabrice Luchini and Kristin Scott Thomas in 'In the House'
Balancing cool calculation with a touch of Potiche's farce, In the House (Dans la Maison) sees French director François Ozon return to the story-within-a-story structure and enigmatic imposter subject matter of Swimming Pool.
It stars Fabrice Luchini as Mr Germain, a frustrated French teacher, disenchanted by pupil apathy and his school's new initiatives. His zeal for teaching is re-awakened when a talented pupil, Claude (Ernst Umhauer), starts turning-in intriguing but alarming assignments. These reveal that Claude has conned his way into a classmate's house, and is observing and manipulating what he considers to be the perfect family - developing a particular fixation on his friend's beautiful, bored mother Esther (Emmanuelle Seigner). Rather than discouraging him, Germain becomes hooked on the boy's invasive, faintly sinister narrative, sharing each thrilling development with his art curator wife Jeanne (Kristin Scott Thomas).
There's terrific humour in the nosey, improper fixation of this bourgeois couple, and in the fact that Jeanne's penchant for obscene exhibits means that she's known locally as the "woman who owns the porn shop". Germain lives vicariously through the boy's snooping and writing talent. He also fails to spot elements of his own life reflected back at him – with Esther's dissatisfaction mirroring Jeanne's. Ozon deals deftly in the shifting power in this teacher-pupil dynamic, and deliberately and playfully confuses reality and fiction. The film is presented with his characteristic precision and detachment and it's played with spirit by Luchini and Scott Thomas in particular. In the House is intriguing, delightfully mischievous and accomplished, though perhaps a little too far removed.
Follow @EmmaSimmonds on Twitter
There's terrific humour in the nosey, improper fixation of this bourgeois couple
Share this article
We at The Arts Desk hope that you have been enjoying our coverage of the arts. If you like what you're reading, do please consider making a donation. A contribution from you will help us to continue providing the high-quality arts writing that won us the Best Specialist Journalism Website award at the 2012 Online Media Awards. To make a one-off contribution click Donate or to set up a regular standing order click Subscribe.
With thanks and best wishes from all at The Arts Desk