Kaboom |

Film reviews, news & interviews
Kaboom
Gregg Araki's return to his teen apocalypse roots is all mouth and defiantly no trousers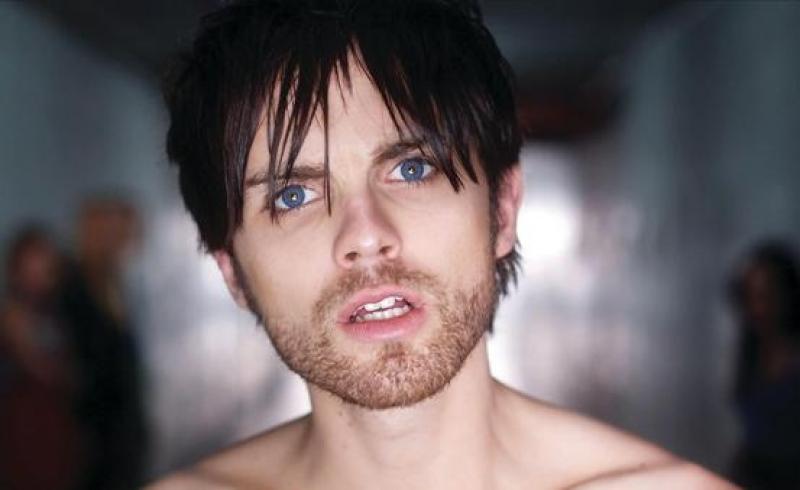 'Where is my mind?': Thomas Dekker in 'Kaboom'
The playfully titled, deliriously deadpan Kaboom doesn't so much explode onto the screen as briefly sparkle then fail to ignite. Superficially it's an intriguing confusion of murder mystery, Generation Sex romp and slacker comedy, and is relentlessly prone to flights of Gregg Araki's trademark psychedelic fancy. As shag-happy as a teenage boy, with its drugs, witches, cults and cast of nubiles it sounds like fun, right? Unfortunately, for the most part, it's a bit of a drag.
In Kaboom our hero, Smith (Thomas Dekker, pictured below with Juno Temple), is plagued by mysterious dreams featuring his friends and family, strangers, a black door bearing the number 19 and a dumpster. Back in reality, he's 18, living in a dorm at college and has a (probably) hopeless crush on his room-mate, a pinhead surfer dude named Thor (Chris Zylka, pictured below left) who, although ostensibly straight, seems really gay. With Thor's antics constantly threatening to blow Smith's mind he seeks comfort in his sarky but fabulous best-mate Stella (Haley Bennett) who has a dryness which belies her years and a killer quip for every occasion.
Unfortunately Stella becomes almost immediately embroiled in a crisis of her own when the smouldering vixen she is dating, Lorelei (Roxane Mesquida), turns out to be a psychotic witch (of the sorceress variety). Meanwhile Smith finds himself the recipient of enigmatic messages - one proclaiming him to be "the chosen son" - and, during a particularly intense trip, he believes he has witnessed a murder. Later Smith finds himself besieged by what may or may not be hallucinations of the masked assailants - and, incidentally, by people queuing up to have sex with him.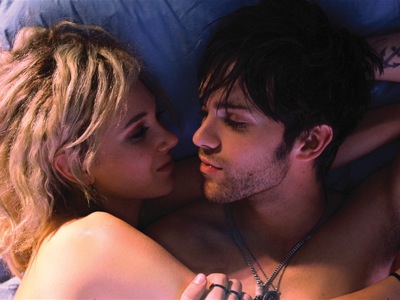 Araki recently experienced critical success with Mysterious Skin (2004) before flirting with the mainstream at the helm of the Anna Faris-starring stoner comedy Smiley Face (2007). Kaboom sees him attempt a return to the edgier, frantic, sex-filled, weird-shit shenanigans of The Doom Generation (1995) and Nowhere (1997) - the second and third part of his Teenage Apocalypse Trilogy which began with Totally F***ed Up (1993).
In the Nineties Araki's shtick felt relevant, if a little raw, and - love them or hate them - the aforementioned trilogy nailed something about a rudderless, liberated but frustrated generation. That he's back to teens and apocalypses again might suggest that he needs to grow up; Kaboom apes his earlier work too closely. It strives for spiky sensationalism but feels outdated and as if it's trying too hard. Furthermore, there's a monotonous quality to the polysexual titillation and the plot is so uninteresting, threadbare and hurried as to be utterly inconsequential - it's just a hook on which Araki hangs his still recognisable visuals.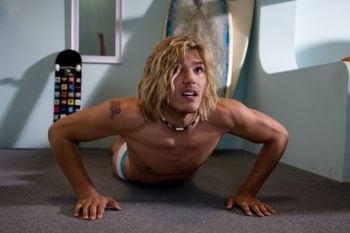 Araki fans, however, may well welcome the return to his previous terrain and there is some - if not nearly enough - anarchic brio. Dekker makes for a sensitive, relentlessly horny hero, with Bennett his spunky partner in crime, and they share a smattering of snappy one-liners. There are also sideswipes at Scientology and a vigorous bathroom face-off involving Lorelei and Stella which references The Wizard of Oz (1939).
The over-arching ethereal discombobulation will of course recall Lynch, but Kaboom is just not that interesting, distinctive or challenging. As flaky as it is flashy, compared to recent genuinely transgressive, out-there fare such as Enter the Void (2009) it seems like a period piece. If you're hoping for a riot then you might want to bear in mind that it may look like teen spirit but it seems to be channelling a mid-life crisis.
Watch the trailer for Kaboom
Araki fans may well welcome the return to his previous terrain and there is some - if not nearly enough - anarchic brio
Share this article
Subscribe to theartsdesk.com
Thank you for continuing to read our work on theartsdesk.com. For unlimited access to every article in its entirety, including our archive of more than 10,000 pieces, we're asking for £2.95 per month or £25 per year. We feel it's a very good deal, and hope you do too.
To take an annual subscription now simply click here.
And if you're looking for that extra gift for a friend or family member, why not treat them to a theartsdesk.com gift subscription?