Dave St-Pierre Company, Un Peu de Tendresse, Sadler's Wells |

reviews, news & interviews
Dave St-Pierre Company, Un Peu de Tendresse, Sadler's Wells
Dave St-Pierre Company, Un Peu de Tendresse, Sadler's Wells
Two dozen naked Canadians can't be wrong
Dave St-Pierre Company in 'A Little Tenderness, For Crying Out Loud!'
When asked if I wanted to go and see two dozen naked Canadians doing audience participation, the answer was, self-evidently, nonononononononono. And then, for good measure, NO. Well, I'm here to tell you, I was wrong. Wrong, wrong, wrong. And I apologise to Dave St-Pierre and Company for my foolish prejudices. Un Peu de Tendresse Bordel de Merde ("A little tenderness, for Pete's sake") is an amazing evening of theatre.
Nakedness, while headline-grabbing, is not the point. Pina Bausch described St-Pierre's company as "my pornographic illegitimate children", but as so often with Pina Bausch, she was only a little bit right. St-Pierre's work is not remotely pornographic, St-Pierre is not her child, but very much her equal, and the work he produces is not a descendant of Bausch's tanztheater, but the real McCoy.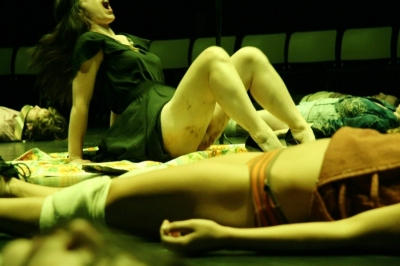 Where emotion, both violent and tender, meet, and how we express these emotions, or fail to, is what interests St-Pierre. The piece opens with the dancers moving from the audience to the stage, where they sit in a row of chairs at the back, on the bare stage stripped back to its brick walls, staring at us. A man extends his hand to a woman, they face each other; he does nothing; she urges him to meet her emotions; he does nothing; she becomes more desperate; he does nothing; she beats herself up; he does nothing; she beats at him; he does nothing. Finally, "I'm tired," she says, and walks away. This is what toddlers do when confronted with the reality that two and two are never going to make five, and all the wanting in the world won't make it so. It is what we are socialised out of, so we suppress the scream of despair and channel it sedately into the phrase, "We need to talk".
This is not to say the evening is sedate. Far from it. Soon the dozen men don platinum curly wigs, strip, and descend into the audience and into mayhem: they sit on audience members' laps, remove their spectacles and wipe them on their bits, they shove their bollocks in our faces, literally. Eventually they are called to order by the evening's compère, the wonderfully cynical "Sabrina" (the programme does not list cast members individually). You want to talk about tenderness, she sneers? "So Seventies." (The text, filled with perfectly timed deadpan comedy, is by Enrica Boucher.)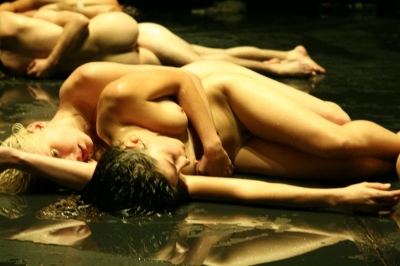 If I have a reservation, it is that the women have a less rounded share of the evening. The men engage with the audience, are amused and (if it's not your lap or your spectacles) amusing. The women engage only with each other, fighting, shouting. Later, the men perform a sort of bathing-belle count-off, before standing and staring at us, chanting, "Frappe-moi" as they hit themselves terrifyingly hard, over and over. They then move into a splendidly athletic dance (dance is, on the whole, at a minimum during an evening more focused on emotion than motion). This seems to be the key section, encompassing the feminine, the rage and self-destruction, and the virility of men; the women get no share in it, and elsewhere little share apart from neuroses or anger.
And after the comedy and the violence, to the music of Arvö Part, the dancers take water bottles which, shoulder height, they tip out onto the stage, the music, lighting (by Alexandre Pilon-Guay) and clear streams producing a hypnotically beautiful image. They then strip a final time, and now, like children cleansed, released into a better place, they slide and push and ferry themselves across the stage on their stomachs (main picture, above). The light goes gold and grey, and a final, peaceful resolution is found (pictured above left) to the weary battles of the world.
Truly remarkable. And not to be missed.
Watch an excerpt from Dave St-Pierre's Un Peu de Tendresse
Soon the dozen men don platinum curly wigs, strip, and descend into the audience and into mayhem
Share this article
Subscribe to theartsdesk.com
Thank you for continuing to read our work on theartsdesk.com. For unlimited access to every article in its entirety, including our archive of more than 10,000 pieces, we're asking for £2.95 per month or £25 per year. We feel it's a very good deal, and hope you do too.
To take an annual subscription now simply click here.
And if you're looking for that extra gift for a friend or family member, why not treat them to a theartsdesk.com gift subscription?