Foster's Edinburgh Comedy Awards: and the winners are... |

Comedy reviews, news & interviews
Foster's Edinburgh Comedy Awards: and the winners are...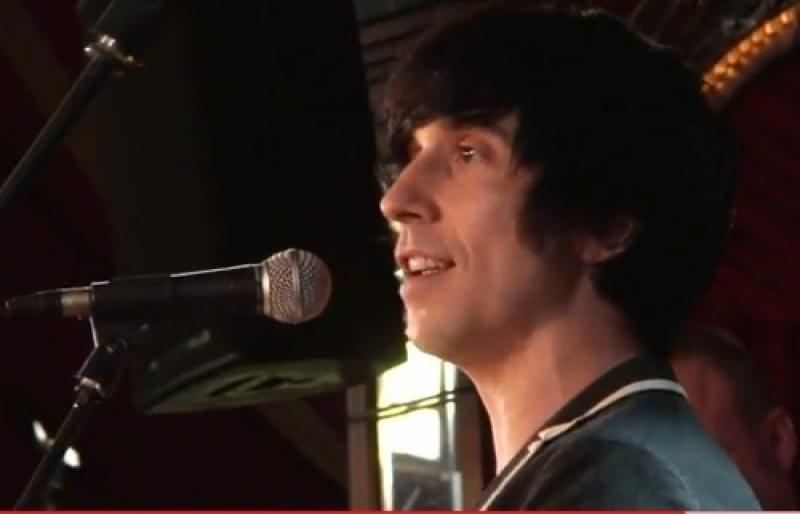 Russell Kane receives the Best Comedy Show award, in his third year of nomination
In a terrific year for comedy at the Fringe, the winners of the 2010 Foster's Edinburgh Comedy Awards (formerly the Perriers) are Russell Kane, Roisin Conaty and Bo Burnham. The prizes - cheques for £10,000, £5,000 and £5,000 - were presented to the three comedians on Saturday in the Spiegel Tent in George Square in a celebration of 30 years of these awards.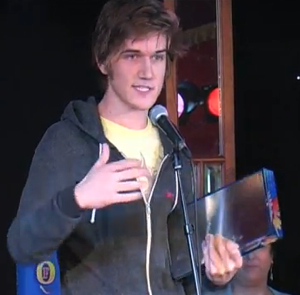 The 10-strong panel (critics, producers and members of the public who won competitions based on their extensive knowledge of live comedy) debated long and hard to whittle down 400-plus eligible shows, and it was good to see so many women nominated - not only Newcomer winner Roisin Conaty but also whimsy merchant Josie Long and Sarah Millican for the main award. It was pleasing, too, to see the judges go beyond the big venues to place Imran Yusuf on the newcomer list.
Old Fringe hand Russell Kane made it third time lucky, winning on his third successive nomination for the main award. Bo Burnham, the American 20-year-old (just) sensation, missed the main award but was compensated by the Panel's prestigious prize (picture left, receiving his award on Saturday).
The Comedy God award, voted by the public as their favourite from a list of every act nominated in 30 years of the awards, went to Japanese sketch group Frank Chickens. The award has been mired in controversy after being attacked by comics including Stewart Lee and Robin Ince, who believe the award is a commercially inspired nonsense and suggested the public vote for the most obscure act. Kazuko Hohki, lead member of Frank Chickens, who were nominated in 1985, said she was amused by all the attention, but that Frank Chickens were not comedians - rather a band of performance artists.
Best Newcomer: Roisin Conaty Hero, Warrior, Fireman, Liar
Panel Prize 2010: Bo Burnham Words, Words, Words
Best Comedy Show: Russell Kane Smokescreens and Castles
More Comedy
Share this article
We at The Arts Desk hope that you have been enjoying our coverage of the arts. If you like what you're reading, do please consider making a donation. A contribution from you will help us to continue providing the high-quality arts writing that won us the Best Specialist Journalism Website award at the 2012 Online Media Awards. To make a one-off contribution click Donate or to set up a regular standing order click Subscribe.
With thanks and best wishes from all at The Arts Desk