Jansen, London Philharmonic, Vänskä, Royal Festival Hall |

Classical music reviews, news & interviews
Jansen, London Philharmonic, Vänskä, Royal Festival Hall
Polished but chilly Bruckner Four and a white-hot concerto
Thursday, 17 November 2011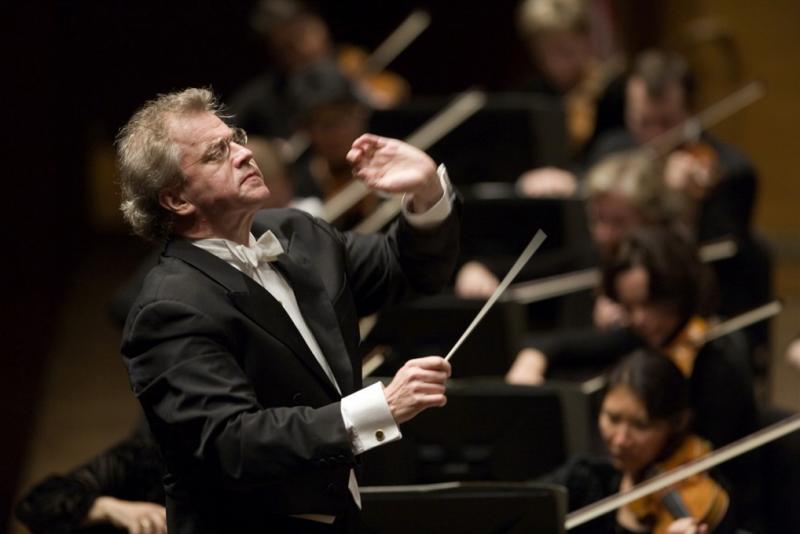 Osmo Vänskä: he 'repeatedly reduced the orchestra's sound to a level not far from the whirr of a moth's wings'
Noticed that nip in the air recently? The reason now is obvious: conductor Osmo Vänskä, the brisk wind from Minnesota, has blown into town, challenging London's orchestral musicians to give beyond their best and uncover new layers in repertory works they previously assumed they knew backwards. Last year, the London Philharmonic sweated blood with the Minnesota Orchestra's rigorous conductor over Sibelius's symphonies; last night, in a one-off, orchestra and conductor faced up to Bruckner and his Fourth Symphony, the Romantic.
The result wasn't universally liked. An aggrieved gent, storming out three-quarters of the way through, told the hall through the orchestra's clamour that it was "rubbish, terrible, a travesty" – though whether he meant Vänskä's interpretation, the symphony itself, or the particular version used (the 1888 revision, newly edited in 2004 by American musicologist Benjamin Korstvedt), he didn't have time to say. You certainly couldn't complain that anything Vänskä did was slack: if anything, the performance was too micro-managed, with phrasings, rhythms and dynamics sculpted to a degree of finesse not seen since Michelangelo sculpted his statue of David.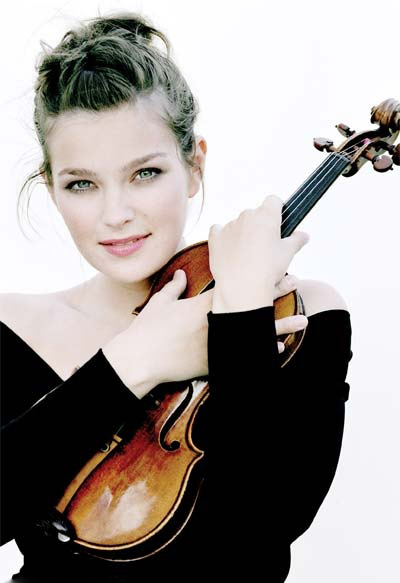 Among those towering cliffs of sound – Bruckner at his most alpine – Vänskä repeatedly reduced the orchestra's sound to a level not far from the whirr of a moth's wings. The same was true, too, in the concert's first half, home to an incandescent performance by Janine Jansen (pictured right) of the Tchaikovsky Violin Concerto. So quiet and delicate were corners of this music that your ears, straining, kept hearing other sounds much less welcome: the rumble of a train at Charing Cross; a bottom shifting in a seat; an empty stomach groaning in the row behind.

Along the way through the symphony's peaks and valleys, the LPO's playing achieved exceptional refinement. We'll forget the odd fluff in the brass; what counted much more were the horn calls' pristine beauty; or the loving, unapologetic treatment of the humble melody during what Bruckner called the Scherzo's "lunch break"; or the cellos' velvet glow, specifically emphasised by Vänskä within the orchestral textures.
My constant fear with Jansen is that in her performing passion she'll end up in one concert missing the strings and drawing the bow across her hair. But I'm sure her hair sounds gorgeous too
Together with some cuts (65 bars from the Scherzo), the 1888 revision brought a couple of added instrumental novelties. There were two cymbals, touched together only in the last movement, once loudly, twice barely audible; and a piccolo tootling in the final bars, as noticeable in the general scrum as a tiny child waving a tiny flag. Amusing to hear, of course; though such items didn't compensate for what, in general, Vänskä's interpretation surprisingly lacked – a sense of inevitability, of Everest being climbed and conquered. Only the Andante's slow march, restrained yet still tense, led the listener forward in a truly convincing way. For the rest, Bruckner's structural fissures glared at us, aiding delight in individual moments, but not doing much toward the spiritual uplift the composer planned. Polished but chilly; that was Vänskä's Fourth.
The cool temperature was particularly noticeable coming after the Tchaikovsky concerto. Here, Vänskä fashioned an orchestral tapestry of elegant precision, with particularly engaging woodwind decorations from the principal flautist, Jaime Martin. But the orchestra's neat colours faded away under the burning torrents of notes emanating from Janine Jansen's violin. Looming above the orchestra like the Shard at London Bridge, Jansen made us her devoted slaves right from her curling opening phrases and her gorgeously hushed treatment of Tchaikovsky's main theme. Is there any violinist extant with a more ravishing pianissimo, who lets the notes sing with such flowing magic and sunshine caress? Not on Wednesday night, anyway.
My constant fear with Jansen is that in her performing passion she'll end up in one concert missing the strings and drawing the bow across her hair. But I'm sure her hair sounds gorgeous too. And beyond the concerto's virtuoso fireworks, with fingers moving faster than light, she always found ample room for the piece's quieter pleasures – none more pleasurable than the Canzonetta's opening, so exquisitely fragile and tender. No rubbish this, or travesty.
Is there any violinist extant with a more ravishing pianissimo than Janine Jansen?
Explore topics
Share this article
theartsdesk is changing
Thank you for continuing to read our work on theartsdesk.com. In September we reached our fourth birthday and feel that the time is now right, in line with other media outlets, to start asking our regular readers for a contribution to help us develop the site further. Theartsdesk has therefore moved to a partial subscription model. For unlimited access to every article in its entirety, including our archive of more than 7,000 pieces, we're asking for £2.95 per month or £25 per year. We feel it's a very good deal, and hope you do too.
Take an annual subscription now simply click here.