Identity, The Wellcome Collection |

reviews, news & interviews
Identity, The Wellcome Collection
Identity, The Wellcome Collection
Who do we think we are? Some scientific answers go on show
'Calves' heads and brains, or a phrenology lecture' (1826): George Combe determined character by measuring cranial bumps
Perhaps we think we've got the whole thing more or less sewn up in the nurture versus nature debate. DNA profiling, gene studies, twin studies, inherited traits - this is the stuff we read about almost daily and it is all meant to tell us who we are. At any rate we seem to live in a culture obsessed with genealogy, which is perhaps as much to do with living as atomised units as it to do with the latest research about genes, or what used to be called heredity.
Or perhaps the fixation that has more to do with the television series which gets expert genealogists to look into the family tree of some celebrity chef. We can all be amateur genealogists now. The Wellcome Collection's "Eight rooms, nine lives" exhibition is all about who we think we are. It mixes up art, biography, science and cultural history to ponder the slippery concept of identity. The one overarching conclusion it seems to come up with is thoroughly post-modern in flavour: that identities are indeed slippery and fluid constructs made up of any number of things.
Being a big, thorny topic, instead of attempting to provide hard answers to hard questions, the exhibition invites us to ponder the lives of others. Eight wooden cabins have been constructed - flimsy-looking structures that are perhaps intended to reflect our own flimsily constructed selves - in which nine lives are played out. They range from Samuel Pepys, the first great diarist, who not only gave us a unique insight into the Restoration era but into his own habits and predilections, to Claude Cahun, the French lesbian artist (pictured above) who defined her gender as "neutral" and went about constructing several identities to work as a muse for her own art.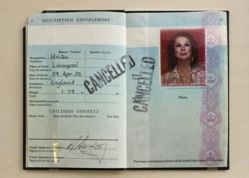 We also encounter twins who were born three years apart thanks to embryo freezing, and a glamorous one-time Vogue model, April Ashley (her cancelled passport is pictured above), who was one of the first people to undergo a sex change operation to become a woman. Outmoded scientific concepts such as phrenology, the measuring of cranial bumps to determine character, are explored alongside DNA profiling. And there's a profile of Francis Galton, Darwin's polymath cousin who ceaselessly measured and categorised the world about him and was the father of eugenics and fingerprinting.
How common is it to feel a wide disjunction between what we look like and how we feel? Mirrors are everywhere in this exhibition. There's Garrick's old backstage mirror, an antique mirror once owned by Freud, tall mirrors and fancy mirrors. And then there's a so-called "true mirror", which reflects your face the right way round and prompts the disturbing thought: "Is that really how others see me?" Most of us are apparently disconcerted by our true mirror reflections. I'm certainly one of them.
This is a fun, informative exhibition, packed with curious facts and weird propositions. But the most memorable part of it is for me - ironically, since it focuses on the loss of memory - were the diary entries of Clive Wearing, a former professional musician and Radio 3 producer. Wearing lost his memory to a virus in 1985 and has been unable to store any new memories since. His memory span last little longer than 30 seconds and his short, repetitive diary entries read as if he has just regained consciousness with every new sentence. Crossing out each entry as he begins a new one, he records his thoughts thus: "8.31. Now I am really, completely awake/9.06. Now I am perfectly, overwhelmingly awake/9.34. Now I am actually, superlatively awake."
The 17th-century philosopher John Locke held that memory was the key to personal identity. That may be too simplistic a notion for us today, but if memory isn't the key to our identities the loss of it certainly leaves us feeling bereft of an anchor on which to shore ourselves.
Identity: 8 Rooms 9 Lives continues at the Wellcome Collection until 6 April 2010. Entry is free. For more information visit the Wellcome website.
Explore topics
Share this article