Goya: The Witches and Old Women Album, Courtauld Gallery |

reviews, news & interviews
Goya: The Witches and Old Women Album, Courtauld Gallery
Goya: The Witches and Old Women Album, Courtauld Gallery
Enigmatic works on paper, reunited for the first time since the Spanish artist's death
Saturday, 28 February 2015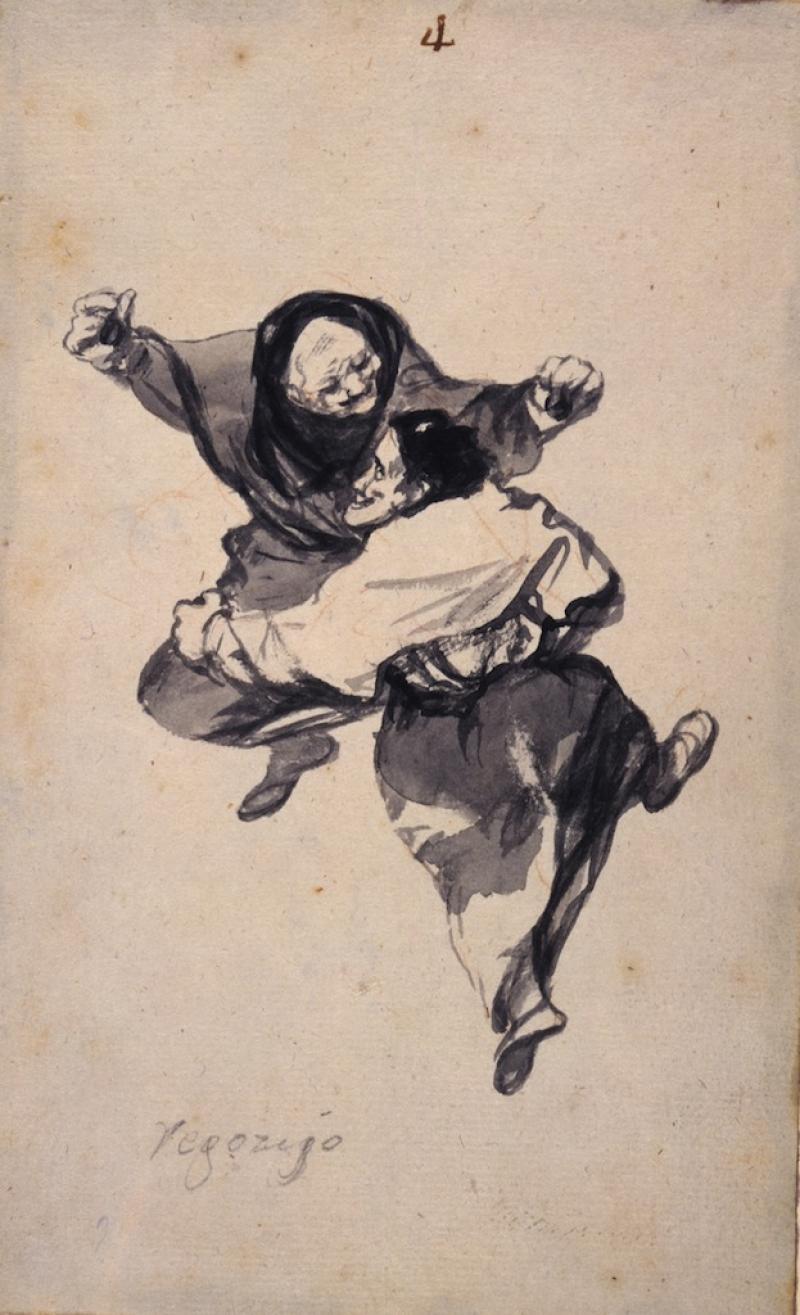 Francisco Goya, Regozijo (Mirth), c.1819-23
The sight of two old women fighting in the street would probably meet with roughly the same response from passers-by whether it happened today or 200 years ago – a queasy mixture of dismay, embarrassment and amusement. To get close to Goya's drawing of two ancient crones locked in a wrestlers' embrace, their toothless faces both grimly determined, is to experience those uneasy sensations just as he surely did.
As so often in this exhibition, in a fanciful moment you can almost feel the presence of the artist at your side, conjured up through the vivacity and pertinence of his observations.
Old Women Fight Too, c.1819-23 (pictured below right), is made with the sparse, confident brushstrokes of someone with an image fresh in his head, as if he has just witnessed this very scene out in the street. But for all its humour the drawing does not mock and while it marvels at the folly of the old it seems to serve as much as a stern rebuke to the young, a reminder that the old too have passions that can be inflamed.
Goya was in his seventies by the time he produced the series of 22 drawings making up the Witches and Old Women album, c.1819-23, reunited here for the first time since his death. Some 25 years earlier he had suffered a near fatal illness that left him profoundly deaf and it is tempting to imagine that his own experiences of infirmity had made him sympathetic towards the elderly. Tempting it may be, but then what are we to make of the covetous old hag counting her bags of money on the preceding page? Or the sheet that follows, entitled What Folly, Still to Be Thinking of Marriage?
While these depictions of the foibles of old age seem to be based largely on observations of everyday life, so many others are wild fantasy, like the jolly couple dancing in mid-air with their castanets, held aloft, it seems, by the upward current of their own merriment (main picture). Goya also drew heavily on literary references and themes and was, not surprisingly, influenced by reports that came from the intermittently active Inquisition, with rumours of the diabolical practices of witches, fuelling drawings like his Dream of a Good Witch, in which an old woman carries a haul of babies over her shoulder.
Goya began drawing in albums in 1793, while recuperating from his illness. Quite distinct from sketchbooks that were a working record of ideas and motifs, the albums were entirely for his own amusement, self-contained projects that recorded his observations, ideas and fantasies and that served initially as a way of proving to himself that his skills remained undimmed.
It was in the albums that Goya began to explore the subject of witches, although his most famous treatments of the subject, and some of the most compelling depictions of witches ever made, are prints from his Caprichos series, published 1799, some of which are seen here. Belonging to a visual tradition extending back to the Renaissance, the prints are sensational, adopting a satirical and sometimes moralising bent, compared to which the private world of the later Witches and Old Women album is considerably more nuanced and varied.
One of the most enigmatic drawings of the album is a remarkable piece of draughtsmanship called She Talks with her Cat (pictured left). Here a harmless looking old woman mutters to her cat, which has its back turned to her, emphasising her lonely state. It is an exceptionally fluent drawing, the woman's feet rendered more by the absence of ink than its addition, and the cat, which is so characterful, so clearly distracted by something occurring beyond the page, is little more than a puddle of dilute ink.
Like so many drawings in this album, She Talks with her Cat seems to recall a scene from Goya's daily life, and it reflects on the fact that so many women accused of witchcraft must have been just this sort of harmless old woman, the very notion of the witch simply an exaggerated and cruel embodiment of what elderly women so often became.
But in mulling over the appearance of a woman like this, Goya's depiction seems ambivalent – how can we know, after all, that this isn't a witch masquerading as a nice old lady, her true identity betrayed by her cat, one of her familiars? In fact, the dubious characters that come before and after this drawing place it as part of a series of demonic and disreputable old women, suggesting that she is not, in fact, as harmless as she seems.
The reconstruction of the Witches and old Women album is the great achievement celebrated by this exhibition, which reveals not only the correct order of the drawings but that they were made consecutively in a pre-bound book. While much of the joy of Goya's drawings comes from the difficulty in interpreting them, knowledge of the correct order allows some sense of the thematic links where they exist, and also sheds light more generally on Goya's working practices. For all the importance of the reconstruction, however, it makes no sense to have hung the album counter-clockwise. By asking us to view the drawings from right to left, the sense of looking at a book, already compromised by the dismantling of the volume and the placing of pages into frames, is lost altogether.
The albums were entirely for his own amusement, self-contained projects that recorded his observations, ideas and fantasies
Explore topics
Share this article