The White Lotus, Season 2, Sky Atlantic review - the sizzling hit drama moves to Italy, but with less fizz |

reviews, news & interviews
The White Lotus, Season 2, Sky Atlantic review - the sizzling hit drama moves to Italy, but with less fizz
The White Lotus, Season 2, Sky Atlantic review - the sizzling hit drama moves to Italy, but with less fizz
Sex has replaced cultural cringe as the show's new focus, though it's mostly offstage
Wednesday, 16 November 2022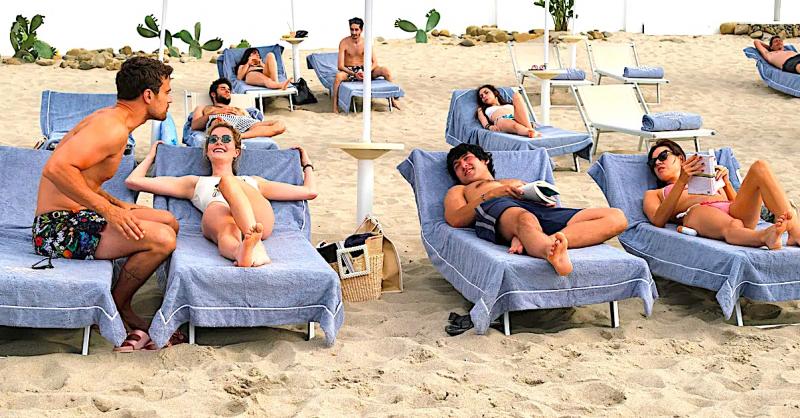 'Sunbaked sex, much of it illicit, laced with violence'
Why did Maui work better than Taormina? Mike White's second series of The White Lotus, which has relocated for its second season from an upscale Hawaiian resort to the fleshpots of Sicily, is still a worthwhile watch, but it's hard not to wonder where that special savour has gone this time.
We know the drill now, for starters: a dead body turns up in an earthly paradise for rich people, and six episodes later we will know the who, why and when. Season one had fun misleading us about the perp; the second has opted for the trickier stunt of concealing exactly how many bodies there are, and who they are, though it is dropping heavy hints about a pirate with a love of decapitations whose statue hotel guest Ethan Spiller (the fine Anglo-Japanese actor-writer Will Sharpe) seems intrigued by. Too obvious?
So we are once again left to weigh up who hates who, who is even capable of homicide and what's in it for them. And it's a game you can weary of.
Italy seems to mean dangerous sex to creator White, whereas he positioned series one on a fault line in US culture: the 50th state but still something of a foreign country, where rich Americans can't help coming across as exploiters and colonialists. In Taormina they are just clueless visitors. The divine Tanya (Emmy-winning Jennifer Coolidge), for example, one of only two survivors from series one, wants to re-enact a day in the life of that coolest of Italian film stars Monica Vitti, but the result is sad to behold. Coolidge, to her credit, makes Tanya's pathos just as fascinating and watchable this time round as she did before we got to know her better; this time she comes with the baggage of the unlikeable husband Greg (Jon Gries, pictured below with Coolidge) she acquired in season one and a hapless assistant, Portia, to jerk around (Haley Lu Richardson).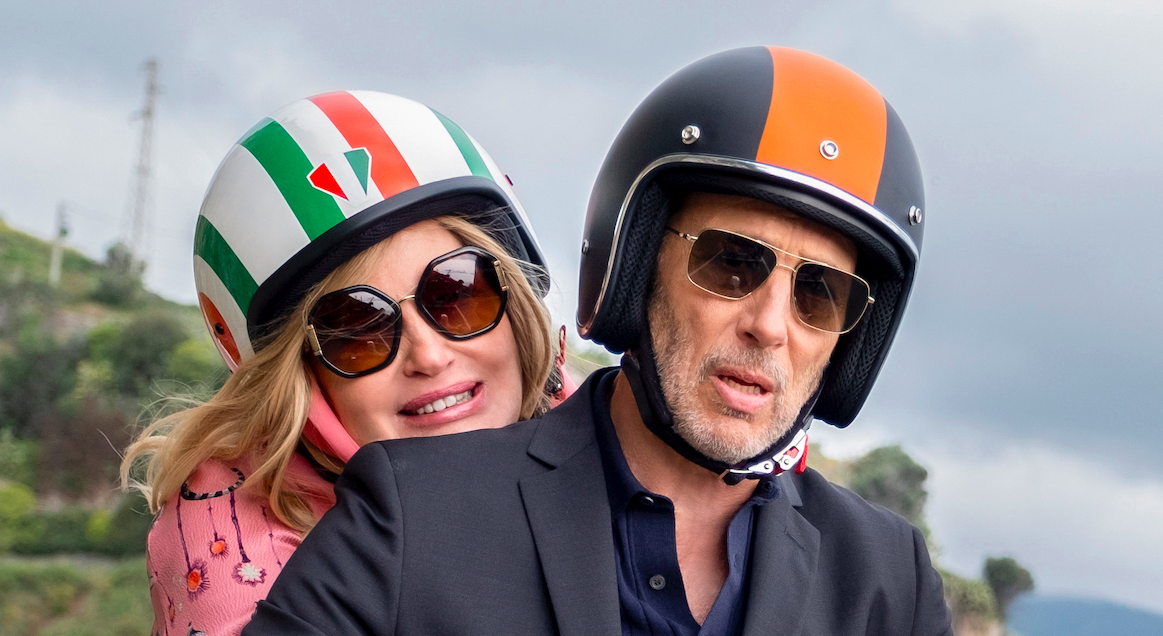 Maybe, too, Taormina is too familiar to eyes this side of the pond, with its signature backdrop of a rumbling Mount Etna. The Hawaiian setting was, from the off, more rich and strange, its beautiful opening credits suggesting a lost tropical Eden where evil lurked, whereas this series is redolent of something wordlier and more mundane: sunbaked sex, much of it illicit, laced with violence.
The first series' tourist detritus was also more satirically targeted. Taormina has well heeled Americans, gaudy Eurotrash and pushy prostitutes, but Hawaii had uptight Americans built for derision, snobby but regularly dishonest, even racist. It also had, as a total contrast, the stirring local oarsmen in their long canoe, paddling furiously away beyond the reach of Mammon. Taormina's rocky caves and pounding waves can't compete: it's still an Italian resort, with regimented lines of beach ombrelle and jet skis.
The new cast is strong overall, especially Aubrey Plaza as Harper Spiller, the sour working wife of Ethan, who has sold his company for big bucks and is now aimless and restless. Plaza, like Coolidge, compellingly signposts the emotional wounds beneath the luxe trappings of her life. The Spillers' troubled sex life has its direct opposite in the noisy nightly sessions of their friends in the next-door suite, Cameron and Daphne (Theo James and Meghann Fahy). Cameron became the talking point of episode one when he changed into borrowed swimming trunks in Harper's bathroom, inadvertently revealing to her he was as well hung as a porn star. She seemed impressed: were we supposed to be too, or is this priapism a sign of moral turpitude to come?
Similarly tuning out sounds through the wall is Albie, the sweet-faced, woke son of middle-aged Italian-American Dominic (Michael Imperioli, aka Christopher from The Sopranos). Dominic is busy making the beast with three backs, having succumbed to Lucia (Simona Tabasco), a sassy hooker, and her sullen friend (Beatrice Granno, both pictured below). Albie at least has the regular contributions of his flatulent grandfather (F Murray Abraham) as a kind of counterpoint. This fractured family unit is trying to connect with the wider famiglia it has never met. Surely unwise, guys?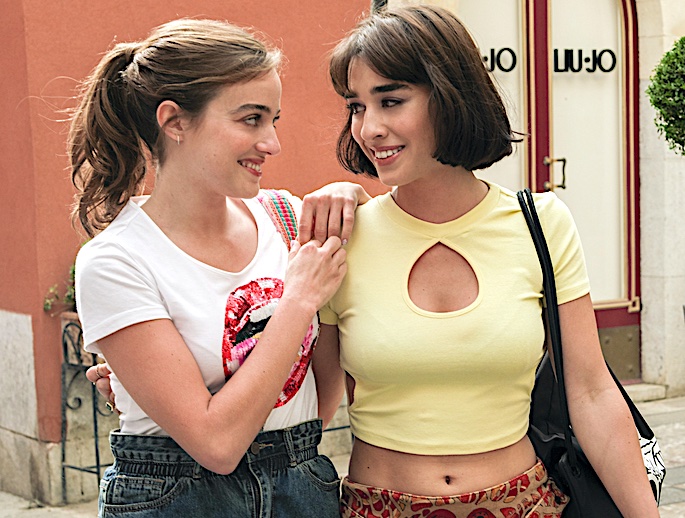 It's not hard to see why White took a different tack for series two, but sexual shenanigans just aren't as interesting a dramatic option as the cross-cultural tensions he set up first time around. Especially as the sex is largely offstage, heard through walls, seen in the distance in soft focus. And there's no wonderful Murray Bartlett as the Australian hotel manager trying to tap-dance his way through all the traumas his Yankee guests unloaded on him. In Taormina, his equivalent is a shrill shrew whose appointment to her senior management role seems highly unlikely, though her humanity finally starts to show through in episode three in a magnificent diatribe she unleashes on a man trying to chat her up over her breakfast espresso. And she feeds local stray kittens.
By the end of episode three, Cameron and Ethan have started revving up their testosterone while their wives have a secrets-sharing awayday; and in the wings are two promising new faces. One is the tattooed Brit who swims in the hotel's empty pool at night, where Portia is clearly in his sights. And there's Tom Hollander, glimpsed briefly at the end of episode three, a newly arrived guest who waves somewhat sinisterly at Tanya as she trudges up to bed. Has the drama's much needed catalyst finally checked in?