Walking Wounded: Return to the Frontline, Channel 4 |

reviews, news & interviews
Walking Wounded: Return to the Frontline, Channel 4
Walking Wounded: Return to the Frontline, Channel 4
Injured conflict photographer Giles Duley makes a cathartic visit to Afghanistan
Thursday, 21 February 2013
Mohammed Hanif, injured in an explosion, is tended by his grandfather
The public rarely sees the human cost of journalists covering war. More rarely still does it see the real civilian cost. That makes Walking Wounded a frank and refreshing insight into the world at either end of the lens.
Siobhan Sinnerton's remarkable film followed British photographer Giles Duley as he returned to Afghanistan after losing both legs and his left arm in an IED explosion two years ago this month while embedded there with the US Army's 75
th
Cavalry Regiment.
His project - to photograph work in a Kabul hospital that specializes in restorative treatment for locals who have suffered similar injuries. Something of a baptism of fire? "I wake up some mornings and I think 'somewhere right now, kids are going through what I was going through,'" Duley counters. "And I think 'how could I not go and tell those stories now'?"
Duley's as good a guide as we could get, a man who describes himself as "photographer, writer, story-teller, red-wine drinker, triple-amputee." In that order. He's a photographer first, whose warm, modest personality helps him strike a bond with his subjects as much as their shared trauma. Duley and his experiences become therapy for the victims he meets in Kabul, and they become part of his therapy, too. The viewer sees Kabul's Italian-run Emergency medical charity hospital and its patients largely through Duley's lens - rested on his prosthetic arm or held in his one hand - and in their own words. The footage, sprinkled with his colour and black-and-white stills, is striking but stops short of being graphic or gratuitous.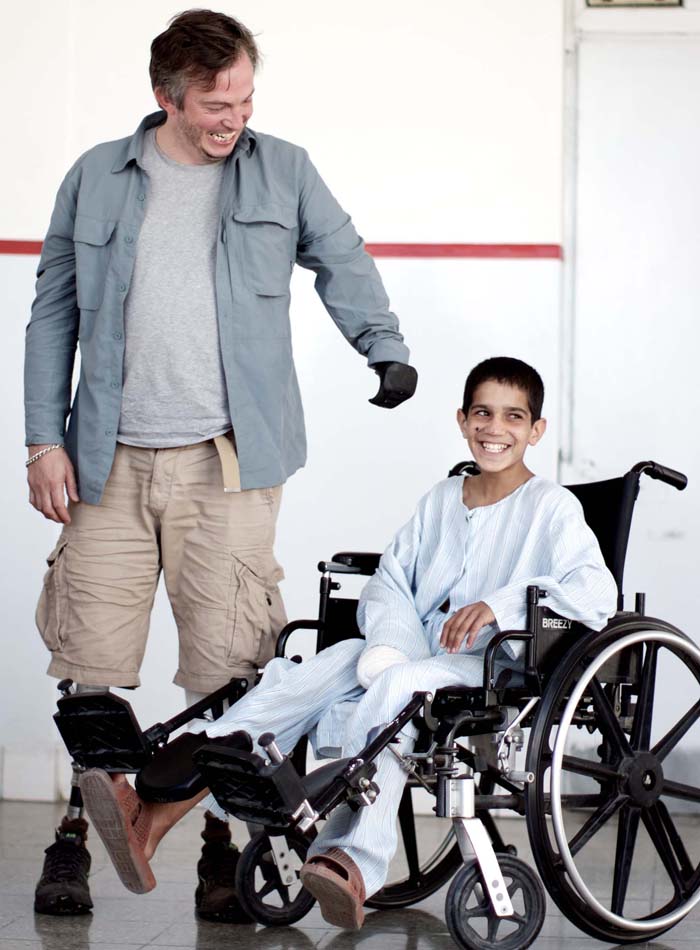 Duley freely admits to the fear and paranoia that accompany his return to Afghanistan. A third of the country's 55,000 amputees are children whose lives have been blown apart while doing something as simple as walking to school or gathering firewood. We meet one, 10-year-old Sediqullah (pictured right with Duley), who lost three fingers playing with a piece of metal that turned out to be a detonator. He's one of the lucky ones. Sediqullah has come with his father from the Panjshir Valley, a few hours north of Kabul, one of the most heavily mined places in the world.
Many Afghans die before they reach help, which is sometimes days away. Even the lucky ones who make it to the Emergency Hospital – a distinctive white-walled compound of serenity in the chaotic dusty streets of the Afghan capital – face an uncertain future.
In contrast, Duley himself was medevaced by chopper to a military hospital within minutes of being blown up, the begnning of a long process of recovery. We see a tearful reunion in a Chicago bar with two of his rescuers, CJ and Phil, when Duley makes a speaking trip to the US just before returning to Afghanistan. "It wasn't your day, man. It was not your day," says one as they hug.
This may be the Giles Duley story, but it is not his alone. For those, like this reviewer, who have spent time in Afghanistan and fallen in love with this achingly beautiful country and its proud and tough people, Walking Wounded is chilling and heart-rending. For those who have not, it should be compulsory viewing – especially for jingoistic politicians.
Ten-year-old Sadiqullah lost three fingers playing with a piece of metal that turned out to be a detonator
rating
Explore topics
Share this article