True Love, BBC One |

reviews, news & interviews
True Love, BBC One
True Love, BBC One
Dominic Savage's nightly drama asks actors to adlib romantic banalities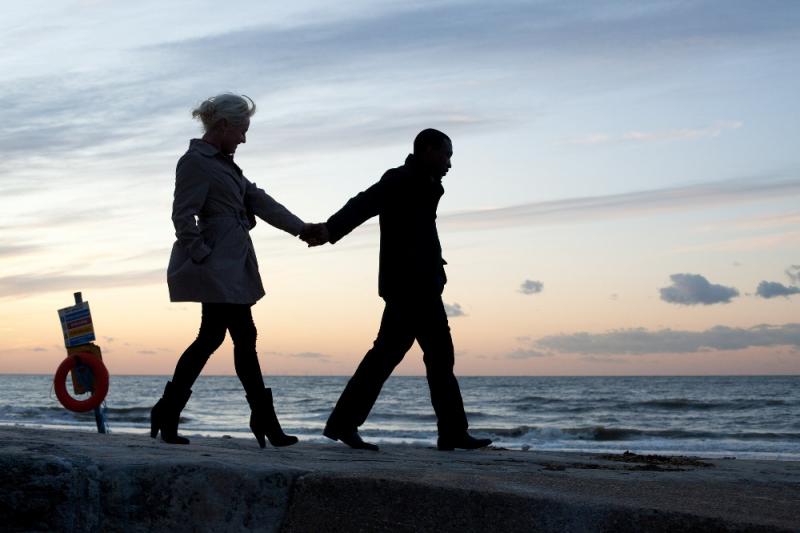 'These are the ordinary miniature tragedies about the life not lived': Jaime Winstone and Ashley Walters in 'True Love'
In traditional drama, actors are vessels for the written word. They do the looks, the sex, the tears - the dynamics: they perform. But the words are supplied by the writer. True Love gives the mummers the opportunity to go the extra mile. A series of five half-hour films going out across the week and set in a seaside town, it is the latest work from the defiantly lo-fi director Dominic Savage.
At a time when drama departments were mostly commissioning cop shows, Savage made his reputation with a loose trilogy of films that descended circle by circle into an inferno of social deprivation. Nice Girl (2000) totted up the costs of teenage parenthood. When I Was Twelve (2001) followed a young runaway as she fled into a nightmare of underage drinking, drug-taking and prostitution. Both won Baftas. Then came Out of Control (2002), which told of a suicide in a brutal young offenders' institution. The marriage of style and subject worked. Savage's knack was for finding untried performers and not feeding them a written script. It was a shrewd way of ensuring that his disenfranchised young characters never sounded too articulate.
The actresses playing scarlet women struggle to put flesh on cardboard
Things have changed in True Love. Savage is using established professional actors, and the plotlines focus not on society's tongue-tied underclass but its more articulate middle class. Plus in each case Savage also has much less time to play with. In Sunday's opener David Tennant, pleasantly married to Joanne Froggatt, found his world bouleversé when an old flame (Vicky McClure) stalked back into his life having 17 years earlier walked out of it. By the end of the ep he'd seen her off on the morning train, somewhat less movingly than the scene in Brief Encounter it had no shame in alluding to (Tennant and McClure pictured below), and gone back to his distraught but apparently forgiving missus.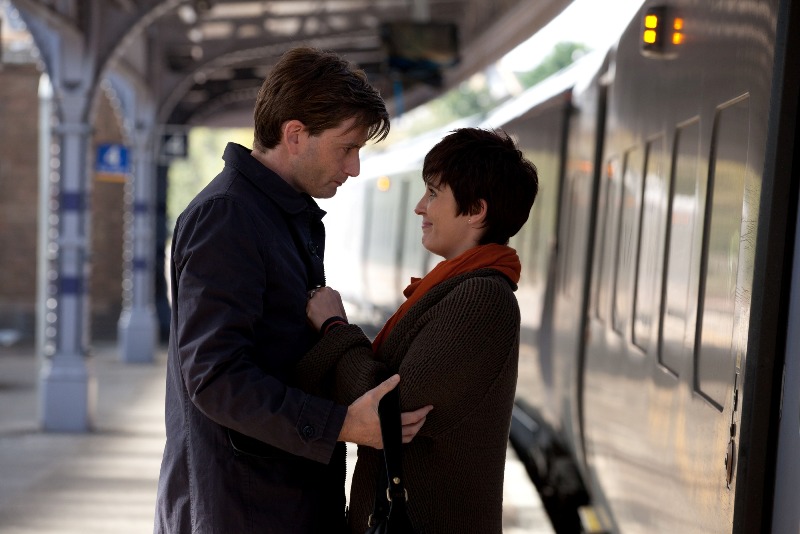 Last night another marriage looked destined for a trip up the swanee when Ashley Walters' carpet salesman took an impromptu shine to Jaime Winstone's bottle-blonde temptress, who kept smiling at him from the bus stop as he drove to work. He too had a one-night stand, but unlike Tennant's character determined to elope, only to discover that the story his new flame had spun him about a mother in debt was a scam designed to cream off his life savings. His wife in the end begged him not to leave her and their young baby.
Both films so far - oddly implausible little miniature tragedies about the life not lived, the ball and chain of responsibility - have tested and finally shored up the rickety institution that is matrimony. Which is at least good news. The bad news is, while the wives are stolid and faithful, a dim, even misogynistic view is taken of the other woman as delusional marriage-wrecker or evil con artiste. Married men - feckless, impulsive fools - aren't tending to come out of this too well either: this is storyboarding as self-flagellation. The gents get a night off in tonight's episode, featuring Billie Piper as a teacher who falls in love with a female pupil (though lesbian storylines are nothing if not ethical quicksand for a male dramatist).
The acting is capable, usually in the silences. It's no surprise that actors as good as Tennant can make you believe more or less anything, but other performers are exposed by the business of having to invent the lines to go with the thoughts. The actresses in particular playing scarlet women struggle to put flesh on cardboard. The words are squalid in their banality. "We're married," said Walters. "Is this like a joke to you?" Ok, so who of us in romantic dilemmas is Cicero? But that's why we have writers to do more than create an outline the way Savage does in this: to lay on shade, subtext, depth. Nor should that be the job of the soundtrack (for the record, Dionne Warwick, Stevie Wonder, Roberta Flack, Melody Gardot).
Savage shoots a beautiful tableau. Apparently the stories are interlinked, though there's no sign of that so far. There is of course a missing question mark in the title.
True Love continues on BBC One at 10.30 until Thursday
Some performers are slightly exposed by the business of having to invent the lines to go with the thoughts
Explore topics
Share this article