The Taste, Channel 4 |

reviews, news & interviews
The Taste, Channel 4
The Taste, Channel 4
A spoonful of Nigella and two bad-boy überchefs
Wednesday, 08 January 2014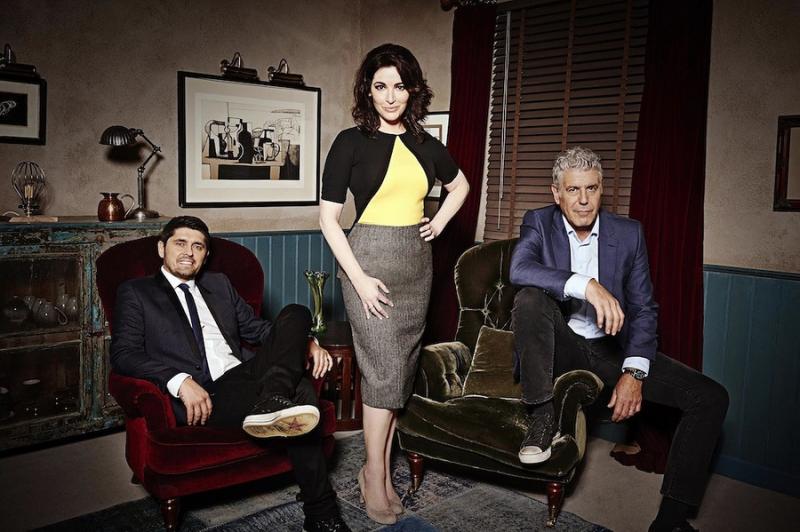 Blind tasters: Ludo Lefebvre, Nigella Lawson and Anthony Bourdain
Take two television formats and blend in mixer, then serve on one platter. The Taste is essentially Mastervoice, fusing Masterchef's wannabe kitchen creatives and The Voice's blind auditions. An early tasting suggests that the stand-out ingredient is Nigella Lawson in the court of public opinion.
The Taste has come along at exactly the right time for Channel 4's PR department. There's seemingly always room in the television schedules for yet another show about cooking, but how to stand out in the heat of the kitchen? This latest concoction has enjoyed a massive boost in pre-publicity thanks to … well, you've seen the news. Beyond that, The Taste has been put together using tried and tested recipes: initial group whittled down, contestants working with mentors, one elimination a week, three judges arrayed along the pH scale from acidic bad guy to alkaline good gal. The only thing missing is the public vote-off.
One dreads the thin gruel of hard-cheddar back stories
In this first episode the task of the 24 participants was to spend an hour at the stove compressing a set of flavours and textures onto one spoon. Something very similar has been done with the judges. In Anthony Bourdain you have a spiked hunk of tangy American tongue in a marinade of attitude and hairgel, while Ludo Lefebvre is essentially a shrugged shoulder of French ham delicately inflated with hot air. And then there's Nigella, creamy bed of English breast topped with a medley of plucked eyebrow and thinly trowelled kohl.
The contestants came and went with their loving spoonfuls and the judges cussed and moued and purred. How soon did Nigella start talking of "sinful gratification"? If your five bob in the office sweepstake was on before the first ad break, you'd have won. Meanwhile the two alpha males either side of her whipped up a side order of argy-bargy and braggadocio. It begs the usual question with these programmes of how much the personalities are pumped full of artificial flavours and wired with E numbers.
Maybe we should expect as much from execu-chefs, a species of human renowned for pan-fried narcissism and spit-roasted decibels. Bourdain was impressed neither by the rejected Scottish teenager who started weeping nor by Nigella's mumsy consolation. "He should toughen the fuck up," he snorted. No snorting from Nigella of course. "He shouts," she warned someone selected for mentoring by Lefebvre, "but you'll learn."
How much variety a mixed grill of professional chefs and home cooks will offer is the next question. One dreads the thin gruel of hard-cheddar back stories and endless rounds of lofty banter from the Frenchman about British cooking. But for the moment it's all sort of hanging together on the palate. More please, sir.