Stand Up and Deliver, Channel 4 review - how to make a comic |

reviews, news & interviews
Stand Up and Deliver, Channel 4 review - how to make a comic
Stand Up and Deliver, Channel 4 review - how to make a comic
Comedians teach celebrities the art of stand-up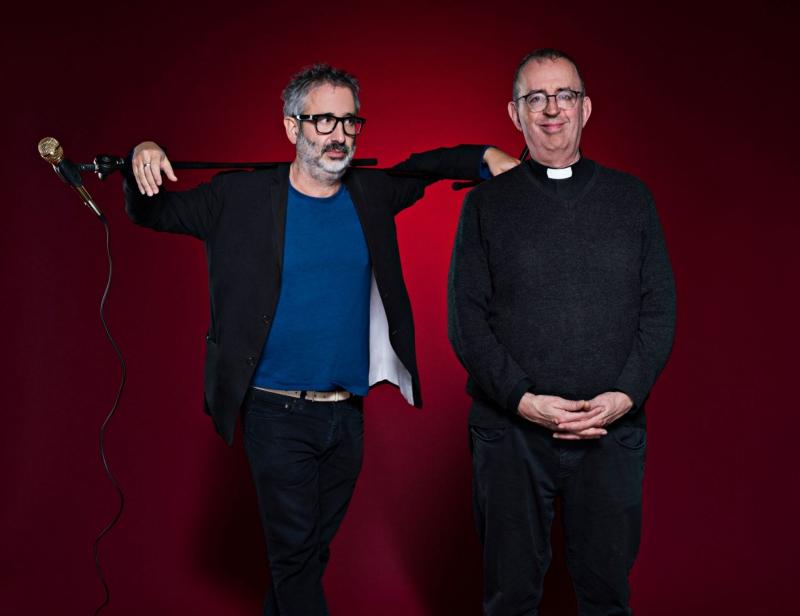 David Baddiel tutored Reverend Richard Coles
Everyone (well, almost everyone) can tell a joke. But being a comic – holding an audience rapt, getting a roomful of strangers to like you and laugh at your material – takes real talent.
So this is an interesting wheeze, in aid of Stand Up to Cancer, where five comedians mentored five
celebrity
beginners for two weeks so they could perform five minutes of material before a live audience.
The producers delivered the first laugh as they paired up the celebrities and comics – famously anarchic comic Nick Helm was mentor to Tory Baroness Sayeeda Warsi (pictured below), while agnostic David Baddiel tutored Reverend Richard Coles, the pop singer turned Church of England vicar (main picture). The other pairings were Zoe Lyons and former Coronation Street actress Katie McGlynn; Judi Love with dancer and Love Island contestant Curtis Pritchard; and Jason Manford with Happy Mondays frontman Shaun Ryder.
The first show of two followed the initial meeting of the comics and celebrities; the mentors straight away threw their mentees off kilter by asking them to perform on stage for two minutes. Only one, Coles, had a clue how to go about it, as he has bags of experience of speaking in public – his sermons, his Radio 2 show and after-dinner speaking – but, as Baddiel pointed out, funny as it was, this was raconteuring rather than comedy. Manford, meanwhile, must have thought that with veteran performer Ryder he would have an advantage, but no. Ryder, who described himself as "fucking funny", dried up the minute he took the microphone.
Cutting between their stories, we saw the mentors searching for the nuggets in their pupils' life histories and personalities for their five minutes of funny – even if they were, as Lyons said with caustic honesty, "nuggets surrounded by shit".
Baddiel wanted Coles to swear and talk about sex, to release his inner demons, while Helm was initially determined not to see what comedy gold he had in Warsi, a sharp and witty woman: "We didn't know [who] we were going to get when we signed up," he said with a glum face. But when he managed to persuade Warsi to get past her media training and speak from the heart about being a female Muslim in the Old Etonians' world of the Conservative Party, it was electric and he knew he had something to work with.
Love, in a moment of real insight, cut through Pritchard's need to be a people-pleaser and, as a dancer, perform in big gestures. She encouraged him to be vulnerable on stage. Lyons saw McGlynn's dry humour and an actor's fear of being herself rather than someone's else's creation. Manford, however, increasingly looked in despair as Ryder barrelled comically between hopelessness and bravado, saying his material (a loose term) was all in his head – in essence it would be all right on the night.
An hour wasn't long enough to delve properly into how you could create a comic – even for five minutes – in two weeks. But this was a rich seam not just of comedy, but psychology and human warmth too. And I'm not a gambling woman, but my money is on Warsi to take the crown next week.