She Wolves: England's Early Queens, BBC Four |

reviews, news & interviews
She Wolves: England's Early Queens, BBC Four
She Wolves: England's Early Queens, BBC Four
Measured account of how the first two female claims on England's throne were thwarted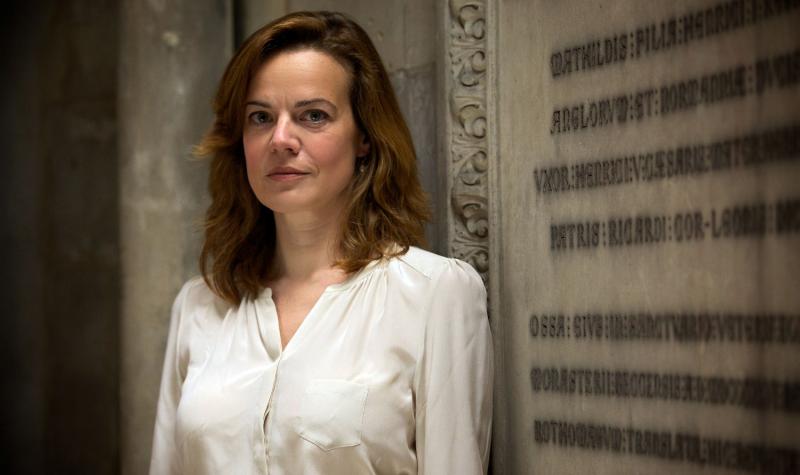 Presenter Dr Helen Castor: refreshingly unfussy and old fashioned
"Throughout our history, women and power have made an uneasy combination." Dr Helen Castor made it clear the path to power depended on more than the right alliances, lineage, and marriage partner. Even if all those were spot on, being female was enough to halt any rise. The series began with the medieval Queens Matilda and her daughter-in-law Eleanor of Aquitaine. Both wanted to rule, not reign like Queen Elizabeth II.
She Wolves brought Castor's book She-Wolves: The Women Who Ruled England Before Elizabeth to television. The programme's sensational title was a given. With an audience beyond the niches of either a history readership or gender studies, the book is a natural for television with clearly told, linear stories that resonate despite dating back at least 600 years. But with only one contemporary image apiece for Matilda and Eleanor, visual material was lacking.
Fortunately, the gap wasn't filled by clichéd set-ups of Dr Castor poring over medieval manuscripts. Equally thankfully, purposeful striding was at a minimum – although close-ups of pounding horse's hooves to suggest urgency were overused. Snatches from historic documents were read out by other voices but there were no talking heads, another plus. In a refreshingly unfussy, old-fashioned touch, Dr Castor directly addressed the camera or provided the voiceover.
With Henry II absent much of the time crusading, Eleanor ended up de facto ruler of England
That she carried the programme was both a boon and a drawback. "How far we've come, how little we've changed," she said. Matilda had "lost the battle, but won the war". Formulaic phrases rang out louder than they should have when ranged against her otherwise authoritative delivery, which had no place for loose generalisations. Unlike other history programmes, She Wolves made it clear that contemporary and subsequent records of events were intrinsically flawed due to who wrote them, even though those shortcomings were clunkily ascribed to medieval "spin doctors".
The generally measured approach extended to eschewing the ghastly analogies that can clog history docs: neither Matilda and Eleanor were the Madonna of the Middle Ages or the Margaret Thatcher of their era. The only broad comparison was with Queen Elizabeth II, for contrast.
In the early middle ages, there was no such thing as a queen in the modern sense – a female king. The queen was the king's wife. Matilda and Eleanor had designs on being more than that. Each was thwarted, but they came damn close. Matilda was the first woman to claim the English throne (pictured right in the centre). Her coronation banquet was prepared in 1141, but she was driven out of London by crowds opposing her. As the daughter of Henry I and granddaughter of William the Conqueror, the chance to rule came after her brother William drowned. His ship had barely left a French port. The entire crew were drunk. She'd been married off at age eight to Henry V, King of Germany and the Holy Roman Empire. He died, she returned to England at 23 and was next married off to Geoffrey of Anjou. On the death of King Henry I, her cousin Stephen claimed the crown of England, despite her father having made the court, gentry and church swear allegiance to her. She was never going to have an easy ride, and those supposedly loyal to her constantly shifted allegiances. However, when Stephen died in 1154, she got her son Henry – Henry II – onto the throne. He declared himself "son of the Empress".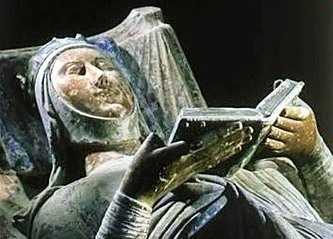 Eleanor was Henry II's wife, but had got there via a tortuous route (pictured left, Eleanor's tomb). Their son was Richard the Lionheart. At 13, she married Louis VII and became Queen of France. The couple went off to the crusades together – she was the first female crusader – but she decided to extend a stop-off in Antioch to spend time in the company of her uncle, Prince Raimond. The union with Louis was all but over. Interpreting the law to her advantage, she had the marriage annulled and wedded Henry II eight weeks later – pivotal to The Lion in Winter. The concept of courtly love germinated around her. With Henry II absent much of the time crusading, she ended up de facto ruler of England.
These twisting tales had more colour than could be covered in an hour – Eleanor's attempts to convert Saladin to Christianity went down in chronicles as an affair between the two. But Dr Castor made the point. Nothing could make Matilda and Eleanor rulers. They got as close as they could. In the end, it was through their sons that they would have a lasting impact.
Despite the differences between the role of today's Queen and the absolute rule sought by Matilda and Eleanor, it was impossible to not muse on what Prince Charles might think of She Wolves.
Watch Katharine Hepburn as Eleanor of Aquitaine and Peter O'Toole as King Henry II in The Lion in Winter (1968)
Formulaic phrases rang out louder than they should have done when ranged against Dr Castor's otherwise authoritative delivery
Explore topics
Share this article