Nigellissima, BBC Two |

reviews, news & interviews
Nigellissima, BBC Two
Nigellissima, BBC Two
What Nigella Lawson, Rachel Khoo and Lorraine Pascal say about our food and about us
Tuesday, 25 September 2012
Nigella Lawson's 'Nigellissima' entices with intelligence
There are two reasons I can often be found slumped on my sofa watching the 8.30pm cookery-show slot on BBC Two on a Monday evening: first, it has the perfect lead-in, University Challenge, after which nothing involving mental exercise is required; and second, I'm a greedy cook. Tonight saw the return to this slot of erotic gastronome Nigella Lawson with Nigellissima, whose cod-Italian title suggested exactly the food she would be cooking.
But it's not so much the food I want to write about. Yes, it looked more desirable than Joseph Gordon-Levitt in Speedos - tagliata, chocolate cheesecake (not very Italian, Nigella conceded), something called a meatza (pizza with a meatball base), an egg poached in chopped tomatoes. But what is really interesting is the contrast between three of this slot's most recent female chefs - Nigella, Lorraine Pascale and Rachel Khoo - and what this means.
Nigella promises no twists, except perhaps in her definition of 'Italian' and indeed of 'food' (meatza, really?)
Take the basic underpinning of these shows: recipes. With Lorraine's modern multiethnic cuisine and Rachel's traditional-ish French, you tend to get measurements, so if you wanted to make the dish, you could take down the details and get to it. Nigella, however, is a little more suggestive (and I don't mean licking her fingers - that's mostly gone): the chocolate cheesecake involves digestive biscuits, cream cheese and Nutella, but the proportions are unclear. This suggests viewer disengagement or that they'll run out to buy the accompanying book or that the recipes are elastic. Whichever way, Nigella's approach to recipes is to cooking what Impressionism is to art, rather than painting by numbers.
(Two of the funnier moments in the show come from Nutella: first, she's not allowed to call it Nutella, so it's just chocolate-hazlenut spread; and second, with wide eyes she seems to think she was the Columbus of chocolate spread, being the first to discover it while working as a chambermaid in Florence. Nutella has, incidentally, been sold around Europe since the Sixties.)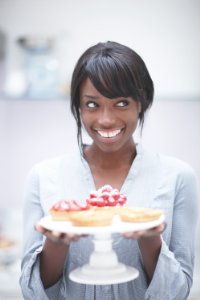 Then there is the ambition of the food, or its sophistication. Lorraine (pictured right) goes for the lowest common denominator - with a twist. Her dishes - a quick curry, a basic cake, peanut butter squares - are aimed at people who probably never cook, which is why it can be frustrating: if you are a regular watcher of this slot, you are used to something more complex. There is usually a twist, which can be bafflingly banal and is frequently pointless.
Rachel Khoo is also guilty of The Twist (you won't stop noticing it now), but hers tends to be a thoughtful reinterpretation of a French dish, not always successful but fairly inventive: coq au vin kebabs, an anglicised croque madame, boeuf Bourguignon with baguette dumplings. From her tiny Parisian garret's kitchen, with barely enough room for an oven let alone a camera crew, Rachel creates recipes which are sophisticated, drawing on her Cordon Bleu training. There are real attempts to penetrate the deeper mysteries of French cuisine, making these easily the most ambitious of the three.
Nigella promises no twists, except perhaps in her definition of "Italian" and indeed of "food" (meatza, really?). Her recipes are the most obviously grown-up: her eggs in Purgatory are for when you come in late from a Soho book launch or a private view at Gagosian.
The way she presents them - and indeed her whole show - is the most grown-up too. While Lorraine has a rather demotic approach, and Rachel something of the squee about her, Nigella seduces her audience with her large… vocabulary. You can't imagine Lorraine talking about how to "strew picturesquely" or making "a post-hoc marinade"; capers are the "lip-puckering counterpart" to sultanas. Nigella also seems to share something of herself, and not the "oh-isn't-life-so-busy" shtick Lorraine does: last night she said, "I'd much rather return to the food of my youth than my youth," which is a sad and honest sentiment.
It seems that honesty is what she has plenty of in this show. Instead of the rented friends of yore, we see her actual children from her marriage to John Diamond tucking into tagliata, and she comes out as a geek when we see her picking two cookbooks out of a bookshelf, only for the camera to pull back and reveal an entire wall, high and long, laden with cookbooks - thousands probably. It's an astonishing moment which visually grounds her show in tradition and research.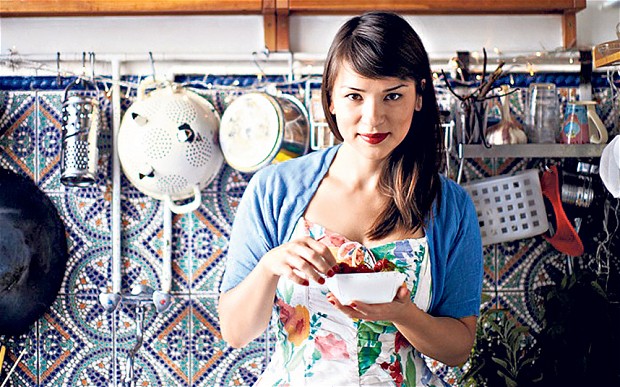 (Having said all that about honesty, I can't quite believe that the football-pitch-sized kitchen she cooks in is really hers, though houses in Eaton Square are rather large.)
So what does any of this mean? Well, BBC Two are doing a good job at picking a variety of chefs at different levels of sophistication, from the irritating (but with a twist!) to the authoritative, charismatic and enthusing, but they're probably mistaking their audience: given that both Lorraine and Rachel (pictured above) had viewership around 1.7-1.8 million, it's probably the same people who don't want or need the more rudimentary cooks.
I think it also means we're still in a recession: it is cheaper to watch cookery programmes and make those meals than to eat out. It always has been cheaper, of course, but the rate at which we're getting new series suggests we can't have enough of these new dishes to try.
Finally, it seems that our bifurcated society is reflected in our cooks. The swing from Lorraine's lowest common denominator cooking to Nigella and Rachel's ambitious, frankly posh (okay, Nigella is quite posh) recipes, kitchens, locations and even vocabularies is massive. It is good that BBC Two are catering for everyone, but in doing so we see quite how wide the split is.
Nigellissima is on at 8.30pm on Mondays on BBC Two
There is usually a twist, which can be bafflingly banal and is frequently pointless
Share this article