Mrs Wilson finale, BBC One review - stranger than fiction |

reviews, news & interviews
Mrs Wilson finale, BBC One review - stranger than fiction
Mrs Wilson finale, BBC One review - stranger than fiction
Alison Wilson's search for the truth keeps turning up new mysteries
Wednesday, 12 December 2018
Ruth Wilson plays her grandmother, Alison
As the priest said, "Understanding comes first, then forgiveness". Thus the rather enjoyable (if slightly overstretched) Mrs Wilson came to a not exactly happy, but certainly forgiving, ending. Ruth Wilson held the screen over three episodes of this period drama, playing her own real life grandmother Alison Wilson.
But the story's pivotal figure was her extraordinary grandfather, Alexander Wilson, who wove a tapestry of lies around his love life and probably his role as a British
secret agent
.
Upon his death in 1963, Alison discovered that her husband had not just lied to her about divorcing his first wife, but that there were at least two other women who believed they were the sole Mrs Wilson; he had fathered seven children in all. Ruth Wilson was just one of a tribe of descendants glimpsed in the final credits of her tribute to her rogue of a grandfather.
The final episode exemplified that old adage that truth often proves stranger than fiction, and we were still left with loose ends as the Foreign Office has refused family historians access to all their files on Alexander Wilson. Author of romances and espionage thrillers, he met Alison Wilson during the war when MI6 made use of Wilson's foreign language skills to eavesdrop on foreign embassies. She typed up his translations and fell in love. He told her he had divorced his first wife, soon they were married with two small sons. But did the Secret Service carry on using Wilson as he claimed when he disappeared abroad for months or went to prison, or was something else going on?
Fiona Shaw (pictured above) reprised her Killing Eve role as Wilson's bitter MI6 handler. Shaw's lack of vanity as an actor was to the fore as, dressed in saggy cardigans and with scraggy hair, she eyed up the grieving yet graceful Alison with utter exasperation. Stabbing fried eggs into her mouth, Shaw warned his desperate widow that she should not dig too deep into Wilson's past as she would not like what she would find. Certainly he was a fantasist, as Mrs Wilson discovered when she travelled to the stately home he claimed was his family heritage and found that it was just a nursing home in which he'd recuperated in during the Great War. But there were unresolved meetings with his Indian friend, Karim (Anupam Kher) who claimed that Wilson had been a victim of double agents working within the Secret Service.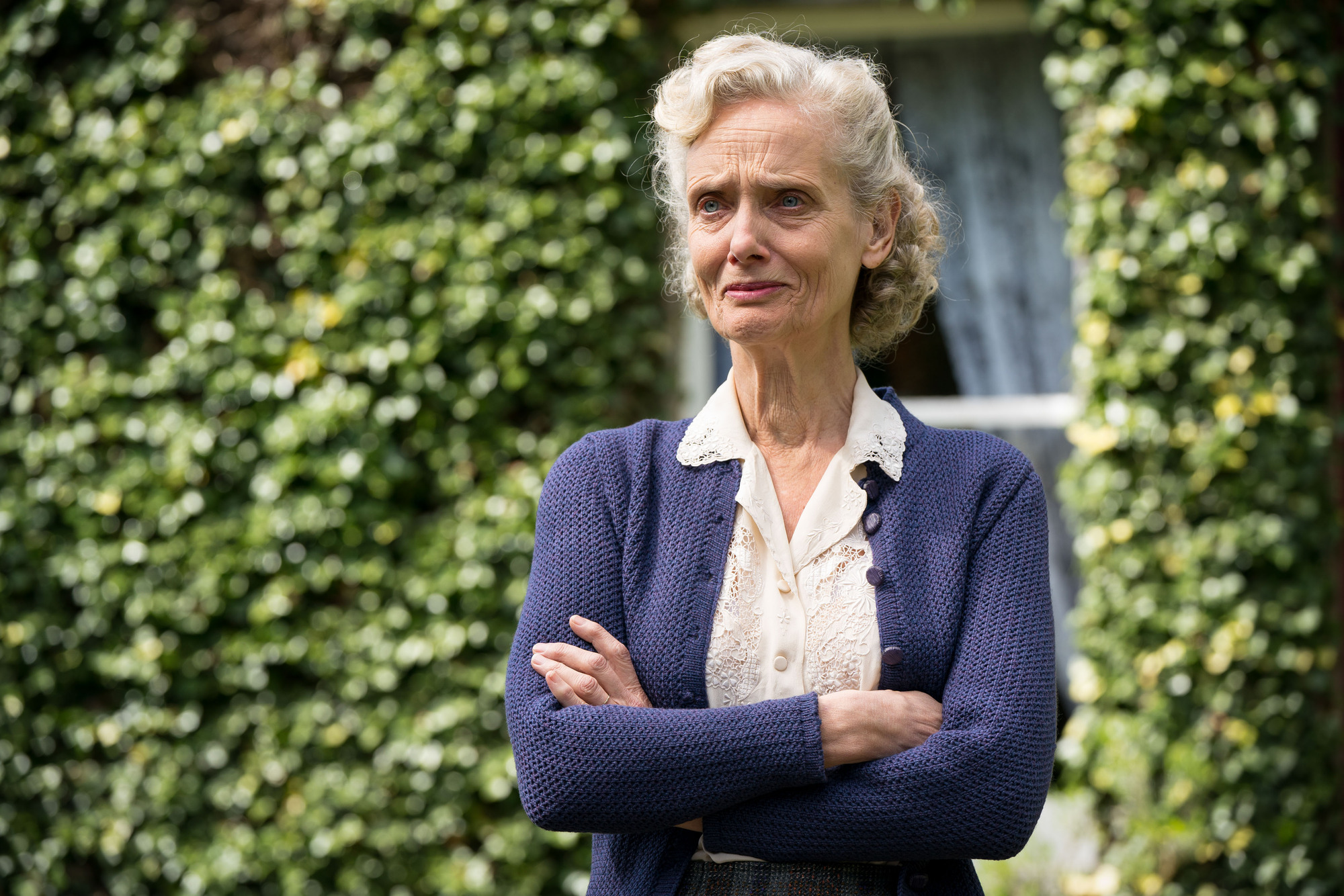 Through it all, his widow tried to protect her two sons from the emotional damage of utter disillusionment about their father while still trying to discover the truth for herself. There was a sense throughout the drama, which Ruth Wilson also executive produced, that there was a very personal need to find the good in her grandfather, not just portray him as a serial bigamist and conman. It made for a complex, nuanced drama with some excellent performances not just by Shaw and Wilson but also from Barbara Marten (pictured above left) as her frosty, disapproving mother and Keeley Hawes as his scornful third wife, Dorothy.
There were some longueurs (one despairing, unanswered phone call too many) and perhaps a little too much loving attention to the period décor, the vintage cars and drooping head scarves. But the cinematography by Hubert Taczanowski, all desaturated blues and browns and claustrophobic framing, was very effectively atmospheric. The camera loves Ruth Wilson, an actor whose face can pivot from despair to joy in a few frames. If she doesn't win awards for Mrs Wilson, it will be a mystery even greater than her grandfather's life story.